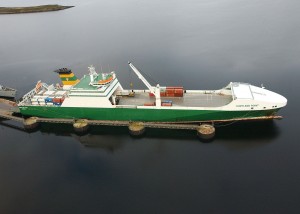 The future U.S. Navy is full of ferries. And the Nation should not only tolerate them, but embrace them, and accept them for what they are–good, capable, handy-sized ships of civilian origin.
In the right CIVMAR hands, ferries are do-anything, economical "environmentally-friendly" platforms, capable of putting right-sized forces in the right place at the right time. And, at present, three platforms with a ferry-based lineage are either operating or are poised to be fielded by the Navy. They are the Independence Class Littoral Combat Ship (LCS), the Military Sealift Command's (MSC) Spearhead Class Joint High Speed Vessel (and a few other related catamarans) and the experimental/speculative Ro-Ro/Ferry the M/V Cragside.
The broad idea behind these ships is that they are designed for frequent use, a small crew, rapid/easy on/off load from simple ports and, generally, regular routes/schedules.
As the Spearhead Class will demonstrate, ferries are happier at sea than in port, and, in general, respond really well to a set, planned out maintenance schedule (and really, really badly otherwise).
Setting the combatant-oriented LCS aside, the Austal-built Spearhead Class Joint High Speed Vessel has, up to now, enjoyed something of an exclusive niche–with no competitors, a great price and rapid transition to service as the Navy's "do anything" utility hull, the platform was expected to sell itself.
That is, if the first one could actually get delivered and into service.
But, as they say, nature abhors a vacuum. And the Navy abhors programs that can't meet budget and schedule. So, just as the JHSV Program was reportedly going off the rails in mid-to-late 2012, the Navy decided that it was time to look for a back-up option.
So they settled on something else.
And that something else may well be a JHSV killer.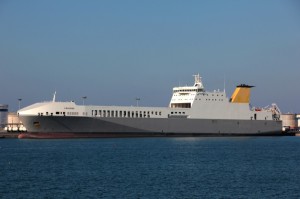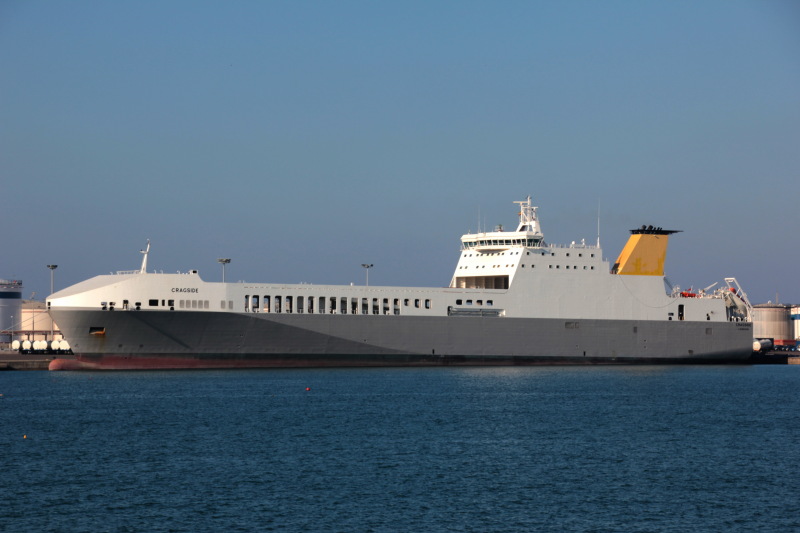 Enter M/V Cragside
After polling the market in mid-2012, the MSC put out a RFP for a very capable, high-endurance MSV in November (note that acronym- Maritime Support Vessel–or MSV–stands in direct contrast to the "High Speed Vessel"–or HSV–that is the JHSV moniker), and, pending the outcome of some contractor protests, the resulting vessel is likely the M/V Cragside, a Ro-Ro Ferry of the same general model that has seen service with the UK as the strategic support-oriented Point Class.
So, with the military utility and lineage of these vessels already established, the MSC has opened the way for getting low-end, low-cost pocket tramp steamers–ubiquitous ones that run routes throughout the world–into U.S. service.
There's a lot to love with these Flensburger-design Ro-Ro platforms. They're ultra-cheap to procure, cheap to refit, and darn cheap to operate ($170 million or so for first-in-class set up and operation). They have so much space, they can easily absorb a sprawling set of demanding Special Operations Community requirements, aligning with that community's particularly diverse range of operational preferences–and all the operational goodies a busy special operator could want (want to land a CH-47? A CV-22? At a high sea state? Sure! Need A SCIF or two? Yessir, let me get the key! Jet Ski launchers? A big dive locker?  A nice surge surgery and 10-bed hospital? UAV maintenance and ops facilites.? A few armories?…You bet you do!).
With the M/V Cragside, operators don't need to worry too much about weight and load management, can modify things quickly at any shipyard, and, when deployed, they can spend a lot of time (upwards of 70%!) loitering at sea without impacting the crew. Topping things off, the vessel's maintenance demands are minimal and well-aligned with the rest of the conventional steel-hulled fleet.
It's a low-end pocket amphib….without the Marines!
Take a look at the RFP and at all the stuff this platform brings to the fight. It's going to be quite the Special Operations plaything–America's new "911" platform.
The moment the M/V Cragside gets into service (the program has been delayed as ship operator Crowley Maritime and the contract winner, Maersk, fight out a protest), the JHSV will suddenly face competition. And with the M/V Cragside offering more capability, lower procurement cost, lower operational costs, and, in a very general sense, more versatility overall, the argument for sustaining the JHSV production line beyond the original 10-ship program of record gets tricky, and might turn into one of those competitive shootouts that Mr. Sean Stackley loves so much.
What's even more interesting is that the M/V Cragside clearly fits right into a Domestic Maritime Highway/National Maritime Strategy sweet spot–making this an opening for other shipbuilders to get some business fabricating more U.S. Flagged hulls.  Take a look at MARAD's proposed Domestic-build Short-Sea Shipping designs from late 2011, and you'll see a 24Kt Ro-Ro that looks very much like the M/V Cragside. To me, that screams "Maritime Reserve block buy" business for BAE, Huntington Ingalls, NASSCO or somebody else…
The Spearhead/Cragside competition is set to take off–the opening misfire coming from a pro-JHSV House Armed Services Mark that:
"…directs the Secretary of the Navy to submit a report to the congressional defense committees by April 1, 2015, on the operational benefits and cost savings associated with continuing to procure JHSVs. The report should specifically address the costs and benefits of buying the eight additional JHSVs that were originally part of the program…"
Well, with the M/V Cragside expected to enter service by then, this report could well backfire on the JHSV and turn into an opportunity for the Navy to sing M/V Cragside's praises (I'm, of course, biased, and believe we need a whole lot more of both types).
Making maters even more delicious for naval procurement-watchers, the MSC, in a stroke of "Congressional Management Genius", sent the M/V Cragside to BAE's Mobile Alabama shipyard for the refit, effectively neutering Alabama's powerful Congressional delegation. The Navy wins either way–rather than get into a brutal program-vs-program/district-vs-district battle, the Alabama delegation won't pick a champion and be content to support the broad idea of more "ferry procurement", and leave the Navy to compete the two hulls unmolested.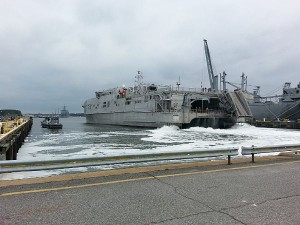 Saving JHSV 
JHSV has, in turn, enjoyed all the benefits-and all the disadvantages-of being a low-profile, niche program. Behind the scenes, the requirement grew with little debate or question, but then, as the budget knife came down, program size was just as easily sacrificed to save other programs. But the need for rapid transport and cheap cost-effective utility vessels is there and growing. Having viable competition in the M/V Cragside is a healthy acknowledgement of the need, but it does change the game and raise the stakes
Up-gun JHSV: I would hope that, in the recent Small Surface Combatant RFI, Austal would have moved proactively to protect their business from the threat of small/tiny battle-craft competitors and (latest news aside), quietly snuck in a quick little supplemental proposal to modestly up-gun the JHSV–with over 700 metric tons to play with, that space and weight can certainly translate into a capability-set that would compare favorably to the 180 metric tons that Lockheed had to play with on the Freedom Class. Viable for the Future Small Surface Combatant? Probably not, but, given Wayne Hughes' fantastic single-mission ship article in this month's USNI Proceedings, it would have been quite a cost-effective means get people talking and thinking about things like, oh, railguns on small combatants and to highlight the success USNS Spearhead is having.
Promote it: USNS Spearhead has been enjoying a highly successful first deployment. If this were a Lockheed platform, there would be….well, look at the amazing material the company prepared to highlight USS Freedom's first deployment. Aside from the MSC's well-deserved but too modest chest-thumping about a job well done, there has been no effort to promote the craft outside of lower-trafficked government channels. Call me crazy, but one might think that USNS Spearhead would be a useful billboard to introduce Austal to new markets and refresh ties with old customers…but hey, then again, MSC doesn't cost anything.
Differentiate: The only place the Spearhead Class can beat the Cragside Class is in speed and draft. So sell that. JHSV got a huge gift earlier this week that the M/V Cragside didn't–all the JHSVs get CIVMARs, while the M/V Cragside is going to be manned (at least in first contract period) by contract mariners. Not being encumbered by sea-lawyers–who restrict the ability of contract mariners to contribute to the fight–will be quite useful given how the Special Operators may use the vessel.
Get Cragside into a different fight: Start floating the idea that the Cragside Class has the making of a fine LX(R), bringing stuff to the SeaBase…for JHSV to distribute near shore–and watch BAE or Huntington Ingalls start slugging it out with NASSCO over the MLP-based designs.
Become an ideal program: As the origin of the Craigside Class suggests, the Navy world is full of alternative designs just waiting to be given a chance to see daylight. Troubled programs get competed, while untroubled programs like, say, the MLP, don't. So if, as the JHSV Program Manager says, the JHSV is to deliver every six months, then, well, it is incumbent to deliver on time and on cost AND to demonstrate to the customer stability and knowledge of schedule/cost risks. Either that…or folks need to start wondering how pretty Mobile's skyline would look with three or four more Cragsides moored in Mobile Bay, awaiting refit.
Failure to meet cost and schedule–in this post-Sequester environment–is a Program Killer.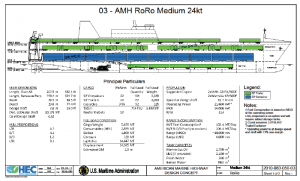 Conclusion:
I have decried the dearth of cost-effective utility vessels for years now. So, mark my words, I'm happy with a lot more Cragsides, Spearheads, MLPs and AFSBs…I'd build more of all of 'em, and keep building 'em. But Congress will, I presume, think otherwise, which is, well, a shame.
If the Cragside and the JHSV actually do end up getting alongside and slugging it out for resources, I suspect that the battle between these two platforms will reflect an interesting–and potentially corrosive–fault-line between the Marine Corps and Special Operations.
Even though the Marine Corps has, to some extent, helped damage the JHSV program–first isolating it as a potential Amphib killer, and then offering it a reluctant embrace as a ship-to-shore "connector"–in essence, a supersized LCU, the JHSV is a Marine Corps platform. But now that the Marines have realized that they probably won't have another amphib to fight for, they're realizing that the Spearhead Class is a darn good platform, and that it will prove mighty valuable in the landing support, presence, engagement and ISR roles.
But, if the Ponce AFSB is any guide, it'll be the Cragside Class that captures the imagination and the headlines. If JHSV is left to MSC to promote, and the Marine Corps doesn't get more riled up over Special Operations' intrusions into their high-profile, niche "America's 911" missions, the Special Operators will head out to the danger zone in their new, cost-effective transport (that reflect the second-mover's advantages of learning from JHSV's shortcomings), and then loiter there, ready to swoop in and take on those high-profile roles that, you know, get organizations big headlines and a bigger budget. Which is, I might add, something that the USMC has kinda forgotten.
In the end, I think the coming fight over America's fighting ferries will be something of a proxy battle, where the Marines learn a similar lesson to what Austal may be learning now with JHSV–in the Post-Sequester environment, resource competitors will move into any niche where the current occupant looks weak.