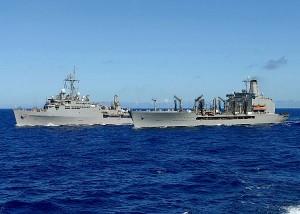 USNI author Captain Stephen J. Coughlin, who, as of January 2010, was commander of Patrol Coastal Squadron One, offers a very kind review of my October 2010 Proceedings essay, "Running on empty" in the current November issue of Proceedings.
As a former commanding officer of the USS Bainbridge (DDG-96), veteran of the Academy, the Naval War College and several destroyers and frigates, I am grateful for this seasoned SWO's feedback, which is reproduced here in full, for your consideration:
Captain Stephen J. Coughlin, U.S. Navy—Dr. Hooper has masterfully articulated a Fleet-wide concern that sometimes gets little attention when considering the Navy's overall shipbuilding strategy. Our aging force of just 31 replenishment vessels may not share the limelight with our fast-running greyhounds, but any seagoing officer would agree that they are certainly the most fundamental elements of our surface force. And without new oilers very soon, it will get harder and harder to accomplish the increasing requirements for global presence and sea-control operations.

With that in mind, the mounting emphasis on ballistic-missile-defense missions in multiple theaters where shooters will remain on alert for extended periods adds credence to the argument that we have a growing need for fleet oilers. To say that our current replenishment force is too small, too old, and too environmentally vulnerable really got my attention. Honestly, I did not know that these workhorses pumped over 710 million gallons of fuel to our warships last year and averaged more than six months of the year under way. That is some backbreaking work and I salute it.

Like many of us who began our careers in the Cold War era, when the oilers were always guaranteed to be on station when needed, it is easy to take them for granted. So Dr. Hooper's analysis and apprehension should serve as a wake-up call to Fleet planners.

Also, I appreciate the other well-thought-out points that become worrisome if we do not have a better inventory of fleet oilers: no guarantee of host-nation resupply options in places where diplomacy hangs in the balance, the potential for skyrocketing shipbuilding costs if we do not leverage existing hull-commonality now, and the enormous liquid-fuel appetite for future electric-centric weapon systems. This in-depth scrutiny of the situation should cause trepidation and begs the question about where our priorities are.

Finally, as I have advocated in the past, there is a place for small surface combatants in the U.S. Navy. Our Cyclone class is a testament to such ships, and for many reasons there is a growing body of naval strategists who believe that a follow-on class of corvettes should be considered. Those ships would multiply our sea-control capacity by an exponential order of magnitude at an affordable price. But there will be immense logistics requirements needed to support their unique tooth-to-tail ratio. That tail begins with a Fleet oiler class of considerable size and strength to support our expanding global influence. Dr. Hooper has enlightened us, and we should heed the call.
Obviously, Captain Coughlin is a SWO who gets it, and I strongly suspect he is bound for great things in the future!
(Sadly, I neglected to count Fleet Ocean Tugs as replenishment vessels in my paper, and I would be remiss to fail to note their little-heralded role as tenders for the Cyclone Fleet in the Gulf here. Would be great to hear how they did, so if somebody like a certain Captain knows how they did, do let us supporters of the T-AFS mothership concept know more!)
Again, my sincere thanks to Captain Coughlin. In a world where some SWOs tend to give little credence (or-worse-heap scorn upon) a landsman like me, it feels great to get such a ringing affirmation from a tried-and-true ship driver.
Your feedback means a lot, Captain. Seriously. Thanks.