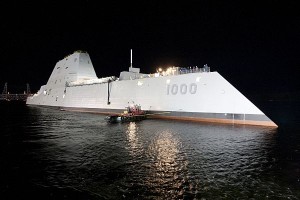 Stealth! Low observables! Reduced signatures! Wake reduction! It's all the rage in naval warfare…Modern navies just won't leave home without a full suite of pricey features deemed necessary to make a 16,000 ton DDG-1000 dwindle away to a rowboat-sized radar blip.
But…outside of that uncomfortable moment when, say, an anti-ship missile starts seeking your vessel, just how important is all this stealthy signature-reduction stuff, really?
On LCS-2, the USS Independence, radar cross-section was likely compromised for the convenience of bridge-wings. On DDG-1002, the much-ballyhooed radar-reducing composite deckhouse was sacrificed for lower-cost steel. And the changes went forward with no public discussion of the advantages/disadvantages beyond, well, raw cost. I'd like to think there was some detailed discussion of the potential tradeoffs made on these platforms, but….I'm a bit of a pessimist.
So…if signature regularly loses to cost and convenience, just how important is it all, really?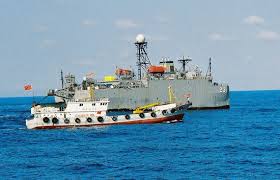 Are stealth features just the maritime equivalent of "curb feelers" and "sunroofs"–you know, those cool, high-margin but ultimately un-necessary gadgets your, ah, "friendly" car dealer pushes the hoi polloi to purchase?
If anything, many of the stealth/signature reduction features available to the fleet are useful/used in a relatively narrow subset of circumstances (and, I might add, quickly defeated by technological advances…or defeated because they weren't enabled, turned-on, etc.). Might it be more useful to explore and invest in old-school passive stealth features that can pay off during day-to-day use?
I mean, old-school camouflage never gets old. And as the lines between civilian and military platforms begin to really blur (Exhibit "A" would be China's maritime militia), I am beginning to wonder if true surface stealth may come from adopting Mao Tse-tung's idea that a guerrilla "can always sink back into the peaceful population which is the sea in which the guerrilla swims like a fish." This old adage is certainly applicable to the maritime domain–Surface combatants have a long and storied history of using deception for competitive advantage and of blending into peaceful shipping traffic (Q-ships offer one of many fun examples).
Why not take some time to exploit the potential of a low-to-no profile naval vessel?
Under certain circumstances, a Navy platform that could look and sound…and emit like civilian traffic seems like stealth gold. And, well, I suspect running about in a civilian-esque ship is an "enhancement" that costs a heck of a lot less than, say, the DDG-1000's radar-reducing composite deckhouse.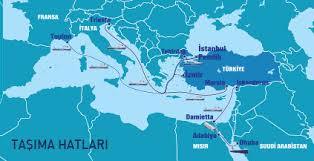 Take the M/V Cragside, for example. After getting a $80 Million-dollar facelift, this fascinating Special-Ops cruise ship will still look like any number of innocuous Turkish-owned ferries or Flensburger Ro-Ros that currently rattle around the Med and (cough) the, um, Black Sea. So it certainly could blend into shipping traffic in some awfully interesting parts of the world (a partial route map for one is above).
Yes, the run-of-the-mill, 20,000 ton ferry isn't as dramatic as a tumblehome DDG-1000, but, gosh, there's a certain comfort of not getting looked at twice.
It's a question of where the best value actually is…is it better to avoid being targeted or better to avoid being detected?  I don't know…they are different sides of the same coin, each with their own set of advantages and disadvantages.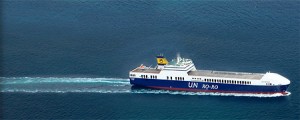 But, given that the U.S. Navy has come down on the side that favors tactical advantage in a conventional maritime confrontation, let's try to explore the contrarian view and enumerate some scenarios where hiding in plain sight may be beneficial.
When Does Hiding In Plain Sight Work?
Is the target unaware? The target's ISR and intel must be patchy. Hiding in plain sight won't work if you're up against an adversary who has complete, 24/7, nobody-ever-sleeps awareness of the maritime domain. However, if that target's ISR capabilities either depends upon the Mark I, Mod I eyeball–or is expected to rapidly degrade to the Mark I, Mod I eyeball, then employing platforms capable of blending with existing civilian traffic may be useful.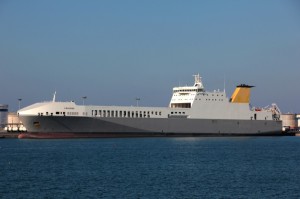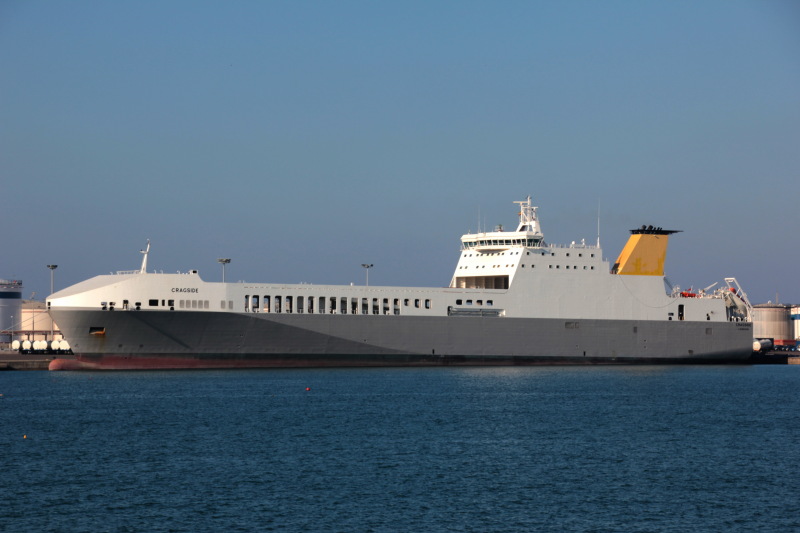 Is the target hoarding ammo?  Anti-ship missiles aren't cheap. If the target has only a handful of missiles–and a viable "identified" threat nearby, then they'll think twice before targeting something that looks innocuous.
Is the environment right? Is the region crowded with civilian traffic–of the type that matches our "stealth" platform?  And, in particular, do my "stealth" platforms match/mimic those of a relatively powerful neighbor or associate? Would the target's fear of real and immediate consequences from a miscalculation be sufficient for the target to require additional verification before targeting?
Are there friends nearby? This sort of stealth works for only as long as the target is convinced that the platform is not hostile—but the moment the ship like the M/V Cragside gets "found out", then there'd better be some friendly traditional combatants to hide behind.
It would be interesting to take some naval architects into a basement someplace and determine just how combatant-like (or, to use the Christina Fox/DOT&E vernacular, how "survivable") these navalized merchant/fishing/workboat-type ships could become without sacrificing the basic civilian ship lines (and while still satisfying the Rules-Of-War lawyers, too).
I assume we will soon find out, because the route from auxiliary CONEX-box mover to amphib-lite to combatant is pretty short…and mighty cost-effective. Who knows?