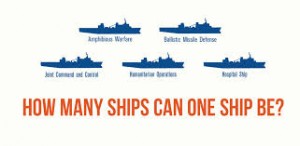 In naval shipbuilding, General Dynamics is crushing the competition. They are simply outthinking and out-maneuvering everyone. It's not a twist of fate, either–they're reaping the rewards of a lot of solid strategic thinking and years of strategic positioning.
They're hitting at all cylinders. Over at today's Defense News, Chris Cavas gives us all a lesson on what happens when a shipbuilder like General Dynamics fully integrates strategic planning into the drafting of mundane contractual instruments like teaming agreements and MOUs. It's not pretty.
The shipbuilding community should take heed of General Dynamics' focus on the fundamentals–because the the result is total and complete dominance of the naval shipbuilding sector. They're just that good.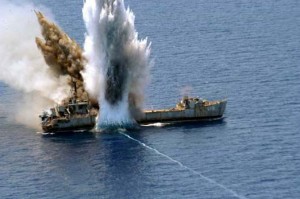 Using the Long View To Crush The Competition 
As I cautioned back in February, another old General Dynamics Bath Ironworks and Northrop Grumman (and now Huntington Ingalls Industries) teaming/work-share agreement has come back to haunt Huntington Ingalls. HII is trapped by old agreements settled during the grand era when naval shipbuilding was a sedate post-Cold War duopoly.
The stage for this current fiasco was set more than a decade ago, back in 2002. The gist of the matter is that if Huntington Ingalls is awarded a 12th LPD (which is likely), Bath Ironworks gets a new DDG-51 contract–likely poaching one from HII's existing book of business. According to Chris…
"…with the LPD program in disarray, the Navy and its shipbuilders agreed to streamline production. In 2002, all signed a memorandum of understanding (MoU) that transferred all LPDs scheduled to be built at Bath to Northrop's yards along the Gulf Coast, in exchange for DDG 51-class destroyers contracted to Northrop. Put simply, three Bath LPDs were traded for three Ingalls DDGs…

…The MoU was reaffirmed by the Navy in 2009, when another swap agreement was signed between the Navy, BIW and Ingalls over work on DDG 1000 Zumwalt-class destroyers.

The sticky part comes with a clause in the original MoU: Should the twelfth LPD materialize, "a fourth DDG 51-class ship or equivalent workload would be awarded to [BIW] preceding, or concurrent with the award of LPD 28."

By that logic, and with all destroyers already awarded through 2017, should the Navy sign an award in 2015, Bath should get an extra destroyer, either via an added ship in the budget — an extremely unlikely event — or by transferring an existing Ingalls ship contract to BIW.

"Our position is that the original agreement of four-for-four is still binding, and we're currently at three-for-three," Andrew Bond, director of strategic planning at Bath, said on June 6.

"We're not in favor or against the LPD in the budget," Bond said, "we just want the original terms of the agreement to hold. That would be that if LPD 28 is appropriated, that prior to the award of LPD 28 we would expect a DDG 51 to be awarded to BIW.

"We view it as a binding document from a business standpoint," Bond added."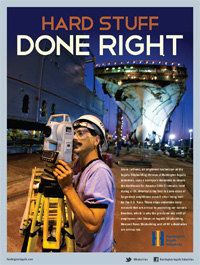 Mr. Bond is correct.
And the goal here is nothing but to crush the opposition–if you don't already realize that the days of the "Great and Cozy Shipbuilding Duopoly" are over, this dispute should convince even the most causal industry observer (And the fact that the normally non-communicative Bath Ironworks is letting a "lowly" Director of Strategic Planning speak…on. the. record….is stunning enough. Unprecedented even. And it should reinforce the idea that General Dynamics is deadly serious.)
If the LPD-17 program stops–or the hot LPD-17 production line gets hung up over litigation–then NASSCO will have a decided–if not decisive–advantage in the competition to build the next-generation LX(R) amphibious vessel.
There's not just a billion dollars at stake here–there are billions of dollars at risk.
Frankly, this agreement should have been dealt with and dispatched as an issue a long time ago, but HII dropped the ball by, I suspect, being too focused on the immediate future (or distracted by organizational reshuffling) to worry much about the longer-term consequences of what they were signing.  Frankly, HII has gotten their fanny handed to them on every single teaming/work-share contract they've signed with General Dynamics–this one, the DDG-51 work-share split, the DDG-1000 and the Virginia Class sub deal–they're all bad for HII.  All met HII's immediate need, but all of 'em were ultimately bad deals.
So, outside of the fact that HII was too distracted to focus, here are some other weaknesses that I suspect are systemic within the shipbuilding industry–allowing enlightened companies like General Dynamics to be so dominant: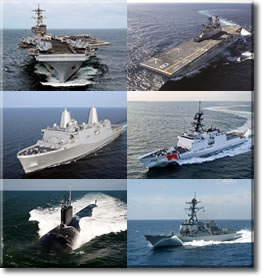 CONTRACTS PEOPLE ARE NOT SEEN AS STRATEGIC ASSETS: I suspect too many shipbuilders out there look at their contracts people as mere tactical assets–an attack dog to fight out the margins of a deal that have already been broadly decided. But General Dynamics, on the other hand, seems to do a great job of integrating their Contracting Department into longer-term strategy–so they're not just driving a good tactical deal, but better positioning their company over the longer-term. That's smart. When today's contracts run for a decade or longer, shipbuilders cannot afford to take the short-term view.
SHIPYARDS DON'T COLLABORATE INTERNALLY: There's also something of a structural issue here. In many shipyards, projects and programs tend to stay in their own swim-lane, and the opportunity to leverage one program's advantage to support another is often squandered.
It's rare to have programs work together, and, in the case of Huntington Ingalls, where each product line is, in effect, competing with another piece of the HII portfolio (read my February post for details), there's just no impetus for collaboration like there is in the General Dynamics shop–where a lot of energy has gone into focusing shipyards into non-overlapping product lines.
CONTRACTING FOLK ARE OFTEN ISOLATED: I also suspect that too many contracts officers are walled off in legal someplace, kept away from Business Development folks or shipyard people. It's easy to hire Contracts Officers who are highly qualified as lawyers and yet…know nothing. Even the most awesome contracts lawyer is useless if he or she hasn't been steeped in the business they're overseeing, and, as Huntington Ingalls is suddenly realizing, anyone who enters into a business agreement with General Dynamics without fully mapping out the long-term strategic consequences is, well, signing their own death warrant.
STRATEGIC CELLS ARE DISMISSED AS LUXURIOUS OVERHEAD: Strategic thinkers are too often sacrificed at the cost-cutting altar. That should stop–the business is so complex these days (and there are so many other intricate wheels-within-wheels in motion) there has got to be a team (even an ad hoc one with a rotating membership) tucked away in the corner someplace who are 1) given authority to collect data (the honest, correct and un-varnished truth, I might add) and 2) tasked to think about the business without being shunted into day-to-day firefighting. Executives need folks in the organization tasked with thinking five steps ahead of the competition and customer.
DISTRACTION IS A KILLER: This agreement came about back when Northrop Grumman was trying to force Ingalls and Newport News shipyards to consolidate and operate as a single unit. As we see today, executives were probably a tad too focused on that epic internecine struggle to really take the time to understand the implications of what they were signing up for–or….they just didn't care and were more focused on keeping things afloat until they got their golden parachute. For General Dynamics, it was an ideal time to forge a favorable agreement.
Conclusion: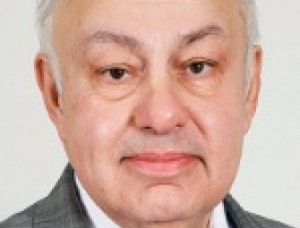 At the end of the day, the small print matters.
And it only adds insult to injury to see these old deals–generated before HII officially came into being–coming back to hamstring HII now, just as HII stock is hitting a record high and the company was getting the confidence to start transforming into a lean 'n mean business…And coming right on the loss of HII's OPC Protest…it's one heck of a blow, and it will suck a lot of wind out of HII's sails.
And I'll bet General Dynamics planned it all to go down just in this way.
I'll say it before and I'll say it again. Fred Harris matters.