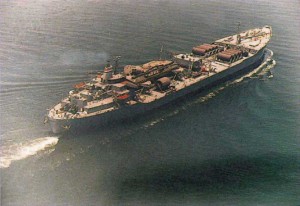 One little-noticed facet of America's Haiti-bound expeditionary aid effort is the SS Petersburg (T-AOT 9101), a 45-year old vessel that is, right now, tied to a Bay Area pier, preparing to deploy.  Why is this Ready Reserve Force asset, one that needs ten days to get going–and one of the furthest-flung pieces of equipment the United States has called into service for Haiti relief–getting activated?  Isn't it odd the military reached all the way to an Alameda pier for a tired old tanker–a tanker that makes only about 15 knots?
Well, it's because the SS Petersburg is much more than a tanker!  The SS Petersburg is a tanker built around an offshore petroleum discharge system (OPDS), and, as such, the ship is one of the only available government assets that can, while anchored offshore, receive and pump lots of fuel ashore. 
OPDS is a key piece of expeditionary tech–those trucks, amphibious armored vehicles and generators have a hard time running without fuel. 
In Haiti, there's only a few weeks supply of fuel available–and we're not done surveying Haiti's fuel-receiving terminals.  Those terminals may be inaccessible for some time.  Though accounts vary, the Wall Street Journal says the fuel terminals are damaged:
Two other Haitian terminals used to bring in fuel have also been heavily damaged, said Mr. Villard.

The U.S. military is also conducting an assessment of the port of Varreux, just to the north of Port-au-Prince's main port, as a possible place to begin pumping fuel. Gen. Allyn said he expected to resume fuel deliveries there "in the very near future," though the assessment will take another day or two.
Without receiving terminals, newly arriving fuel has to come in via road–from harbors elsewhere in Haiti or the Dominican Republic. But with the roads and weak harbor infrastructure likely to be clogged, the SS Petersburg may still be useful.  From Navytimes:
"Within 48 hours of arrival on station, [Petersburg can begin] pumping 1.2 million gallons per day from up to four miles off shore and at water depths down to 200 feet. If the ship is moored within two nautical miles of the shore, two different products may be pumped simultaneously through two separate conduits," according to information from MarAd.
Fuel supply is critical for any amphibious venture–and the advantage of having a means to receive refined fuel without need of port facilities is, these days, a tactical necessity. 
Look to history–The advance from the World War II D-Day beachheads was supported by one of the first undersea pipelines, the aptly-named Operation PLUTO, or "Pipe-Lines Under the Ocean." It was operational by August 1944, sparing space in the wrecked Cherbourg Harbor for other vital cargoes. 
The SS Petersburg, when it arrives at Haiti, may help alleviate pressure on what will be a daunting, long-term effort to clear blocked harbor channels and open pier access.  (The Marines have an expeditionary bulk-liquid transfer system, but their ability to utilize that system at Haiti may be somewhat limited).
OPDS is not just for expeditionary use, either.  For estab
lished bases like Guam, Diego Garcia or, oh, Ascension Island, damage to established fuel receiving infrastructure would rapidly degrade their inherent military value.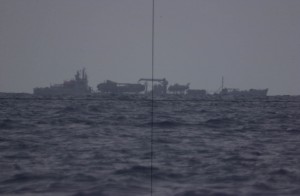 Interestingly enough, OPDS platforms only really emerged as a defense asset in the eighties and nineties:
"…the prototype SS Potomac (OPDS-1 built in 1957 converted to OPDS in 1985); SS American Osprey (OPDS-2 built 1958 converted 1988); SS Chesapeake (OPDS-3 built 1963 converted 1991); SS Petersburg (OPDS-4 built 1963 converted 1994); and, SS Mount Washington (OPDS-5 built 1963 converted 1995)."
What is rather odd is that the United States now only has three of these vessels–well, technically, two.  The SS Petersburg's sister, the Chesapeake (T-AOT 5084), is, after serving in the Gulf Region, a hulk, mouldering away in the National Defense Reserve Fleet over in Beaumont, Texas–in "logistic support" status.  That means the poor SS Chesapeake is being stripped to keep the SS Petersburg operational (The SS Mount Washington is awaiting disposal in Suisun Bay). 
The second, MV Vice Adm. K.R. Wheeler (T-AG 5001), is a brand-new charter vessel:
Wheeler's improved capabilities include the ability to pump 500,000 gallons more fuel per day, operate in more difficult environmental conditions including surface currents of up to three knots and winds of up to 40 knots, and install pipe over an ocean bottom of rock and shell in addition to mud, sand and coral.

Wheeler also requires far fewer people to deploy its distribution system than its predecessors, which required about 200 people. Wheeler's crew is made up of 24 civilians working for private companies under contract to MSC – 16 civilian mariners operate and navigate the ship, and eight systems operators, six of whom join the ship only during fueling evolutions, operate and deploy the distribution system.
But the Wheeler, well, she's busy serving the national interest–someplace else.  Part of the Guam-based Maritime Prepositioning Ship Squadron Three, the ship was last seen operating off Korea (August-September 2009), training to provide refined fuel to fuel-hungry units ashore. 
Here's a great MSC video of the OPDS in action–a wonderful overview of what OPDS offers.
Given the importance of reliable fuel access during disasters and other contingencies, I'm rather shocked that the U.S. only maintains two of these vessels–and that nobody out there in the private sector seems to have made a similar system available for use.  On any island, in isolated region–or devastated urban area–fuel access is a force multiplier.  And for any military service thinking about expeditionary ventures, a OPDS is critical–particularly when mission requirements demand an efficient means to engage and leverage civilian assets.  These civ-mil "connectors" are too few and far between. 
The OPDS is a critical and un-sung piece of the disaster-response tool kit.  If American policymakers  think missions like the Haiti disaster response will become a routine task for America's "Global Force For Good," then the U.S. needs a few more nifty offshore petroleum pumping stations like the MV Vice Adm. K.R. Wheeler.