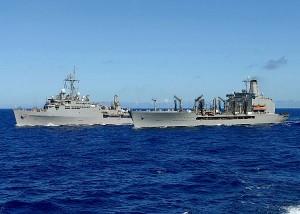 In the game of "annual" Navy conferences, it seems every naval "Community", no matter how small, has a conference of their own. Sail on surface ships as a Line Officer? Go to the Surface Navy Association meeting. Special Operators have their convo. Submariners have theirs. Marines have a few. Aviators have whatever they are calling Tailhook now.
Everybody has a meeting.
Everybody, that is, but the Military Sealift Command.  You know, that behind-the-scenes community of 10,000+? America's third-largest Navy?
One of the few segments of the Navy that is actively growing?
They got nuthin'.  And it is embarrassing. Look up "MSC annual meeting" in Google, and you get the Annual Mulch and Soil Council. And joining up with other communities won't cut it–the MSC is just too broad, and in every other relevant community the MSC supports–like, say, the Surface Navy Association–the MSC is marginalized, and their presence barely acknowledged.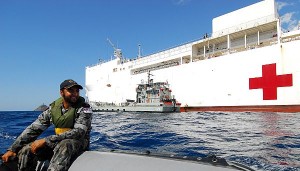 And that's frustrating–after all, who else sails most of the ships that are highlighted in CNO Greenert's standard stump speeches?  Which service community is receiving and shaking-down not one, but three new classes of ship–each with a rapidly-expanding set of missions (A missile range ship, the JHSV, the MLP and the AFSB)?  The first that will be firing off a railgun? And, which naval organization will, within five years, be recapitalizing three to five different classes of ship–and a major portion of their tonnage?
The MSC.
These CIVMAR folks have a heck of a lot to talk about. Korea evacuation? MSC will find the hulls. Missile Defense in the Pacific? MSC folks own some of the radars. VLS re-supply?  Sub maintenance? MSC. As a community, they have more than enough on their plate to successfully fill a two-day conference where MSC leadership–Rear Admiral Tom Shannon, Rear Admiral Larry Jackson, Command Master Chief Kevin Blade and Mr. John Thackrah–are the ring-masters. (Frankly, go read the comments on this post here, and…they suggest there's a heck of a lot that needs talking about.)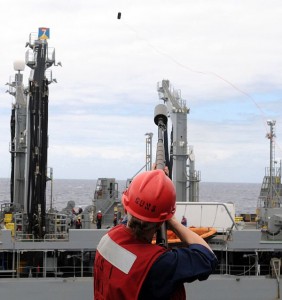 Some "legacy" Navy communities may not appreciate this sentiment, but the MSC/civilian mariner crowd is a critical part of the Navy. And shuffling the MSC Command off to Norfolk won't change things–major communities ignore them at their own peril.
If those communities don't rely on MSC for logistics support today, the MSC is gonna nibble away at their mission niche tomorrow. 
Civil Service Mariners (CIVMARs) are, arguably, the portion of the naval services undergoing the most change, and assuming the largest–and certainly the most momentous–shift in mission set than any other group, growing from "Beans, Bullets, Black Oil" logistics to, well, assuming the role as America's low-end amphib, low-end aircraft carrier and low-end presence force, with platforms being used as everything from Special Operator platforms to ersatz Coast Guard cutters–to, heck, with the AFSB, a slow-moving baby carrier.
If there's a group that needs an annual meeting, it's these MSC/CIVMAR sailors.
Here's a Proposed Agenda:
Opening: The MSC Today–Rear Admiral Tom Shannon

Keynote: CNO Admiral Greenert's MSC and Payloads

The MSC's Future in Support of Fleet: N4, with maybe N95, N96 as a panel.

Keynote II: Deputy SECDEF Robert Work: Introducing The National Fleet

New Platform Report: Skippers discuss JHSV, MLP and the Howard O. Lorenzen.

Future Platform Report: NAVSEA Program Managers and their MSC counterparts discuss AFSB, T-AO(X), T-ATF(X), T-ARS(X) and the CRAGSIDE.

Splinter Discussions:

Manning: Command Master Chief Kevin Blade–open discussion of manning challenges.

Industry Perspective:  A Panel of Maintainers and Ship Operators mix it up with MSC.

Foreign Perspective: A Panel from countries who have similar MSC/CIVMAR-like organizations, new procurements–UK, Canada…Japan?

MARAD Ready Reserve Force: Panel on keeping the logistics force relevant and more easily integrated with the fleet. 

Historical Perspective: Discussion of past logistics heroes, like, say: USS Neosho (AO-23)

DAY 2:

Opening: New Horizons For MSC--Rear Admiral Larry Jackson

Keynote I: SECNAV Ray Mabus: Platforms Matter

MSC at the Poles: Panel discussion the Coast Guard, National Science Foundation, Navy, maybe some think-tank heavies.

MSC in the Pacific:  Somebody from Korea to discuss Korean scenarios, somebody from the fleet to discuss logistical needs, somebody to discuss forward basing.

MSC at the Pointy End: What happens when MSC is engaged, Forward? Panel discussion to discuss, say, South China Sea flashpoints–perhaps led by skippers of the USNS Impeccable (T-AGOS 23) and USNS Victorious (T-AGOS 19).

MSC at Home: Panel discussion with Coast Guard, Customs and FEMA to discuss MSC contributions to USCG patrol mission, Homeland Defense, and Disaster Recovery.

Congressional Lunch: I'd pick Seapower Congressman Forbes since he's the one of the more strategically-inclined members of Congress.

Split Command and Hybrid Crews: A panel on how to negotiate Title X issues.

MSC Free Discussion: Standard Commentary Panel: Dean of Navy Press Corps, Chris Cavas; Ron O'Rourke, Eric Labs.
An annual event like this would do a lot to raise morale in the MSC Fleet, help build better links with the wider Navy, and raise the profile of the larger "National Fleet." It would go a long way in resolving issues that are bubbling up within the wider CIVMAR community….And yes, it'll cost, but…MSC folks…It needs to happen.
Heck, I'll organize it if somebody will help fund it!  Thoughts?