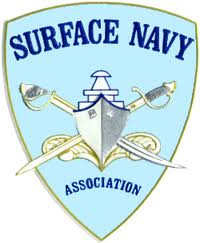 After Chief of Naval Operations Admiral Greenert has spent a year giving stump speeches that, in large part, highlighted the future contributions of civilian-manned ships operated by the Military Sealift Command (MSC) (the AFSB, MLP and JHSV), one might think that the Surface Navy Association (SNA) would get the message and give the humble 'ole MSC (America's unrecognized third-largest Navy) a little bit of love at the SNA's annual convention this week.
And, given that this year's SNA meeting is set to focus on the Navy's Pivot to the Pacific, where, you know, uninterrupted logistical support might just, oh, happen to be an important factor in controlling the biggest stretch of open water on the planet, one might, again, think it appropriate to highlight the MSC.
But a single glance at the agenda for the Surface Navy Association's annual conclave reveals that the MSC–for all the contributions these gallant civilian mariners make in keeping surface combatants ready to fight–is almost entirely ignored.
The snub is unfair. The SNA makes a particular attempt to recognize the Coast Guard, America's Second Navy. The Coast Guard gets their Cutterman's call, a presentation, and a few token spots on panels and such, while the 10,000-person MSC gets little more than a booth (paid for by MSC funds, I'm sure) in a low-trafficked section of the conference hall. (You know, in the caves over by the Naval History and Heritage Command).
I shouldn't be so upset. I mean, maybe NAVSEA will let MSC give a booth brief or something. As a consolation prize. And maybe one or two people will show up.
MSC: The Rodney Dangerfield Navy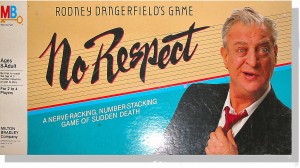 This sort of "can't get no respect" snub from the surface warfighter community is nothing new. MSC's low status was firmly on display at last year's SNA conclave, when Rear Admiral Mark Buzby, a grizzled surface warrior who was ending his career as Commander of the U.S. Military Sealift Command, was forced to wait in line with the hoi polloi for a microphone after a Littoral Combat Ship panel discussion. When Buzby finally got to the microphone, he said something like, "Hi, for those of you who don't know me, I run the Military Sealift Command, and we are, like you guys, introducing a fast aluminum ship to our fleet.  Um…any way we can work together?"
The Admiral's comment brought down the house, but it was a touching example of just how little regard Surface Warriors pay to their logistics brethren. Today, to the Surface Navy, the MSC is not seen as a critical element in "Keeping the Navy Ready to Fight–Tonight!" but viewed as more of a floating UPS, a colorless part of the sea-routine whose crucial contributions are fated to go unrecognized until that one unlucky day missiles transform all the regional support ships into greasy oil slicks.
Some of the disrespect of naval logistics is an inevitable consequence of not being part of the action. Nobody writes gallant stories about logistics, and we'd far rather celebrate Fleet Admiral's Nimitz's victories in the Pacific than ponder how his service in Fleet Oiler USS Maumee (AO-2–see pic) may have made him better appreciate the logistical fleet train he built and used to support his dominance of the Pacific theatre.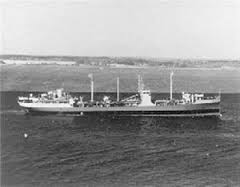 Surface Warriors have always short-changed logistical support. Colliers were ignored until after the Great White Fleet had the unenviable indignity of being forced to use colliers from rival navies. Tankers were slow to enter the fleet, and fleet support ships built for World War II went largely un-replaced and were used (and used and used) until well after the Cold War ended.
Fleet support ships are traditionally the last to get built upon development of a threat, and the first to get cut under budget pressure.
But even though fleet support ships and the wider fleet support mission traditionally lacked respect in the wider mechanized Navy, large auxiliaries were still grudgingly tolerated and even incorporated into the Surface Warrior's path towards higher command. Until relatively recently, a good sprinkling of fleet commanders like, say, former CNO Mike Mullen, would emerge despite garnering sea time aboard humble auxiliaries. And, in addition, an enormous number of naval personnel served on these ships. Those auxiliaries and unlucky sailors aboard still counted–they were NAVY, after all. They had representation in the Fleet and within Fleet leadership.
But that's all changed.
In the eighties and nineties, some smart, green-eyeshade type decided it would be a great idea to save money by outsourcing the Navy's auxiliary fleet to the civil-service. And thus, the MSC was born. Guns and self-defense equipment were stripped from the logistical support vessels, logistic ship manning was ramped down, and civilians took command of the vessels….And logistics moved one step farther from the Surface Warrior's consciousness.
Today, it is kind of a rude shock to realize the majority of the logistical support fleet has been outside of the mainstream Navy for, what? Two generations now? And now, without many friends in the war-fighting community, those humble logistical elements are too often overlooked. They are overlooked in modern wartime tactical planning and other activities (how closely is China targeting our T-AOs anyway?), and their doctrine is, I fear, sketched out by officers lacking first-hand experience within the logistics fleet. Making matters worse, most of our current crop of future leaders were weaned on operations within (or around) the Arabian Gulf, where spares were a helo flight away and refueling simply a matter of a quick port call.
You Can't Engineer Logistics Away:
Other factors have been at play to further decouple the auxiliary fleet from the surface Navy's consciousness. Warship crews have shrunk, while, in turn, naval combatants have gotten larger–meaning that ships can go farther without requiring resupply. Small ships, with their comparatively more demanding resupply schedules, have been virtually eliminated from the arsenal.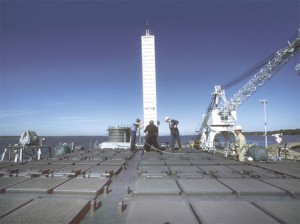 The role of auxiliaries in resupply of surface combatants has particularly been impacted by the emergence of the VLS cell. With guns, ammunition resupply was vital for surface warships. And back when we engaged in surface strike engagements where an enormous amount of shells were used in either shore bombardment or anti-aircraft defense, commanders needed ammunition on a regular basis.
That has changed. Today, the VLS cell is the main gun for virtually all the surface fleet. And since the Navy has fallen wholeheartedly into the "one salvo and win" school of warfighting, VLS resupply at sea has been discounted, and–as I have written before–it remains an unsolved, orphan problem.
This is going to get worse. As projectiles continue to shrink and a Navy eyes energy-oriented weapons like lasers and railguns, there will be an ever-greater temptation to discount logistical support. But barring a wholesale embrace of nuclear power–or a means to transform seawater into energy–the Navy will still need fuel in enormous amounts. Demand is growing–Since 2004, the amount of fuel disbursed by the Combat Logistics Force fleet has grown by about 30%, to about 556 million gallons in 2012. That demand is gonna rise and keep rising even if a few JP-5-hungry CVNs go away.
And there's combat. Resupply in a contested ocean is a lost art. The reason fleet auxiliaries demanded so many people was because the Navy, back in the day, put a premium of minimizing alongside time. Getting fueled and rearmed fast meant survival. But, for the past twenty years the Navy surface leadership has been raised in the Arabian Gulf, a secure wonderland where we own the sea, the air and underwater domain. We could afford leisurely alongside experiences.
In the Pacific, these times are gone and will never return.
Outside of immediate combat support, the personnel-hungry maintenance and support aspects of the fleet train have been privatized or eliminated. And the results…well….Think of this essay after more careers are ground up in the Glenn Defense Marine Asia scandal. Tenders would have helped detect and mitigate the damage.
Navy: Ignore MSC At Your Own Peril:
For all the casual disrespect served to the logistical support services, the lean and mean MSC has grown by about seven percent over the past decade, while the Navy has shrunk by 20%. And with the Navy pondering which missions to cut, the MSC is in the happy position of discovering just what they can do with their newer platforms, while the legislature is happily handing America's newest, most efficient and cost-effective Navy more and more missions. In effect, the distinction between MSC's civilian mariners and the Navy's costly sailors is dwindling.
In turn, the distinction between civilian platforms and naval platforms is also disappearing. Sometime soon, a President, facing a regional crisis, will turn to his commanders and demand to know, "Where's an ASFAB and our JHSVs?".
We are not the only Navy out there blending civilian and military roles and platforms. As China blends their rag-tag maritime militia into front-line activities and uses the Coast Guard and Fisheries boats for sea control, it is getting sillier and sillier to allow Title 10 to constrain a ship's mission. And if we take the CNO's adage "It's payload, not platforms….you a-strategic idiots" (addition by the editor) to heart, then we need to accept the idea that any ship can serve a military purpose, and realize it is increasingly foolhardy to constrain a mission due to the type of crew aboard.
Without getting into details, this distinction between USN personnel and the civilian MSC mariner is getting more and more contrived. It must be solved. 
The Way Ahead: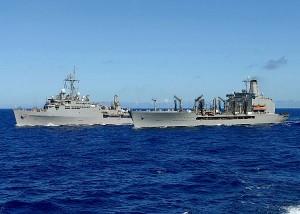 To help reconcile and rekindle interest in the MSC's logistical role and help avoid strategic/operational oversight or a future fight between the civil mariners and our sailors, I suggest the following:
Make the MSC Command a career billet rather than a career-ending one. Add younger officers to the MSC and provide a career path for them.
Embrace the blend. Put hybrid crews aboard USNS ships NOW, and give them hybrid warfighting missions and get to work on resolving Title X disputes now.
Embrace modularity. Make the addition of comms and shipboard self-defense equipment and other items a regular practice (particularly in the Pacific), and continue developing ships (or subsystems) that can easily incorporate the addition of capability.
Embrace (and fund) MSC flexibility. Let MSC have the operational flexibility it needs to experiment, while keeping some of the Navy's more persnickety rules governing warfighters and warfighting platforms at arm's length.
Give MSC some added back-office support.
Recognize MSC Mission Creep. Be conscious that the MSC is a "just-in-time" oriented organization, and that it lacks sufficient surge capability that may be needed in wartime. Give the MSC a sufficient number of platforms to support contingencies and MSC mission creep.
Realize that resupply in a contested sea is a lost art. Recognize that the Navy has spent 20 years focusing on uncontested Arabian Gulf operations, where friendly ports and access to fuel and logistical support was a relatively easy thing.
Get the Coast Guard to use MSC assets, darn it! Sell them on forward logistics, and encourage them work forward and buy into the MSC mission-set.
And, yeah, get MSC some time of their own at SNA.
In closing, the 10,000 person MSC cannot continue being America's "Rodney Dangerfield" Navy. The MSC deserves respect. Time is short. The MSC's integration challenges really must be addressed. If action isn't taken soon, some cost-cutting legislator someplace will use the MSC's cost effectiveness as a sole basis to justify the devolution of combat missions to the MSC, transforming the MSC into nothing more than a means to outsource combat duties to a cheaper labor pool. And when that happens…goodness. Forget challenge of fighting in the Pacific–America's various Navies will be too busy fighting each other.