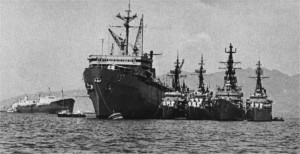 Defunded during the business-minded nineties, humble tenders enable every single one of CNO Greenert's key tenets–"Warfighting first! Operate Forward! Be Ready!"
To be perfectly blunt, there are no ships in the Navy today that do a better job of supporting the CNO's orders than the aged, 35-year old USS Emory S. Land (AS 39) and the 33-year old USS Frank Cable (AS 40).
Nobody in that "Green Eyeshade Era" of the '90s ever liked a tender–they usually had a huge, pricey complement and, by the nineties, most of those World War II-era fleet support ships were in their dotage and needed replacement.  But we had kept a lot of them around, and in the Gulf War, those motley tenders (and repair ships) kept the Fleet ready to fight forward.
Look at the record–In 1993 the Navy maintained nine destroyer tenders, one repair ship and eleven submarine tenders on the rolls.  In 1970 the Navy employed nine sub tenders, fifteen destroyer tenders, seventeen repair ships and 20 LST repair craft.  Today, we have two sub tenders.  That's it. 
As the Navy pushes new platforms farther forward than ever (and as technology at sea continues to rapidly evolve), mobile tender and repair services will become quite useful.
Like it or not, the Navy must rebuild the service fleet.  Here's why:
First, the Navy cannot continue to rely upon the tender mercies of host nations and, oh, UPS/FedEX for "just-in-time" supplies.  Filling out the customs forms (and I won't even mention the State Department's Export Control forms and the wait for processing there and the cost–oh the costs!–incurred in handling that bureaucratic goat rope) is a process that would drive our next "Fighting Bull" Halsey to an early grave.  The logistical support system have now for LCS is a recipe for keeping our ships out of the fight and safely tied to a pier someplace.  Tenders, on the other hand, can carry needed equipment (and techs–AND CREWS) forward without fear of a huge bureaucratic burden and delay (by either the host country…or our own).
Second, the Navy cannot count on guaranteed access to forward-deployed services.  No diplomat in the world can guarantee such a thing.  Did leadership forget the lessons learned when the US Navy got kicked out of Subic?  Just imagine–for example–an ugly UK/Spain mixup on Gibraltar.  A rational person might think that access to Rota might get a tad, uh, impacted by such a happenstance.  And how long will the lid stay on in Bahrain? Wouldn't a mobile maintenance/crew swap/mission module/refuel/rearm component be a useful addition?  Surely we have done enough work on seabasing to acknowledge the advantages of forward, in theatre logistical support…
Third, the cost of such investments is relatively low.  The Navy does not need a return of the big "old school" tenders–an LST-like utility platform might do fine, for now (the logistical-support history of PT Boat deployments in the Pacific might be a useful guide).  But as more ships head out to Darwin, Singapore, the Philippines, Bahrain and beyond, tenders must be included if America is really serious about meeting CNO Greenert's tenets of "Warfighting first!  Operate forward!  And be ready!!"