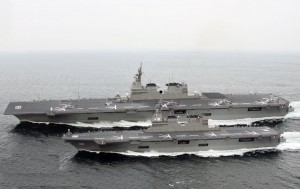 Love it or hate it, the F-35B is positioned to be–at least until a small combat-ready VSTOL UAV arrives–a critical piece of the Pacific Arsenal.
It is no mistake that the start of F-35B sea trials and the launch of Japan's large flat-topped destroyer Izumo (DDH-183) came the same week.  The fate of the two platforms are undeniably entwined.
China knows that once the F-35B is operational, the list of strike-capable flat-tops in the Pacific will grow dramatically–in theory, Japan, Australia and the US could, if pressed, fly fixed-wing combatants from up to sixteen big deck amphibs.  And outside of the 2 Hyuga, 2 Izumo, 2 Canberra, 8 Wasp and 2 America Class gator flatops, there is also the less-capable Dokdo, Osumi, and San Antonio Classes that might field a plane or two for special occasions.  (And I won't even mention Russia's Mistrals…)
A sudden proliferation of capable, fixed-wing ready handy-sized flattops complicates China's targeting challenges.  In conjunction, these ships, if armed with F-35Bs, may be able to relieve CVNs–either by helping reduce the CVN's operational tempo or covering gaps elsewhere so CVNs can operate freely well out in the deep Pacific. (And even if the F-35B is–as some hope–cancelled, a VSTOL UAV would quickly come along as a replacement.)
These baby carriers also fuel China's naval modernization.  I mean, what would we do if the shoe was on the other foot?  Imagine, just for a second, if we had no aircraft carriers and, say, Cuba, Venezuela, Mexico and Greenland were busy building flattops while, at the same time, growing increasingly friendly with a dominant naval power and building the framework for a regional containment-oriented security alliance?
That's simple–America would be building aircraft carriers as fast as we could.
Laugh if you want, but that sort of thought exercise helps put China's naval modernization into a certain perspective–which certainly may help us better manage China's rapid naval growth over the years to come.