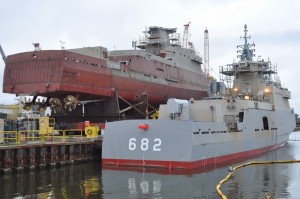 The fate of VT Halter's four Egypt-bound Fast Attack Craft vessels is up in the air.
If Egypt's current government continues to discomfit the United States, these small, capable surface combatants just might even end up in the US Navy, serving as a second, smaller repeat of the Kidd-Class (for those who don't know, the 4 Kidd Class Destroyers –sometimes called the Ayatollah Class–were being built for the Shah of Iran but, after Iran's sudden regime change, the capable Spruance-Class Variants were kept by the US and entered the US Fleet).
The four Fast Attack Craft are being built under an FMS Case, and the US government, as of 2011, had spent about $800 Million Dollars on them.  As of this month, two seem to be operating in the Gulf of Mexico, with another two being built at the VT Halter Yard–and possibly another two under consideration as options.
The Ambassador Mark III (or Mark IV, depending on who you talk to) Class is a very interesting platform.  According to the indefatigable Chris Cavas:
…the stealthy, 550-ton ships are 207 feet long. They are powered by three MTU diesels and designed for a top speed of 41 knots. The ships are armed with eight Harpoon surface-to-surface missiles and an OTO Melara 3-inch gun, with self-defense provided by a Rolling Airframe Missile launcher and a Close-In Weapon System Block 1B. They are designed to operate at sea for up to eight days.
Here is a little more from a nice review from Naval Technology.com.:
The Egyptian Ambassador IV craft is armed with eight RGM-84L Boeing Harpoon surface-to-surface missiles, (SSM) Block II missiles, one Oto Melara MK75 76mm/62 Super Rapid DP gun, one MK31 Raytheon Rolling Airframe Missile (RAM) system with MK49 guided missile launching system (GMLS) and a MK44 MOD 2 Block 1 guided missile round pack that can support 21 canister-mounted missiles, one Raytheon MK15 Mod 21 Phalanx Block 1B 20mm close-in weapon system (CIWS) and two deck-mounted 7.62mm M60 machine guns.
In May, Tim Colton reported that the first one of these ships was headed out, but, as of nine days ago, she was still rattling around the Gulf Coast:
The first of the four Fast Missile Craft being built by VTHM for the Egyptian Navy left Port Everglades at about 2 PM today, headed south at 20 knots:  She had been undergoing tests at the Atlantic Undersea Test & Evaluation Center, (AUTEC).  The ENS S. Ezzat was built to Vosper International's Ambassador Mk. III design and is a high-performance, 40-knot vessel.
With Egypt's relationship with the United States entering a frosty period (see the August 9 cover of the Wall Street Journal or talk to folks in Congress if you don't believe me), there is a very real possibility that some of these ships may never get to Egypt–which means, well, we get an opportunity to ponder their fate anew.
To me, I see two options: they can either enter the US Fleet, or be immediately shifted to a country off the South China Sea, offering a strategic ally in the region a real boost in maritime capability.  This type of a transfer would instantly raise America's profile and demonstrate American commitment to play in the region using the tough local rules.
To be frank, I am somewhat stunned that current discussion about America's arms transfers to Egypt has been limited to F-16s and armored vehicles, when, over in the Gulf of Mexico, the US has (by now) about 1.2 Billion in spent Foreign Military Sales (FMS) dollars floating around.  Refusing to allow these ships to be transferred would send a real message–and what would a refusal to transfer cost us?  What security will giving these ships to Egypt offer?  What benefit do we get from this, really?
These Fast Attack Craft could, very easily, be put to use in the US Navy or be used to obtain real foreign policy/national security dividends (far beyond any foreign policy dividends that might come from sending them to the Med), by gifting them to either the Philippine or Vietnamese Navies.