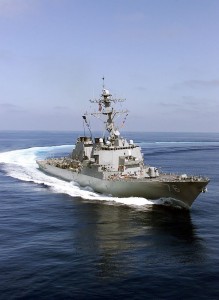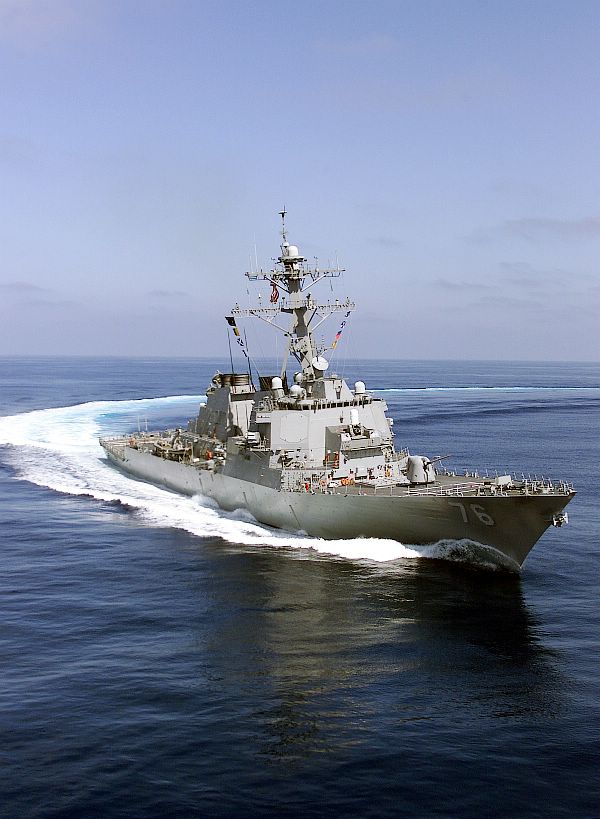 If the Navy is going to spend time thinking about new frigates or pondering "up-gunning" the Littoral Combat Ship (LCS), then America should also be thinking about developing a low-mix, austere DDG-51.
Look, if the U.S. Navy is looking for a low-end Destroyer, then why not use the excellent high-end DDG-51 as a starting point? Why are we just using an allegedly "flawed" LCS as the starting point? And is down-sizing the DDG-51 into a bare-bones, sweet-sailing and export-ready variant–a "Littoral Operations Variant" DDG-51-economically possible or operationally feasible?
A low-end DDG-51 might just work.
If CNO Admiral Greenert's Small Surface Combatant Task Force decides current LCS variants can't do the job without a major refit, then, heck, let's just see what an austere DDG-51 will cost the Nation if converted into a Littoral Operations variant. (Look, I still like the conceptual foundation for the LCS, but an up-gunned LCS is not the cost-effective, low-end, civil-spec mix-it-up platform I had originally supported.)
We have, I fear, gold-plated the LCS–an interesting and much-needed "niche" anti-sub and anti-mine platform–to death.
So, yes, it might be time to just pull the plug on LCS if it needs major work to take the frigate–small destroyer–role. From my vantage point, every LCS up-gunning scheme or post-LCS frigate option comes with a real risk of turning into another controversial, high-risk and pricey kludge just as the Navy is desperately looking for money to buy, say, SSBN(X).
(And we're going to decide on all this and commit to it even before LCS faces shock-trials? My goodness…)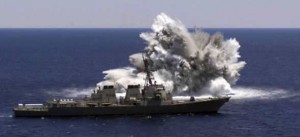 At the end of the day, it has got to be far easier to take stuff off a big ship—a big ship that already meets all the Navy's survivability and durability requirements–than to try and shoehorn all kinds of equipment onto a smaller hullform.
Even with the added expense of a somewhat larger hull, the hot production lines, the efficiencies that come from having a 75-hull DDG-51 fleet already in service (with, I might add, mature training, maintenance and operational protocols already integrated into the fleet), and absolutely no concerns about the platform's fundamental viability, make a "Littoral Operations Variant" DDG-51 look like a good deal.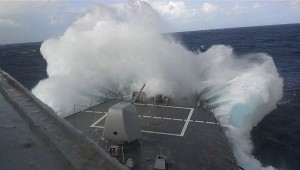 A bare-bones DDG-51 variant would be more lethal, more survivable, and more durable than the LCS. And trying out a "low-end" DDG-51 makes certain economic, operational and doctrinal sense—at least as much sense as some of the wild and crazy schemes that are, right now, being passed off as our "Post-LCS" future.
Conventional wisdom suggests a DDG-51 hull is too pricey at $1.8 billion. But I suspect an up-gunned LCS will be pushing into billion dollar territory anyway. So, if a bare-bones Littoral-ready DDG-51 variant has even a remote chance of being procured for a billion dollars or so, then let's just do it—or at least discuss it a bit.
In my mind, the savings from platform commonality and shared training, maintenance and growth margin will pay for themselves in short order.
Let's think about this.
The LCS Ain't Small: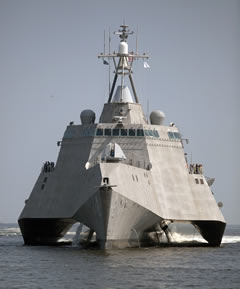 As the LCS got increasingly gold-plated—and a press for blue water prowess grew—the lines between the mainstream DDG and the LCS became increasingly blurred. So if we're looking for a tad less capable DDG-51, then let's just do it.
But the DDG-51 is too big, you say? Yeah, well, look. Calling the LCS "Small" has always been a stretch. But calling the up-gunned LCS and their other likely competitors "small" is silly.
As a bit of an aside, it is high time to stop using the term "Small Surface Combatant" in relation to the Littoral Combat Ship (LCS) or in Fleet planning documents.  The term "Small Surface Combatant" has become less about volume than about smaller, less-complex mission-sets.
Look at the dimensions–the Arleigh Burke Class DDG-51 measures 154 meters. The most up-gunned variant of the Freedom Class LCS clocks in at 150 meters, the Spanish F-100 frigates are 147 meters, the Danish Iver Huitfeldts are 139 meters, old FFG-7s are 136 meters, while the Indy-Class LCS-2 is a mere 127 meters (but makes up for it with a 32-meter beam). The Huntington-Ingalls Frigates are also about 127 meters.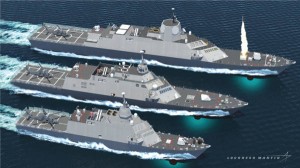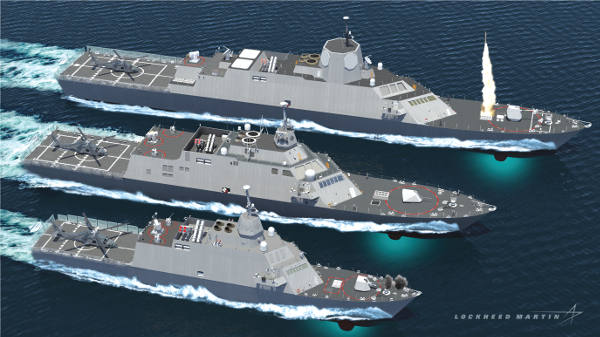 We're talking a difference of 89 to 14 feet. One of the major selling-points of the LCS was that it could "go where the big ships couldn't" to engage.  Well, let's save that mission for the existing 24-ship LCS fleet, the JHSV fleet and, in time, an Offshore Patrol Cutter variant.
Displacement?  Sure. That's where you get some real differences. DDG-51 clocks in at 6,800 long tons, while the F-100s are 5,800, the Iver Huitfeldts are around 5,800, the FFG-7 was 4,100 (also wise to keep in mind that the ship's original displacement has grown). But I can only presume that the up-gunned LCS and NSC Frigates will weigh in at something like 4,000-5,000 tons.
So, to get all the Pentagon's extra gear and survivability enhancements aboard, there's only going to be about 1,000-2,000 tons in displacement differences between the current DDG-51 and the up-gunned LCS. Strip DDG-51 down to the bare bones, and I'll bet the displacement differences will substantially narrow, while many of the ancillary risks/concerns over survivability, durability, long-term viability and so forth go away.
In the grand scheme of things, acquisition of the basic "Hull, Mechanical and Electrical" ship and ship systems can become relatively cheap if built in numbers. So why not take the savings from the hot Flight III DDG-51 production line and make it even hotter? Better yet, sell a few lead ships to, oh, say, the Saudis, and that'll go a long way in helping to defray development costs.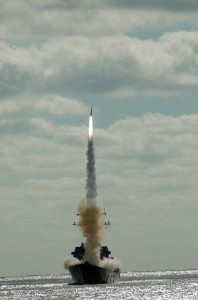 Love the Space/Weight Reservations
The problem with any effort to build a frigate-sized ship is that the niche is already crowded with an array of mature, margin-pushing and highly-engineered platforms.
No naval architect I know can eke anything better out of the current generation of 4,000-ton-ish frigates. Until game-changing tech comes along, the smaller 4,000-ton, frigate-like ships are a developmental dead end. And every ship we build along conventional frigate lines will be facing a sea full of virtually-identical competitors.
But…even a modestly fitted-out Littoral Operations Variant DDG-51 gives the US Navy a substantial overmatch when put against any 4,000-ton frigate out there.
If we do explore the Littoral Operations Variant DDG-51, the real focus should be upon 1) stripping it down to the bare bones, and 2) making the ship upgradable. Forget modularity—in fact, the Navy should do everything they can to keep mission modules from becoming a program of record ever again–and use open computing infrastructures to help make rapid, bolt-on add-ins/upgrades a reality (and shunt the modular Mission Modules to JHSV/MLP/AFSB platforms with help from the Navy's upcoming tug/salvage ship recapitalization, and, later, a militarized OPC).
All the Littoral Operations Variant DDG-51 needs is an agreement on what to scrimp on.
That won't be easy, but a Littoral Operations Variant DDG-51 certainly could sail into contested waters without all the VLS cells that grace, say, a Flight II DDG-51. And a Littoral Operations Variant DDG-51 certainly could reserve the space/weight for a quick add-in of VLS cells and other weapons/sensors/pipes should conditions warrant.
Does DDG-51 need the SPY-1D? Could it not sail with a less complex, smaller Aegis radar? Or an even cheaper non-Aegis platform?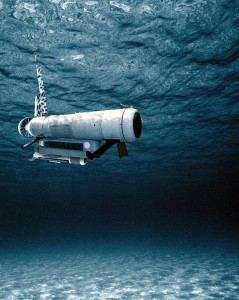 Flexibility would need to be paramount. The Navy would need to see what they could prune from the platform without interfering with the developments in naval warfare we see on the horizon—directed energy weapons, rail guns, ECM fittings, UAVs/UUVs, etc.. What else can we cut that would reduce the manning—yet still allow for the ship to safely "bulk up" with extra riders during times of tension?
Surely a Littoral Variant DDG-51 can harbor organic ASW resources and offer easy bolt-on support for Mine Warfare (Look at the photo and remember what the mine-hunting DDGs were rigged to carry)
The possibilities are endless.
In comparison, an up-gunned LCS is at real risk of loosing flexibility. Up-gunning essentially locks LCS into today's weaponry. But with a bare-bones, austere DDG-51 Littoral Variant, the potential to integrate future weaponry remains a viable reality instead of a margin-shaving, difficult-to-near-impossible feat of naval engineering.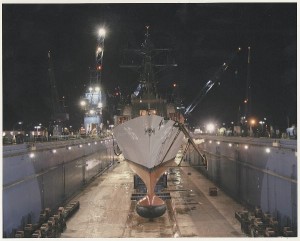 Commonality:
For years the LCS community has been flailing around, desperately floating schemes  to increase the amount of equipment common between the two different LCSs and, in turn, the rest of the fleet.
But it turns out that the answer has been staring us in the face:
The common component of the surface combatant fleet is the DDG-51 hullform. We probably never should have gotten away from that.
And then there are those fancy "extras" we've been struggling to put into place for our two new LCS variants. With a Littoral Operations Variant DDG-51, there's really no need for a fancy new training pipeline, or new maintenance practices, or additional niche shiphandling expertise. It's all already there, bought and paid for three or four times over.
Industrial Base:
Embracing a low-end DDG-51 helps protect Bath Ironworks and Ingalls, and may, by simply adding hulls, offer a means to protect the high-end Flight III DDG-51 by reducing total cost.
The LCS-producers don't need to be left behind, either. Austal's JHSV is strong contender to support many of the engagement-and-port-call activities, while Marinette could get ten new hulls from the Navy's upcoming fleet tug and the salvage ship recapitalization effort (and frankly, all of these ships should be built to accept certain portions of the original LCS mission modules).
That leaves us with the OPC. USCG Admiral Papp put a lot of energy in getting a good, basic sea-keeper designs under contract. As the Coast Guard closes in on a contender, the Navy must engage to see how this interesting small ship can be militarized and, so doing, become a real "small surface combatant". I think the OPC is the type of ship that could be distributed off to several smaller yards, and we could keep building them forever.
Conclusion:
I am still an LCS guy. I'd love to see the LCS concept be given time to grow and develop.
I am also convinced that the LCS is the right test platform to have during this time of rapid technological change. But all the fleet in-fighting and moaning and groaning about the platform distracts from, what I think, is the real mission–providing a simpler, flexible and cost-effective platform capable of rapid projection of new technology, while, at the same time, freeing up valuable high-end combatants. In time, we may end up loving the base-model LCS–and want even more–but a big refit to take on a small-destroyer role will mean just another round of acrimony and fingerpointing just as the Navy is desperately seeking money for, say, SSBN(X).
But right now, a very low-end, austere DDG-51 variant can do all that "rapid technology projection and free up the high-end assets" work just fine. And everybody from Senator McCain on down would love it. So…CNO Admiral Greenert, why don't you have your folks in the Small Surface Combatant Task Force take a moment and see just how much it'll cost to get a low-end, austere Littoral Operations Variant DDG-51 into the fleet?