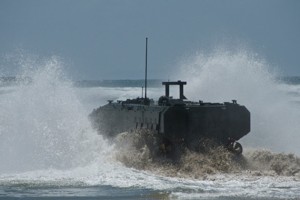 Is the recent release of the Amphibious Combat Vehicle (ACV) 1.1 RFI a sign that the U.S. Marine Corps finally going to get serious about procuring modern amphibious vehicles?
I have something of a personal stake in this, after urging the USMC to reconsider the early 2013 abandonment of the Marine Personnel Carrier (MPC) back in November of last year.
I thought the MPC offered a cost-effective "80% solution" that bought the USMC time to put the EFV behind it–or time to wait for tech to come along that enabled the USMC to salvage something–anything–from the billions sunk into the abortive Expeditionary Fighting Vehicle (EFV) (A topic I discuss here).
Time For A Change: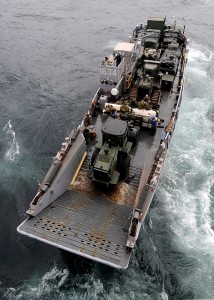 Something has to be done. The Marines have dithered over the sea-and-shore interface for so long, most of the amphibious fleet is actually younger than the vehicles the Marines use today to "hit the beaches". Don't believe me? The AAV-7 entered service in 1971. All but two of the LCUs were delivered by 1970. The first LCAC was launched in 1984.
I mean, when USS DENVER (LPD-9) and USS PELELIU (LHA-5) leave the fleet, the oldest amphib will be USS WHIDBEY ISLAND (LSD-41), commissioned in 1985. Everything else in the Gator fleet is comparably new, and were, in fact, planned around the EFV–but the EFV met it's demise in 2011.
So little attention is being paid to crossing the sea/shore interface, the Navy's official LPD Fact File still says that the LPD-17 class LPDs are:
"used to transport and land Marines, their equipment and supplies by embarked air cushion (LCAC) or conventional landing craft and Expeditionary Fighting Vehicles (EFV)…"
And they are:
"…built to operate with 21st century transformational platforms, such as the MV-22 Osprey, the Expeditionary Fighting Vehicle (EFV), and future means by which Marines are delivered ashore."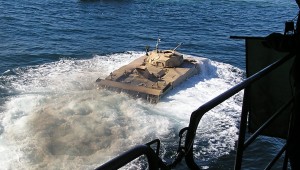 (Hope springs eternal, but…the EFV was cancelled in 2011. It ain't coming back, and it's beyond silly to have EFV stats sticking around in the Navy's "official" public info sheets.)
Anyway, it's about time the USMC did something to get young Marines' creativity focused on something more directly related to amphibious warfare than, oh, strategizing on how to keep their aged and infirm AAV-7 operational and…afloat.
The Marine Personnel Carrier–an 80% solution: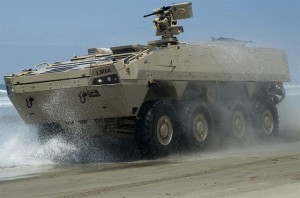 The Marine Personnel Carrier (MPC)/Amphibious Combat Vehicle 1.1 (ACV 1.1) isn't a fancy, tracked partner for the M1A1 Abrams Main Battle Tank. It is intended to be a cost-effective (we're talking about $4 million dollars a unit), eight-wheeled vehicle that has modest ability to transit open water. Think, for example, of an amphib Stryker.
So the MPC should end up being nothing particularly sophisticated–just a platform with potential to get the "job" of getting Marines ashore "done" in a relatively non-threatening (and largely Pacific-Basin-oriented) environment–think, say, East Timor, or someplace a little more dicey, like Africa. Buying a few APC/MPCs simply gives the Marines something relatively modern to work with, and offers them a bit more flexibility in responding to future challenges.
The APC 1.1/MPC–whatever model that gets picked–may well prove a better fit for some of the innovative platforms that are starting to enter the fleet. At a minimum, the new vehicle" will help free Marines from the doctrinal shackles of the old AAV-7, get beyond the old EFV PowerPoint Deck" and into the field.
Where they should be.
Or so we hope.
Dissecting the MLP RFI: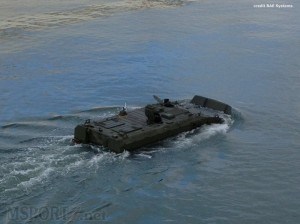 Here' s the guts of the RFI:
Open ocean water mobility: Significant Wave Height (SWH) of two (2) feet and sufficient reserve buoyancy to enable safe operations
High level of Survivability & Force Protection: Details are contained in the Classified Annex
Shore to shore operation: 4-6 feet plunging surf (ship to shore operations and launch from amphibious ships as an objective)
Land mobility: Ability to operate over the Marine Corps mission profile (30% improved surfaces; 70% unimproved surfaces)
Lethality: Ability to integrate a .50 caliber Remote Weapon Station (RWS) with growth potential to a dual mount 40mm/.50 cal RWS or a 30mm cannon RWS
Carrying capacity: Three (3) Crew + Embarked troops (10 Threshold; 13 Objective), associated combat loads (assault, approach march, and existence loads), mission essential equipment, and vehicle ammunition (see performance specification for details)
Communicate: Ability to integrate the command, control, and communications (C3) suite provided as Government Furnished Equipment (GFE)
This RFI is a heck of a lot less detailed than the earlier 2011 MPC RFI, but we are early in the process, I guess. Here's what I'm gleaning from a quick pass:
My first thought is that somebody has gamed the RFI a bit to sideline BAE (who I thought was the front runner in the last competition) The carrying capacity has grown from 9 Combat loaded Marines to ten, and that put's BAE's SuperRAV 3 crew/9 troop capacity offering (here) at a disadvantage. I think General Dynamics, the SAIC Terrex and the Lockheed Martin Terrex have a real opportunity now.
Second thing I notice is any mention of coordinating with the M1A1 Main Battle Tank is gone. That's good–As I have written before, for a USMC heading to the Pacific, the Pacific ain't tank country. But it's good for MPCs–at least in the scenarios I suspect will be challenging us in the near-term (which will likely consist of the US racing to Pacific islands facing, say, an outbreak of ethnic unrest and restoring order before the Chinese arrive in their new amphibs to, oh, take over the place).
Third, surf mobility seems to have been rejiggered a bit–previously the objective was to swim at speed in a sea with wave heights of three feet. Now the objective has been dumbed down to two feet, while there seems to be somewhat more interest in the MPC being able to handle a plunging surf of six feet.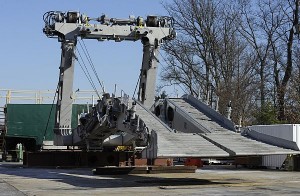 Sadly, there is no real mention of supply-carrying capacity or a requirement to "swim" off of a non-well-deck-equipped vessel while carrying a goodly amount of stuff.
That's a critical oversight, particularly if the USMC wants to try and deploy from non-traditional platforms like, say, your average MSC Ro-Ro or the JHSV–Possibly going straight into the ocean via something like this interesting Sea State 3 ready JHSV Ramp?  Don't laugh–It might happen, from DOD Buzz:
"…there's a new openness to a two-piece solution: say, for example, a troop-carrier optimized to operate on the land, with limited amphibious capability to wade through rivers and surf, and a high-speed watercraft to bring that land vehicle to the beach, or at least close enough to dog-paddle there."
If a force is being dropped off by a fast JHSV or other speedy non-traditional "non-amphibious" amphib, the MPCs are going to carry much of their ammo and initial supplies with 'em.
That said, the Marine Corps should take real care to not engage in any of the silly evaluation games that kept the EFV a "viable" program for way too long–none of the coy little "look, the EFV can get up on a PLANE….er, without ammo or troops…but let's not quibble over details, man, it's plainly planing…" type games.
And I know the Marines have something of a habit of going ashore without ammo in the past, but the MPCs–if they are deploying from one of the non-traditional amphibs–will need to go ashore fully loaded (if not overloaded) or they're not going. (The ammo-handling rules for MSC-run ships are quite strict and the JHSV has some particular rules of it's own, too).
A Plea to Move Quickly: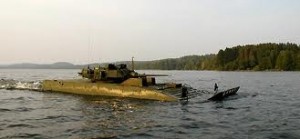 Despite the distraction of two long land wars, the U.S. Marine Corps remains a world leader in amphibious assault. Even after a long hiatus from the amphibious field, the USMC remains the World's amphibious "taste-makers", and the kit and tactics they develop are adopted throughout the globe (Just look at where the AAV-7s operate today!). But that leadership role is going to change unless the U.S. Marine Corps reverses years of dithering over the sea/shore interface.
We don't have time to dither. Today, amphibious vessels are being produced in great numbers. Those newly amphibious navies won't wait for the U.S Marine Corps to finish playing "Hamlet" over their amphibious gear. Our allies will go to build their own stuff, create their own doctrine, and America will loose a once-in-a-lifetime chance to direct our partners and allies towards common tactics and interoperable (and, ahem, American made) equipment.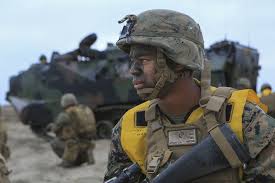 The potential for leadership is there. At sea and in the air, the U.S. Marine Corps has gotten almost everything it wanted. Seabasing is becoming a reality. The MV-22 is changing the game in the air, and the CH-53K will back it up as a robust heavy-lifter. Yes, the Amphibious Fleet has shrunk, but it has become a robust assemblage of relatively spry "high-end" ships, with a relatively clear recapitalization pathway.  And a vibrant set of low-end vessels are opening a number of interesting opportunities to advance tactics.
It's just that the interface between the sea and shore has not aged well, and without some new gear, we won't be able to adequately realize a return on the billions America has already invested in today's modern-day amphibious fleet.
Ultimately, when the majority of the nation's amphibious ships are younger than the Amphibious Assault Vehicles operating from the well deck, something is wrong. So, USMC, quit dithering and move the ball downfield with the MPC, the 80% solution.
See ya'll on the beach!