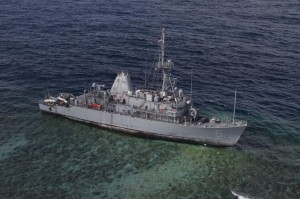 If the U.S. Navy is really putting "Warfighting First", then, well, why not just turn the non-fighting seamanship, navigation and ship-handling work over to civilian mariners? The connection between the conn and battle at sea is less intimate than ever–and civilian mariners are generally better qualified in ship operations, have more experience conning ships, and cost considerably less than their "warfighting-first" relatives.
It's a natural progression. Mainstream Navy might be loathe to admit it, but more and more missions are being handed to the lean and mean civilians (and ships) at the Military Sealift Command. (I've written about this here, here and here, and, if you don't believe me, well, just go listen to the CNO or read the recent suggestions from CSBA.)
I don't necessarily agree with such a step, but either the Navy continues handing more and more missions to civilian mariners, or the Navy, Congress and the taxpayer must make peace with the idea that that the rate of avoidable mishaps at sea will steadily increase, putting precious (and irreplaceable) ships and subs out of service (often at strategically painful moments, too!).
Or we can pay for sufficient small ships, SSKs, operational budgets, and all the training and simulator time required to make the U.S. Navy a center of seamanship excellence.
Yes, collisions and mishaps are a fact of life with any Navy–no matter how well trained–but until something changes, expensive and embarrassing mishaps are going to be a depressingly regular happenstance as America's combat-systems-oriented (or staff-service oriented) officers continue to be awarded major commands with too little training and experience for too big a vessel.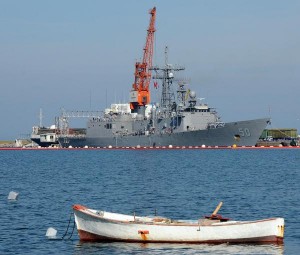 The Navy record has been erratic (As a broad and imprecise measure, undersea ops had a horrid mishap record in FY13, but a great one in FY 14, while the surface Navy, after a good stretch since 2008, didn't do well in FY 14). Regardless, over the past decade, an enormous amount of time, taxpayer money–and Navy careers–have been sacrificed to avoidable incidents (photos of a few notable mishaps accompany this post). The latest victims of a ship-handling incident, the former CO and XO of the LSD USS Tortuga, are likely spending a glum Holiday at home, filling out job applications and meditating on the $2.5 million dollars of damage done when the ship collided with the Thimble Shoals buoy in early October (In the annals of naval infamy, that's in the neighborhood of where the battleship USS Missouri grounded in 1950).
The Cost of Poor Seamanship
The cost of poor seamanship isn't just in the expense of repairing dented hulls or in re-floating grounded vessels. Every mishap extracts a cost in national prestige, and could, conceivably dent and damage international relations.
Remember that little incident at sea between the USS Cowpens and the Liaoning a year ago? Where we roundly abused China for poor seamanship? For risking a miscalculation?  Releasing a statement that read:
While lawfully operating in international waters in the South China Sea, USS Cowpens and a PLA Navy vessel had an encounter that required maneuvering to avoid a collision.

This incident underscores the need to ensure the highest standards of professional seamanship, including communications between vessels, to mitigate the risk of an unintended incident or mishap…
So…Anybody get a little queasy after realizing that the Cowpens' CO was relieved a few months later for, in part, hiding in his stateroom days after the confrontation and, in essence, abdicating command?
I sure did.
Anybody wonder if the quality of his seamanship–and our conclusions from the entire incident–might be worth questioning?
I did.
Poor seamanship can start wars. And maybe that's ironic–there may well be a lot more U.S. naval officers out there who are more at home waging a clinical war from a console then they are navigating a crowded shipping channel or engaging in the close-in cat-and-mouse gamesmanship of sea lawfare.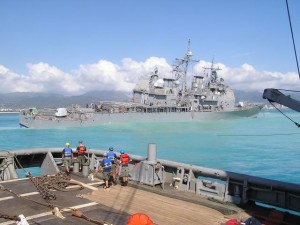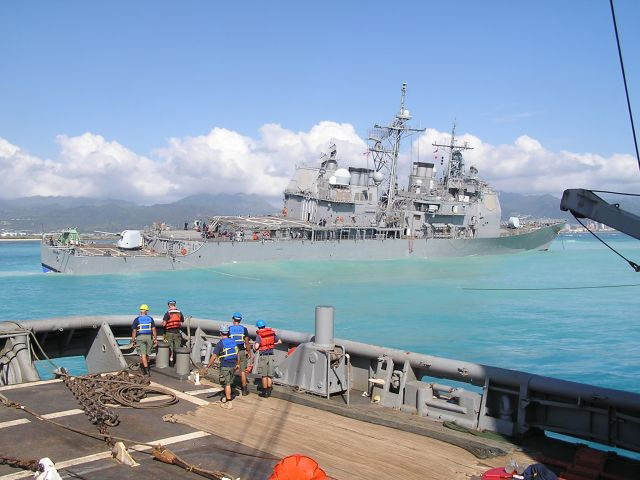 An Early Caution
This isn't a new thing. Naval seamanship has been concerning observers for some time. I'm reminded of a prescient article from an August 2006 U.S. Naval Institute Proceedings, entitled "Where Have All The Shiphandlers Gone?  The piece, written by Retired Captain Stuart Landersman, seems to have stood up well–despite ongoing efforts to improve Navy ship-handling issues.
But back in 2006, the good Captain noted how ship-handling went from a critical competency, "essential to a career officer's reputation, professionalism and promotion," to where it was no longer included in the Fitness Report and Counseling Record.
He then went on to compare aviation training with the process of earning a Surface Warfare Officer badge, writing:
Whereas the aviator goes through rigorous training, demonstrates that he can fly, earns his wings, and then accumulates many hours of flight time before he is considered a capable pilot, the surface warfare officer does minimal preparation, converts prompting into orders without understanding why, earns his SWO badge and then may not drive a ship again.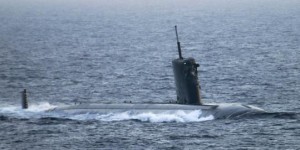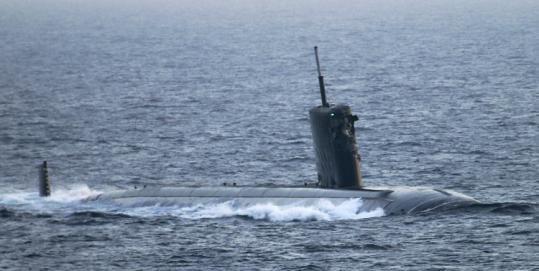 He hits upon the Navy's lack of compliance with maritime standards for ship operators:
These standards have been established by international conventions to which the United States has not only agreed, but has been in the forefront of promoting, urging, and encouraging application to world shipping. Very few U.S. Navy ship captains or officers are capable mariners, qualified by international convention and national law, experienced by way of requisite in-job time-at-sea, nor do they have the confidence that comes only by practiced seamanship evolutions. Valiant and capable combatants they might be, let us hope, but professional mariners they are not.
Strong stuff–and probably stuff that made a few irked people stop reading. But the good Captain closes with a comment that still deserves some consideration:
If valet parking, sea buoy to sea buoy, and chauffeured driving is not in the future, and it should not be, the Navy must establish a clearly defined program with the objective of producing capable mariners…..If not, a future Navy may see warships operated by full-time civilian masters and mates who will drive the vessels to the scene of action so that combat systems can perform.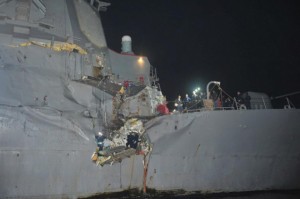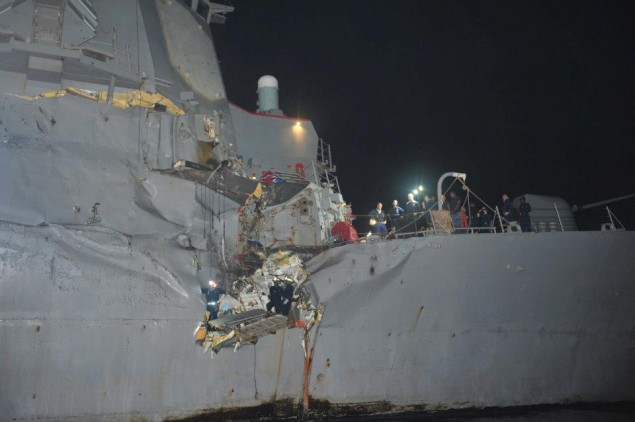 It's Why Small (Or Simple) Ships Matter
Seamanship is one big reason to support the Navy's acquisition of small, durable ships–like the Coast Guard's OPC is set to be. The Navy simply lacks opportunities for naval officers to hone their skill on smaller (or simpler) commands (That huge Cold War fleet of 90+ FF and FFG-sized ships are gone forever, replaced by a far more challenging minimally-manned LCS.).
The dearth of small ship command experience is a deficiency that, I suspect, will sneak up on the Navy–particularly given that most high-level decision-makers/commanders earned a measure of early career operational experience on a PC, FFG, gasoline tanker or something else small, insignificant and probably not too fun before moving to larger, more exciting commands. But they're now aging out. And without small craft, training opportunities leading up to a major command will be limited to a brief stint as XO, under the tutelage of somebody who has an equally slim grasp of real-life experience conning a ship. It's a recipe for accidents and mishaps.
In the relatively recent past, the Navy had an ample inventory of robust, somewhat simple vessels  to train the next generation of shiphandlers–small craft, small combatants and an entire fleet support train. But the small combatants have largely retired, much of the fleet train has been scrapped–and the operating responsibilities for the remaining auxiliary hulls has passed to civilian mariners.
Small or "simple" patrol and station ships are now the domain of the "National Fleet"–the Coast Guard, the Military Sealift Command and the like. This is where strong seamanship skills will be generated. This is where dashing captains will come from. So…either get back into operating these fleets…or…tap this resource for ship operations, and let the rest of Big Navy focus on the strange thing called "Warfighting"–Whatever that actually is these days.
Conclusion:
I don't necessarily think tossing the Surface Warrior off the bridge is the right thing to do, but if warfighting at sea is, today, less about seamanship and more about operating a console, why not lay it out there for discussion?  And..if civil service mariners are better sailors and cost less, then, well, let's discuss it. Or SWOs will wake up to a Navy full of railgun-armed JHSVs, AFSBs, and a bunch of other strange civilianized exotics…that are happily–and relatively safely–being run by civilians.