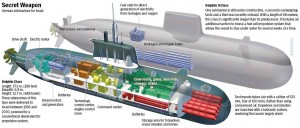 In the race to keep up with neighboring navies, Israel has taken a prudent middle course, developing indigenous solutions for low-end craft, and reaching out to other nations to provide more complex ships and submarines.
Though Israel has done very, very well buying ships and subs overseas–Israel will, within the next few years, begin the process of developing it's own indigenously-built submarine.
Even though Israel's German-built submarine fleet is top-notch, the evolution towards an Israeli-built submarine is inevitable. It will happen despite the fact that the Israeli Defense Force sub fleet will soon be sporting the best undersea tech Germany can offer–According to the indefatigable Chris Cavas, two of three of Israel's new Dolphin II subs are almost ready to enter the Israeli Navy, adding to Israel's existing fleet of three Dolphin Class boats.
But don't let Chris's photo-driven story lull you into believing this mutually-beneficial Israel-Germany relationship will last forever. By all means, go and enjoy all the pretty pictures, but keep in mind that Chris's real story is the documentation of just how important the German sub-production industrial base is in supporting Israel's growing submarine fleet. For the Israeli Navy, it is a discomfiting reminder of the sub fleet's dependence upon Germany as, essentially, Israel's most important sub training and support base. Think about it. The first-in-class Dolphin II was accepted by Israel more than two years ago, and it is still fitting out and training up in Germany.
It's also something of a cautionary story–the parallels to France's burgeoning Mistral Class problem couldn't be clearer. If international umbrage over the Ukraine can force France to even think about canceling the sale of three Mistrals to Russia, then, well, I can't see Israel being too sanguine about their continued dependency on foreign sources for platforms that will have an increasingly obvious strategic–if not an outright nuclear-armed deterrence–role.
So….I'm going to make the call right now. I fully expect Israel to develop their own independent sub-building infrastructure, and that Israel's course towards an indigenous sub will take shape over the next couple of years.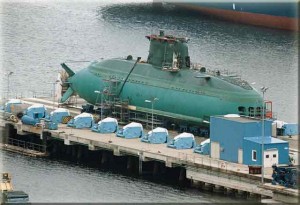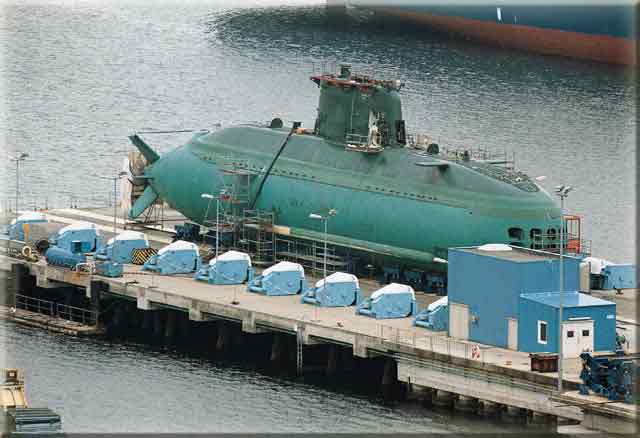 Look at maintenance trends:
A competent sub-building industrial base doesn't just spring into being overnight. It's all a product of a long, slow and costly set of investments–starting, of course, with the development of a maintenance cadre.
Israel is increasingly well-equipped to sustain the ever-growing maintenance demands of her sub fleet.
After sending the old Gal Class subs back to Germany for a final refit, the Israeli Navy successfully took on the refit job with their three "legacy" Dolphins, repairing and refitting a somewhat "scratched and dented" Dolphin in late 2011:
Israel recently revealed that one of its Dolphin class submarines (that entered service in 1998-2000) had secretly spent nearly two years in an Israeli shipyard. The sub was partially disassembled and its engine and plumbing was cleaned and upgraded. Hull cracks were repaired and various other items were fixed. The boat, which entered service in 1999, is now expected to remain in service until 2030.
The results were positive enough for Israel to refit another, finishing their second boat's mid-life refit in 2014:
For more than two years, Israel's Leviathan submarine, one of three in the Israel Navy, has undergone careful and continuous renovation. Dozens of naval technicians, electricians and engineers have invested a staggering 360,000 manpower hours in restoring the 15-year-old vessel to her original glory, taking her apart piece by piece and rebuilding her anew.
I presume the third Dolphin is getting her two-year refit now, which means, in two years, Israel will have a pretty competent set of sub-ready shipyard workers just…waiting for work.
That work is going to come. There are just too many boats–and too many sub-makers out there in the Mediterranean for Israel to sit back and rely on other countries. The Med has become a real epicenter of "conventional" Submarine proliferation, and I can't see Israel's Navy (undervalued as it is), being content with boats that are remotely similar to those Greece and Turkey are starting to produce. They'll want–and likely need–something better.
High operational tempo (two operational subs completed 54 special operations in 2013 alone), suggests that Israel's maintainers are doing a great job of leveraging Haifa's growing yet still cramped and over-crowded naval base. But a proficient sub industrial base is only kept proficient if it has something to do. Once that final "legacy" Dolphin mid-life refit is complete, it'll have little work…unless there's a project or two to work on.
And there will be.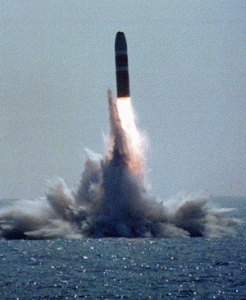 The road to indigenous production:
Look, the days of counting on Germany's support for Israel's sub fleet is drawing to a close. Israel is already demonstrating that it doesn't really need much German help to maintain their current fleet, and as the next-generation Dolphin II subs are delivered, Israel is going to need the freedom to operate independently without risking an increasingly critical Israeli strategic platform.
Subs might be expensive, but they are just too valuable for Israel to rely on other countries to supply 'em.
The trends are against continued Germany/Israel collaboration on subs. As Israel moves closer and closer to fielding an official "nuclear" deterrent, testing things like new solid-fuel ballistic missiles and mulling an openly nuclearized Middle East, Israel may be developing an apatite for submarine-launched ballistic missile platforms, and…maybe even acquiring a taste for a nuclear-powered submarine platform–two design spirals that Germany is both politically and technically unready to pursue.
And, though I hate to say it, there's a market out there to fund such ventures–both nuclear power and sub-launched ballistic missile tech would be of real interest to nominally-aligned countries like Brazil, India…or some other countries in the Asia-Pacific. Israel may have a fighting chance to grab the high-yielding "higher-tech" strategic sub market. We'll see.
But first, the IDF sub fleet needs to grow. We're already seeing some rumblings about further growth of Israel's sub fleet. The fleet is growing from three boat crews to ten (to…man six subs? Hmmm..), and then there's this, from the August 17 issue of the Jerusalem Post:
Submarine deployments could be helpful or even indispensable to Israel's nuclear deterrence posture. Submarines, after all, represent the ultimate stealth weapon, and an SLBM force could essentially guarantee the ability to unleash a catastrophic retaliatory strike. Naturally, these deployments would not replicate America's nuclear response capability. Currently, 50-55% of this country's nuclear response force is submarine-based in certain times of crisis.

Because of Israel's irremediable lack of strategic depth, the small country's submarine force represents an "ace in the hole" element of strategic deterrence. Now, Israel is upgrading its three Dolphin I submarines purchases from Germany with three additional Dolphin II submarines. These boats are diesel powered, and unlike the US nuclear submarine capability, are limited by the length of time they can remain submerged.

Israel's submarines have been designed and built for specific Israeli requirements, and are larger than the German type 212 submarines. One must assume that the larger size is to accommodate nuclear tipped missiles. This capability is critical to maintain Israel's deterrence from enemy attack. The country needs to continue with refinements of this sea-based retaliatory capability. Nuclear powered submarines would be preferable, in principle, but due to cost and construction requirements, they are not attainable, at least in the near term.
Emphasis mine. And even if the pursuit of nuclear-powered subs or ballistic-missile-ready vessels are just long-term, "aspirational" goals, there are plenty of smaller projects–swimmer vehicles and other undersea tinker-toy concepts–out there to nurture and grow Israel's undersea warfare industrial base. If not, well, there's always the challenge of reverse-engineering the new Dolphins or…offshore gas projects, I suppose…
Economic and political realities/difficulties aside, my inner naval architect would sure be interested in seeing just what Israel could actually produce–given the country's set of top-notch engineers, it's vast array of operational experience, and some neat whiz-bang tech, I'd bet Israel could, in rather short order, produce an advanced sub that could do quite well on the international market.
We shall see. But I'm betting that in about two years, Israel is going to have a path towards indigenous sub construction pretty much sketched out for us all to ponder