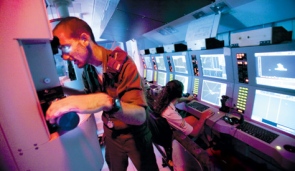 The IDF is facing a manning problem. According to Ha'aretz, the Israeli Defense Forces' sub fleet is working to expand the submariner pipeline, growing from three sub teams to a total of ten. Are women going to be a part of this new cadre?
Look, finding enough guys capable of completing the grueling training cycle is hard enough, but, as the IDF sub fleet grows to five hulls, trebling the IDF sub force is pretty much impossible without a new source of recruits. Which gets us to the image at the right, taken from the Ha'aretz story. The sailor training in the background (working in the IDF's sweet new "land-sub" training facility) is either sporting some unusually long-hair or…the sailor is a woman.
Think about that. A woman in an IDF sub trainer. Not that a single photo should stand as proof, but, why else would somebody be in a submarine trainer but to, well, be training to serve on a sub?
If the IDF sub force is integrating (a big "if"), it is wise to recall that the IDF isn't integrating a big, relatively commodious boat. The IDF's modified U212 Dolphins are only about 2,000 tons, berthing a compliment of about thirty (give or take depending upon the mission at hand). And, back in 2006, the sub commander had this to say:
"The submarine was not built to accommodate both men and women. We are unable to allocate a special zone on the vessel for women dormitories. Why should we venture into something that has failed in a large part of the fleets in the world, where there is even more lenience on these issues?" he asked.
So, there we have it. Lot to overcome if they're gonna do it. But there is little reason to have anybody hard at work in a sub trainer unless they, at some point, are going to serve aboard a boat. Just sayin'.