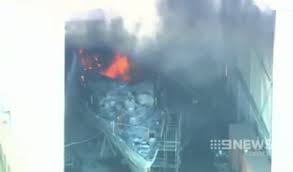 A catastrophic shipyard fire that, by all accounts, destroyed Australia's all-aluminum HMAS Bundaburg (ACPB-91), one of Australia's 14 useful–yet oft-maligned–Armidale Class patrol boats, will reignite debate over the survivability of aluminum warships.
When the public finally sees the melted, burned-out remains of HMAS Bundaburg (photos that will likely be dramatic, given that the fire was not fought aboard ship and was largely just "contained" within the hull until the fire burned out.) many American wags are going to frame the event as an "I told you so" moment, rechristen the HMAS Bundaberg as Australia's "USS Belknap (CG-26)", and then use the event as evidence of the Australian Navy's irrevocable abandonment of that "devil aluminum".
In terms of wider impact, the fire was exquisitely timed to maximize anti-aluminum bias overseas. Secretary of Defense Chuck Hagel was visiting Australia when the fire occurred, and the shockwaves from the conflagration likely fueled Hagel's ongoing concerns about LCS–and aluminum ship–survivability.
But let's get real. A shipyard fire has little to do with survivability.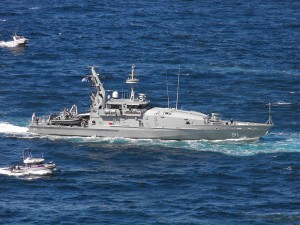 SHIPYARD FIRES ARE DANGEROUS
Shipyard fires just…happen, and these fires, when they occur, can consume even the toughest, most durable of vessels.
Consider the environment–A ship at sea is usually far more ready to fight fire–and, as such, can take full advantage of passive fire-proofing, remote containment/fire-extinguishing schemes (halon and the like), and a ready crew.  A shipyard fire is entirely different. Modern (post Falkands) aluminum ships at sea have largely done well when confronted by fire. But…in a shipyard, the ship is dead. compartments are open. Active fire-fighting measures are turned off. Fire detection and alarms are "iffy" at best. Flammable tanks of gas and cable are strewn about the vessel.
It's not a place where you want open flames.
Add in Australia's stereotypical disregard for regulatory guidance ("What?  I don't need to wait for a stinking fire-watch! I'm bloody welding on the hull right now!), and a shipyard worker's likely preference to try to initially handle such events in-house, internally, rather than quickly summon help (and suffer additional scrutiny), small mistakes will happen and will explode into disasters pretty darn quick.
It's all a fire-control and safety nightmare.
Those simple facts certainly won't assuage the "Aluminum made it worse!!" crowd.  But shipyard fires happen. Even the decidedly steel-built sub USS Miami (SSN 755) succumbed to a mere shipyard yahoo, armed with little more than a vacuum cleaner, oily rags and a lighter. DOT&E won't like to hear it, but a shipyard fire can kill a steel-built ship as quickly as an aluminum-built one.
In a shipyard fire, survivability has little to do with the outcome.
But that won't stop the nay-sayers, so get ready…this fire is going to impact debates over the make-up of the Australian and American Fleets for years to come. And this ill-timed shipyard BBQ risks sinking aluminum as a viable component of warship design.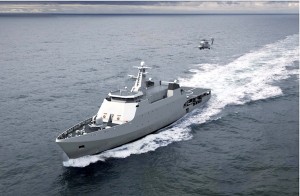 CUI BONO?
Oddly enough, the primary long-term beneficiary of this fiasco will probably be the Armidale Class maintainer, DMS Maritime. DMS Maritime is a feisty marine maintenance and services company that has–probably via some tough underbidding on fixed contact vehicles–done a lot to bolster the high-maintenance reputation of aluminum vessels.
Now, it's no secret that DMS Maritime, a division of Serco Group, has been locked in a long battle with the Armidale Class manufacturer and the Australian Navy over Armidale Class reliability, availability and so forth (Read this icy statement by then Chief of Navy Vice Admiral Griggs, and you'll get a glimpse at part of the problem).
This ugly three-way fight–which I personally believe could have been solved if some big, "classically-Australian" egos got out of the way–has done nothing but exacerbate the Armidale fleet's problems. But some Australians just like a good fight–So, while the entire dispute may have been an emotionally satisfying release for Australia's business set, overall, it has done nothing but hurt the global market for aluminum vessels.
Ironically enough, while busily sewing distrust of aluminum into the ranks, DMS Maritime has quietly played something of a double game, proffering the Australian Navy an aviation training vessel that stands to really hurt–if not kill off–DMS's long-term maintenance partners, Australia's native aluminum shipbuilding industry.
The Abbott Government has been pretty blunt about throwing their support behind Serco and DMS Maritime:
Just days after the federal government flagged it would consider buying foreign submarines, News Corp has learned a new Australian aviation training ship (ATS) will be made in Vietnam.

According to well-placed government sources Australian ship builders simply could not provide a "viable tender that would meet budget and time frame".

And in a defiant shot across the bow, the Abbott government yesterday placed state governments and ship builders on notice that any future contracts would depend on their cooperation.

"The Abbott Government is seeking open cooperation with state governments," Defence Minister David Johnston told an industry conference in Adelaide.

"Yes there will be those that cooperate and those that indulge in pressure politics.

"I urge all industry to take the cooperative path."
For somebody raised in the relatively well-mannered world of DC contracting, that's pretty strong stuff.
Anyway, back to the Aviation Support Vessel. Serco-owned DMS, via a Vietnamese manufacturer (a big strategic plus), has offered Australia a Damen OPV 2400–an admittedly excellent platform–that would, in fact, be a perfect contender for Australian Navy's future small combatant program.
But, for DMS Maritime, it means that it now is in an enviable position of competing with a company whose platforms they're maintaining.
It's a fox-in-the-hen-house situation. What's the incentive to do a good job?  Why help your future competitor's products perform?
Some less scrupulous people might dismiss any penalties that might (might!) stem from poorly maintaining your likely competitor's products as a mere cost of doing business.
After all, when a ship has a problem, the public almost always blames the builder. The maintainer gets a pass. And that….well, that might just be something for the U.S. Navy to think about. As the defense budget continues to shrink, the U.S. Navy must ensure that maintainers/builders are sufficiently incentivized to do their level best in keeping their competitor's ships in the field and fully functional.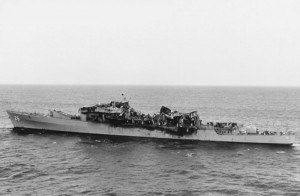 ALUMINUM SIDELINED:
It's a shame aluminum ships are getting maligned in Australia–after all, they're the ones who really went and advanced the technology in the first place.
Aluminum ships offer a great capability for many of the constabulary missions undertaken by the RAN. But the constant drip-drip-drip of Armidale Class problems–the battle over rotating crews, the hydrogen sulfide issue, the cracks, the cruise failures, crew suits, etc.–have cast aluminum vessels in a really ugly light.
This week's fire will just add to the RAN's long list of concerns. And that's a shame.
Had the Armidales been better managed from the start, aluminum warships would have been far more popular worldwide. Why, if the hydrogen sulfide business had never happened, I'd have wagered that Australia, back in 2010, would have gone and quickly procured a few JHSV-like or Joint-Venture-like platforms back when Australia's entire Amphibious force collapsed into a tired, rusted-out heap (I urged 'em to, but it was a loosing battle).
A native-built aluminum amphib support ship would be paying RAN real dividends–in both prestige and raw capability–today. Had Australia gone and gotten a simple, basic "catamaran with a helo deck" Australia would, right now, be set to be a leader in amphibious warfare innovation, on the verge of testing neat, cutting-edge things like, oh, "Influence Squadrons".
The US would be racing to catch up.
I'm serious. Over the next year, Australia's "New" Bay Class LHDs will head out–all by themselves–to help Australia dip their toe back into modern amphibious operations. As things are today, the Australian Navy will just be joining China in the far less ambitious effort of tinkering with a few new LHDs (which, yes, is a big deal).
But….imagine if Australia's Bay Class ships traveled out next year on their first real deployment with a JHSV-esque ship in tow? Australia would, again, be using world-leading Australian technology to teach the U.S. a thing or two–just as they did with Incat's Jervis Bay. Instead, with this latest Armidale Class fiasco, the Australian Navy is helping to reinforce old-school conservatism that may reduce the future of aluminum naval shipbuilding to, well, little more than cinders.