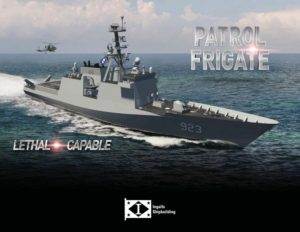 What is Huntington Ingalls Industries (HII) going to offer for the FFG(X) competition? America is in the midst of a multi-billion-dollar competition for the next surface combatant, and HII–after years of gleeful anti-LCS rabble-rousing, agitating for FFG(X) and showing all kinds of notional National Security Cutter (NSC)-based FFG(X) prototypes–has gone completely and utterly quiet.
Why has HII gone completely EMCON? If, as the defense press corps has uniformly accepted, HII is going to present a variant of their NSC Cutter, this radio silence is completely un-necessary. The NSC-based FFG(X) is a known quantity to the press; HII is in the midst of an NSC production run, Congress and the USCG love the NSC, HII used the NSC Cutter as a basis for notional FFG(X) designs in the past, the Navy wants a proven hull for the FFG(X) etc., etc. The idea that the HII FFG(X) offering is based on an NSC hull is so firmly rooted in conventional wisdom, it would be foolish to consider anything else. To many, HII's NSC-based FFG(X) design is the hull to beat…
But then again, if HII is bidding an NSC Cutter variant, why all the mystery?  in the FFG(X) competition, HII's silence is deafening. HII's gag order is certainly self-imposed and not the Navy's fault; HII pulled all their "frigated-up" NSC variant displays/models from the trade show circuit even though they've already been long-cleared for display by their naval minders.  Nobody is out detailing all the wins HII has eked out of the ongoing NSC Cutter production line. Nobody is out promoting a naval takeover of the bigger USCG Cutters in the name of "future commonality". Even the HII NSC success stories are sotto voce these days.
What's the deal?
Well, HII could be up to something very interesting. They just might be mulling the idea of proposing something very different–even risky, while using their silence to keep their options open. Certainly, the NSC hull is likely still HII's foundational play play for the FFG(X), but, but, I think there is a chance HII is looking beyond NSC–and considering a Stanflex-equipped variant of some new-ish hull–possibly based on the UK's Type 31e.
As a strategy goes, I love HII's silence. If they're baking up some new idea for the FFG(X) after years of promoting frigates based on the NSC, credulously accepting the NSC Patrol Frigate as the HII FFG(X) offering could end up being the biggest head-fakes a defense contractor has ever pulled on a credulous defense media, ever. It's great fun to watch play out.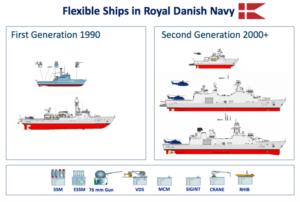 So What Am I Smoking…
…and how have I gotten to a Type 31e Stanflex?  Obviously, all the other notional FFG(X) designs offer some degree fo flexibility. Each offers a low-end to high-end mix of fittings. That's prudent; given the plasticity of Naval FFG(X) requirements of late and the innate flexibility of the LCS Class incumbents, none of the non-LCS competitors can risk presenting a variant whose capabilities were largely "frozen" and unable to show the Navy a viable and easy "a la carte" path from high-end to low-end and back.  The FREMMs–with their various flavors–can easily mix-and-match systems and the F-100s can accommodate a range of  low-to-high-end systems integration paths as well. But the NSC variants–at least as they were publicized back in '11-'15–really don't. As the smallest conventional offering, system/weapons trades for the NSC would likely lead to knotty and controversial capability trades that the larger–and innately-flexible conventional-hull F-100/FREMM offerings–could avoid.
Flexibility is key. With this competition–where the bidding strategy and proposal requirements aren't quite ironed out–systems flexibility has become a paramount concern. Look, if the goal is to offer the "lowest-cost technically acceptable" bid, then any FFG(X) proposal out there needs the freedom to accommodate a really broad range of requirements. LCS competitors want the Navy to be able to effortlessly add and subtract capability so they can keep their high-end options open while driving to the best priced solution-set for whatever conventional-hulled LCS-killing requirements they want. And with LCS dead, it'd be easy to add capability.
So, with flexibility in mind, how does HII distinguish itself from the low-end, low cost LCS variants and the bigger, more commodious conventional offerings?  How could it make capability trades easier for the naval customer?  Well, the Danes have shown us in their evolution from the $225 million-dollar Absalon base model to the $340 million Iver Huitfeldt, that their StanFlex system offers a neat path for a conventional hull to span low-end to high-end capability in a way that is a just a little more flexible/easily done than the F-100 and FREMM designs. And that might be enough of an edge to win.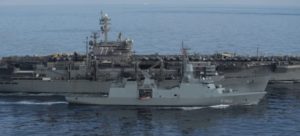 Hats Off To The Danes:
Why is Stanflex an option?  Well, throughout this whole FFG(X) down-select process, the Danes have been marketing the heck out of their flexible platforms. In their effort to sell their high-end Stanflex-based Iver Huitfeldt design, tireless Danish embassy personnel taught a master-class at how to engage DC tastemakers. I mean, I literally watched the always-delightful Lt. Col. Per Lyse Rasmussen work over Sydney Freedberg as he was working this hit piece up. Danes moved quickly to send their ships out to work with U.S. battle groups (see the photo above), they reached out to researchers, brought (and tried to bring) Stanflex ships of various flavors over to the USA, and they've been an ubiquitous presence at every naval function in the DC area.
But what got me thinking was the fact that the Danes–even though every shipbuilder has found their ostensibly non-Danish solution–haven't let up on their FFG(X) marketing efforts. They're still marketing away, but they're almost exclusively focusing on the Stanflex concept. And that tells me that Stanflex is in play with somebody, someplace. And I'm wagering that that someplace is HII.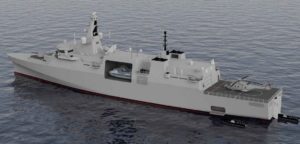 Meanwhile, In the UK..
I'm less certain about HII's interest in the Type 31e, the low-end export-focused global frigate the UK is set upon building, but, for the sake of argument, here's a theory.
For a refresher, here's what the First Sea Lord told us about the Type 31e back in November:
In order to continue meeting our current commitments, we need the Type 31e to fulfil routine tasks to free up the more complex Type 45 destroyers and Type 26 frigates for their specialist combat roles in support of the strategic nuclear deterrent and as part of the carrier strike group.

So although capable of handling itself in a fight, the Type 31e will be geared toward maritime security and defence engagement, including the fleet ready escort role at home, our fixed tasks in the South Atlantic, the Caribbean and the Gulf, and our NATO commitments.
The mission fits and the pieces are all there. Janes reported in April that the Danish ship design consultancy Odense Maritime Technology (OMT) joined the Babcock-led industry group bidding for the United Kingdom's Type 31e frigate program. OMT is, essentially, the Stanflex tech rep.
BMT–who is hot off the win of the Army's MSV(L) landing craft program– is also in the mix here, so I'm assuming we're looking at something like the BMT's "Venator 110" or the Babcock "Arrowhead 120" design. They are offering a modern, conventional hull, built to robust UK standards and the hull is at a point in development where it probably could be more easily "Americanized" than the F-100 and FREMMs can. That, and the hull seems roomy enough to accommodate more capability than what the UK's "low-end" variant is showing right now.
The Type 31e design offers other advantages over an NSC variant as well; the Type 31e is being designed with export in mind. Various flavors of F-100, the FREMM and even the Freedom Class LCS are either already in or slated to see service in foreign navies. In contrast, the NSC-based hull-form was, after an intensive global marketing campaign, running out of road. Nobody had bought in, and the FMS NSC-based variants were, essentially, duds, spurned by everybody.
And finally, the Type 31e build-strategy is predicated on modular/distributed fabrication. That could be a very interesting sop to the existing LCS yards (or other critical Congressional delegations) to, essentially, "spread the wealth" around the country while also charting a path towards–if needed–a far faster build-tempo for a Navy aiming at 355 ships.
Of course, the Type 31e hasn't been built yet. It's not in service anywhere. But Stanflex, however, has been in service for decades, and the fancy US Navy stuff able accommodate the Stanflex interface has been around for decades as well. In my mind, Stanflex could be exactly what HII needs to convince the Navy that the Type 31e's base Hull, Mechanical and Electrical (HME) components are so mature and so low risk that the Navy can accommodate an untried hullform in the FFG(X) contest. And, frankly, a brand-new digital design (and all the rights) can more easily be transferred over to the government (a non-trivial thing that BMT is demonstrating with the Army's MSV(L) program) than some others might be.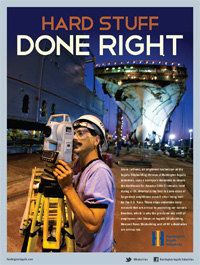 Conclusion:
The fact that HII has progressed through the FFG(X) competition with no hint of what they are offering leaking into the public domain is amazing. But it also suggests that too few people in Congress or the press are monitoring this multi-billion-dollar investment of taxpayer money. It may be irrelevant–the idea that HII is offering a Type 31e and/or Stanflex interfaces IS a long shot–but it would be good to have HII's design signposts out there for navalists and national security policymakers to openly debate.
So yes, the smart money is that HII will offer a variant of their National Security Cutter, but, what the hell, I'll go for the long-odds dark-horse if it generates a wider appreciation for HII's fascinating no-PR gambit. If this sparks some discussion of the FFG(X) concept, I'll be thrilled.
Regardless of route, HII has a tough road ahead. The Bath-built F-100 is still the platform to beat, but the high-level US-based FREMM team is going to give F-100 a run for it's money. The best "low-cost" option is probably the Independence LCS variant, while the Freedom Class is, well, essentially DOA. I just don't see an NSC variant being too competitive in this mix. while, on the other hand, the distributed Type 31e production potential and the money-saving, flexible and proven Stanflex interface could be the basis for a very solid offering.
But nobody can mull the merits if nobody knows HII's plan. It's inexplicable that this great opportunity for an enterprising, hungry member of America's defense press corps is passing folks by. If I am right and HII has actually abandoned the NSC variant,  then far too few people are out there, probing, and that, gentle readers, would be a real black eye for the defense press and maritime policy circles. This is a delightful gambit worth trying once–but if HII's radio silence it is TOO successful it'll only deaden debate and generate less public interest/engagement, civic behaviors which, while convenient for the Navy in the short-term, will ultimately lead to a far less powerful U.S. Navy.