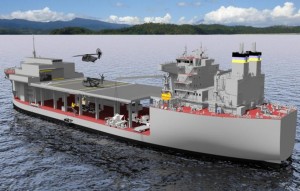 By now it should be pretty obvious that the post-Cold War U.S. Navy forgot about high-Sea-State operations…and somehow decided to harness the Navy's future to a foolish idea that Sea State 3 was a fine operational goal for critical shipboard systems.
It made sense.  Life was good back in the Post Cold War era–The Navy was counter-insurgency focused, hunting pirates or bombing terrorists and nobody expected a need to go spend any more time in the North Sea going toe-t0-toe with the Ruskies, China was "decades" away from even modest carrier operations and real-time forecasts from America's incredible weather-prediction infrastructure was expected to allow even the weakest ships to avoid higher Sea States. Engineering for higher Sea States was costly, too, and shipbuilding money was in short supply.
But things have changed. And now that the Navy has gone and procured several platforms with significant operational limitations beyond, essentially, Sea State 2, naval operators are belatedly rediscovering that they are going to need to spend time in Big Oceans that have Big Seas. They are also discovering that over-engineered, artisanal systems that bend and break in mid-Sea State 3 are, well, pretty much useless out there.
This inexplicable acceptance of low Sea State performance is quite serious–virtually all the sea-basing platforms (and some others) are facing Sea State challenges at the critical subsystem level or–worse–in the fundamental structure/design of the hull. But again and again, Sea State seems to have been de-emphasized in favor of meeting other requirements.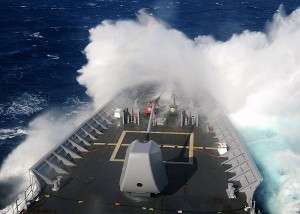 Navy Should Have Known Better
The Navy knows (or at least knew, once) better than to skimp on Sea State. In 1982, the Naval Sea Systems Command published an Association of Scientists and Engineers Technical Symposium entitled "Designing Ships to the Natural Environment." That report–which grew out of concerns that Russian ships were better designed to handle rough seas–was one of the first out there to try and model Sea State to ship effectiveness and to estimate/model the average Sea States the Navy would experience in different regions.
What did the Navy researchers predict? Well, they estimated that seas would exceed Sea State 3 about sixty percent of the time. And now that the Navy is struggling to field a bunch of Sea State-limited sea-basing platforms in places like the Pacific and the Northern Atlantic, they are discovering that this old and dusty model has held up pretty well.
On the flip side, the Navy models suggested the seas would stay below Sea State 5 about 80 percent of the time (and stay below Sea State 4 about 60 percent of the time as well). And that result helped lead strategic grey-beards waaay back in 2004-5 to caution bright-eyed technologists that Sea State 4 operating capability was still a much-needed thing.
But somehow, in the Navy's infinite wisdom, strong and justified "through Sea State Four" objectives were diluted into a muddy "through Sea State Two and BARLEY into Sea State Three" reality.
Operations are suffering for the Navy's failure to commit to the original sea state operational requirements.
With virtually all of these Sea-State limited systems, the writing has long been on the wall. And nobody has said anything. All while NAVSEA was out there busting their butts to get something to operate once or twice in seas juuuust barely at sea state three (It worked! Once! YAY we passed DOT&E scrutiny! Hooray! Alert the Admirals! Beers for everybody!), operational commanders should have been raising an enormous stink about the decaying Sea State requirements. At a minimum, they should have gotten about the business of adjusting their strategies and tactics to reflect operational realities. As far as sea-basing goes. it was pretty obvious to even casual observers America was not building a sea-base, but building something to serve as a degraded harbor-base or maybe (maybe!) a lagoon-base. JLOTS Redux.
Nobody–not even a rocket scientist–can kludge Sea State 4 capability onto a Sea State 2 hull. And the Army and Marine Corps had best recognize this fact, fix it, or get around to adjusting their doctrine and strategies accordingly.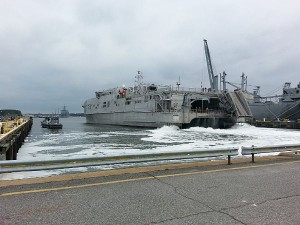 It's Not Rocket Science
The Navy's fundamental engineering approach for systems that are Sea-State dependent seems wrong. The priorities are backward. For example, the Navy has known for decades that ramp-based ship-to-ship interfaces were a challenge. The Navy has also known the technology to manage those interfaces was not ready. But rather than focus on the Sea State challenge and build really robust sea-basing ramps that reliably function through Sea State 4–and probably forcing the Marines to work around some (likely substantial) initial weight limitations, the designers focused on meeting USMC weight tolerance requirements. So now, sea-basing ships have gotten these giant ramps that were built to accept the largest gear in the ground warfare arsenal. As far as Sea State goes, the Navy has gotten a whole bunch of promises, that, somehow, the ramps will somehow "work" well enough to handle high Sea-State sea-basing. The same mistakes have been made for vessel recovery systems, flight decks and other systems.
So now-again and again and again–naval engineers are not only being forced to handle the daunting technical challenge of managing ship-to-ship interfaces/boat recovery schemes/other critical systems at high Sea States, they're being forced to try and find incremental solutions for super-sized, already installed interfaces, where the weights and forces are often enormous.
That's not a recipe for engineering success.
Build to Sea-State first, and then scale up.
I mean, look, there's no argument with the sea; if Sea States exceed operational imitations, the mission–be it operational support for sea-basing, flight deck operations, boat/system launch and recovery or anything else–won't get done. The consequences are brutal; the ship will break, lives will be endangered, the civilian master will risk their license and livelihood every time the Navy tries to operate "beyond the envelope"…and so on.
Even worse, a vessel's Sea State limitations may prove permanent as Sea State limitations are mind-bogglingly difficult to remedy. Once "lowest cost driven" performance limitations are baked into a platform in the form of a crane or flight deck or launch/recovery system, Sea State fixes are, at best, extremely costly. And even in the rare cases where cost is no object, the necessary fixes are often a physical impossibility–the crane/ramp/protective equipment/ride systems are too heavy/big to simply back-fit into the platforms in question. Sea State operational requirements quickly become untenable.
Once the engineering solutions are methodically nixed, the only acceptable solution is to change the mission (and then fund an appropriate R&D and prototyping effort). So…I suspect the Navy had best prepare to come to terms with a big shift in many a platform's CONOPS.  For many of these critical systems out there, there's no other route left than to essentially ramp down operational expectations. Which means–for example–that Sea-Basing advocates had better dust off all those old JLOTS tactics, because Sea-Basing, in it's current form and with it's current vessel-mix is gonna become little more than JLOTS.