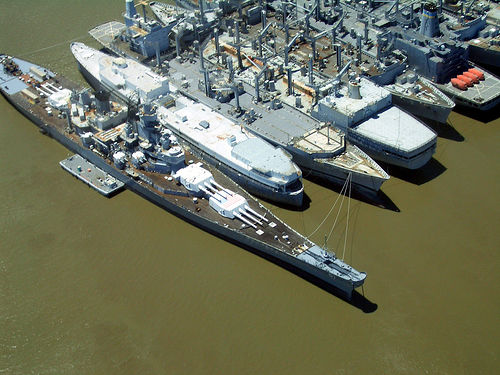 Last week I had a great chat with Des Moines Register columnist Marc Hansen about the ex-USS Iowa (BB-61).  In the resulting July 10 article in the Des Moines Register, I was somewhat blunt about the poor performance of the nonprofit Historic Ships Memorial at Pacific Square, the organization currently designated as the future recipient of the Iowa.
Strong non-profit management is important to me, and, well, as I have noted before, this organization does not seem to be performing well.  Marc detailed the HSMPS case for more funds, and,
Then I called Craig Hooper in San Francisco to find out what he thought about [HSMPS chief Merylin] Wong's warning. Hooper, a Grinnell College graduate who went on to get his doctorate degree at Harvard, writes about national security issues.

He's also a big fan of the Big Stick: "It's a link to a great past where a lot of Iowans contributed. For the nation, it's a great piece of history that speaks to a less-complicated time when American power was used in a particularly important and viable way."

He isn't such a big fan of Historic Ships Memorial at Pacific Square. "This organization has done a terrible job," he said. "It hasn't reached out to the community effectively. At some point, you have to ask how devoted it is to the USS Iowa."

Wong said she was about as devoted as you can get. She said her group has brought in $4 million since the Navy began its partnership with the historic ships memorial.

But, as Hooper pointed out, none of that money appears on tax documents, which showed donations of less than $170,000 from 2002 through 2008 [see here].

Wong said the money is absent because most of it came from the government. The rest existed in the form of "gifts in kind and services."

Even so, it's a long way from the $15 million needed. The economy is still dragging. Hooper grants her that. People aren't giving much. The government is in hock. But still.

"Perhaps," Wong said, "Mr. Hooper would like to donate."
I'm interested in how the narrative keeps changing.  Ms. Wong told Sarah Rohrs of the Vallejo Times Herald on November 21, 2009, that "So far, about $1 million has been raised," but today, well, Ms. Wong says they've raised $4 million.  I don't get it.  And, evidently, the Navy does not get it either.
Ah, well, what's a few million dollars, right?
Personally, I'd like to see the Iowa become a part of a larger, all-encompassing National Maritime Park, built to support and preserve the virtual "fleet" of Bay-based World War II vessels.  We already have the organizational foundation for such a national park–the San Francisco Maritime National Historical Park–which preserves and maintains historical ships from the pre-World War II era.  We have the raw materiel–almost all the components of a task force are berthed here–from Liberty Ships to submarines, aircraft carriers to landing support craft…it's almost a full fleet and, as such, it's an amazing historic resource.
Frankly, the Bay Area has sufficient berthing space, sufficient land and, well, more than a sufficient rationale for the Federal Government to establish a World War II and Pacific Conflict-oriented National Historical Park here.  That's where I'd like to see Iowans devote their interest.  Or we can explore sending the Iowa to Los Angeles.
But my bottom line is this–if Iowans are going to donate to an outsider to save their battleship, make sure that outsider is going to be an excellent steward of Iowa's hard-earned cash.  In my opinion, HSMPS ain't it.