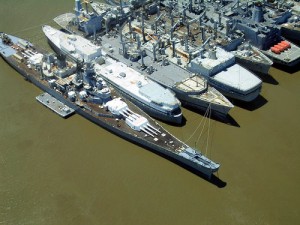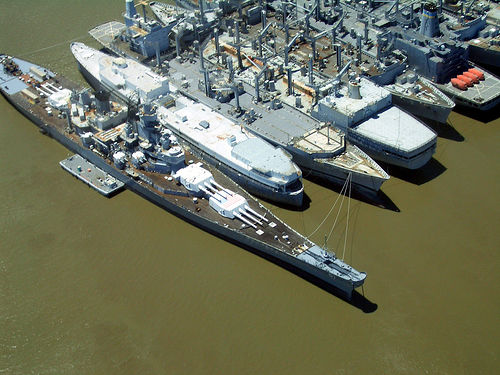 Is the organization attempting to "save" the ex-USS Iowa (BB-61) telling the truth?
With the agreement to shed the Suisun Bay Reserve Fleet, the ex-USS Iowa is set to be disposed of in about seven years (by then most of the Suisun Bay Reserve Fleet will be gone–and the pressure to shed the few remaining vessels will likely be intense).  To save the Iowa, the Navy's designated partner, "Historic Ships Memorial at Pacific Square", must raise $15-20 million dollars.
But the President of "Historic Ships Memorial at Pacific Square," Elaine Merylin Wong, is saying some things that make me question her credibility.
Look at the recent news coverage.  As the the Governor of Iowa, Chet Culver, signed on to support fundraising efforts, Wong said, according to the Des Moines Register, her organization has done quite a lot:
Already, $4 million has been raised and spent, and another $18 million to $20 million is needed to prepare

the USS Iowa for public visitation, Wong said.
The article also said Wong painted a dire picture of the ship's condition:
"Today, the ship is somewhat of a bathtub itself. It draws in copious amounts of ocean water, said Merilyn Wong"
But that…well, that horrible news on the ship's condition totally contradicts what
Wong said earlier in the month.  A few days ago, the Courthouse News Service reported this:
Wong says the inside of the ship is in "pristine condition," and says it has "received at least $1.5 million in work in the last four or five years."

The nonprofit hopes to raise another $18 million on top of the $4 million it already has raised to restore the Iowa.
So what is the deal?  Is the Iowa's interior "pristine" or shipping a "copious" amount of water?
And… more worryingly, if the "Historic Ships Memorial at Pacific Square" has raised and spent $4 million dollars (never mind the $1.5 million supposedly spent on interior work–I'm assuming that's money the government has spent on things like dehumidifying the vessel), where is it?
Where did $4 million dollars go?  There's no record of this amount of money ever entering the nonprofit's books.
None of the $4 million dollars that the "Historic Ships Memorial at Pacific Square" has "already raised" shows up on the Form 990s nonprofits are required to file on an annual basis.  In fact, the 990s point to an organization starved for funds.  They detail an organization that is, quite frankly, a horrible–almost incompetent–fundraiser.
According to the 2006 and 2008 990s, the Historic Ships Memorial at Pacific Square took in $16,595 in 2002, $26,782 in 2003,  $11,930 in 2004, $15,147 in 2005, $25,254 in 2006, $41,459 in 2007, and $30,905 in 2008.
That's not anywhere near $4 million dollars.
So…where's the money?  For a nonprofit, the public needs (and gets) to know these things.