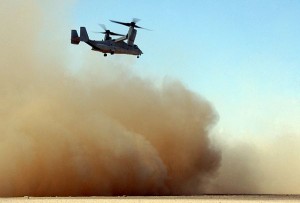 In the light of the recent Afghanistan CV-22 crash,  Insidedefense.com reports this interesting CV-22 nugget:
"The U.S. Air Force is investigating a CV-22 mishap that occurred at Kirtland AFB, NM, March 2, 2009," said spokeswoman Col. Robyn Chumley. "At that time a CV-22 assigned to the 58th Special Operations Wing suffered a single engine failure shortly after takeoff which resulted in declaring an in flight emergency. The crew coordinated an emergency landing and landed at Kirtland AFB, NM, without further damage to the

aircraft. There were no injuries or property damage associated with the mishap."

An Accident Investigation Board was not convened until late October 2009 after offic

ials learned the extent of damage to the engine…"
Interesting.  Just speculating, but maybe that incident helped push the Air Force to modify the CV-22s emergency fuel jettison system? (that was reported back in May/June 09)
Also interesting that the news of the CV-22's failure wasn't reported until well after the spectacular June 2009 hearing on the fate of the Osprey…It makes me sad to see the Air Force–which I think has been doing a wonderful job rolling out the CV-22 (and saving the MV-22's PR bacon at the same time)–has indulged in the same selective data release that has compromised the entire Marine Corps aviation community.
I really don't like to see policymaker options get limited by selective release of important data.  It's a particularly toxic form of soft civic corruption.