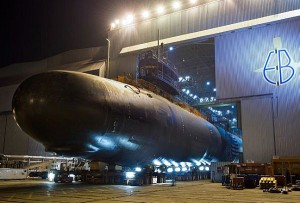 It has been great to see Virginia Class sub builders race each other to drive down cost and schedule. But when these competitive pressures start to impact crew safety, we all need to step back, take a few deep breaths, and re-evaluate.
For the PCU North Dakota, the pressure to make schedule–and improve upon the Virginia Class build time record of 62 months–has been particularly acute. It was more than just a race for efficiencies. PCU North Dakota builders and designers were protecting future sub production–and their jobs–from Washington budget-cutters.
To a casual observer or Congressional policymaker, the North Dakota builders seemed to be doing pretty well. Throughout 2013, their performance helped keep the Virginia Class Submarine Program healthy, and won the Program a big new multi-year block buy–and a big slice of the Navy's shrinking shipbuilding budget. But behind the scenes, the PCU North Dakota evidently suffered. And now, just a few days after the boat was set to embark upon Alpha Trials, the PCU North Dakota's problems became public, with NAVSEA canceling the planned May Commissioning date, citing problems with the boat.
Media outlets are focused on the Commissioning delay. But that's not the real story. The real story is that a stressed Program, facing performance and budget pressure, seems to have come darn close to sending an unready, unsafe boat to sea.
A race for efficiencies almost became a literal race to the bottom.
What Happened?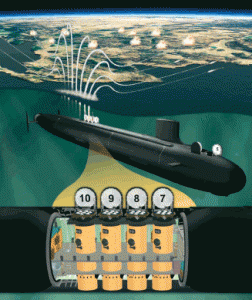 News reports suggest that the Virginia Program is facing an unspecified set of design-related problems with the Flight III's new bow (sporting the new large-diameter Virginia Payload Tubes and the new sonar, in particular) and some parts-quality-related issues throughout the first Flight III, the PCU North Dakota.
The problems have forced the cancellation of the planned May 2014 Commissioning–but what was really cancelled were the Alpha, or "builders" trials. You know, the ones that can lead to a Thresher-like incident.
Not good. From the news, it feels like an ugly grab-bag of issues came to a head just as the PCU North Dakota was undergoing builders trials on the 14th. That says to me that there was something materially unsound with the sub–something that would have had Admiral Rickover out hunting scalps. While it is good SUBSAFE worked, and somebody forced the trials to stop, the fact that the clock was allowed to run down to this point should make observers worry that something is out of step between production and safety.
Any way you slice this, it isn't good. And with the Flight III serving as a foundation for a more significant design changes down the road, this is a tough break for the program.
A Black Eye For Sub Builders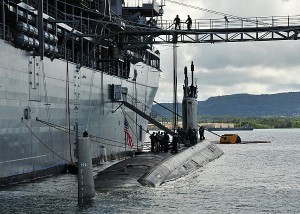 This stands as a rare rebuff to General Dynamics Electric Boat. But before Huntington Ingalls executives start the gleeful process of using this event to chip away at General Dynamics' dominance in undersea platforms, it might be worth remembering that the bow design change was a joint project, with design and build shared between the two companies.
It was all supposed to be a success. Twenty percent of the existing design was changed in the Flight III's, and the changers were going to shave some $100 million bucks from the total sub cost. Stars and Stripes, in an excellent November 2013 article by Jennifer McDermott, even got Rear Adm. David C. Johnson, the program executive officer for submarines, on record in November, saying:
It shows how well Electric Boat and Newport News worked together on that, and it shows that we got the redesigns right because it did actually make the ship easier to build," he said in an interview.
We shall see if the tight team can survive, or if it will self-destruct, just as the DDG-1000 teaming agreement did.
A Partnership In The Balance: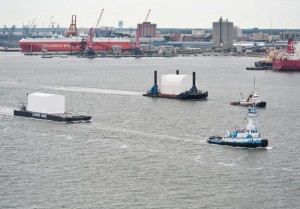 I've written about the sub workshare split before, and, given that HII Newport News is responsible for the stern, habitability and machinery spaces, torpedo room, sail and bow (Electric Boat–the sole Virginia Class prime–builds the engine room and control room), Newport News might be sweating some supplier issues right now.
Both yards work on the reactor plant and alternate on the final assembly, vessel test, outfit and delivery piece, so it could be that General Dynamics, charged with final assembly of the North Dakota, got stuck with some bad modules.
But material issues aside, Electric Boat apparently had a bit of trouble with the bow redesign, too. In the November article, Stars and Stripes got Kurt A. Hesch, EB's vice president who manages the Virginia-class program, to make a revealing admission:
Historically, he said, EB has changed submarine designs to add capabilities, rather than to cut costs, and the first submarine with changes would take longer to build and would cost more. The challenge with the North Dakota, Hesch said, was "breaking that paradigm."
In retrospect, that's a cringe-worthy comment from an organization that normally runs a really tight PR ship. Just. Yikes.
Nobody in the Virginia Class Submarine Consortium is coming out of this a winner. Both loose. And it has a feel that somebody, somewhere took great pains to engineer the simultaneous revelation of faults with both of the two sub-builders, to help keep everybody sweet.
We'll see how it goes.
You Can Only Squeeze So Much: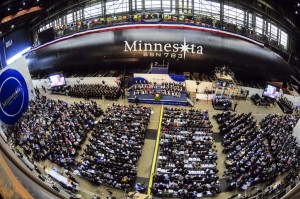 Trouble in the Virginia Class production line was a somewhat foreseeable event. The constant drumbeat to build subs faster! For less! stops only when something in the system collapses–usually the only thing that turns things around is a catastrophic accident.
If the Virginia Program office and the head honchos running the General Dynamics Electric Boat/Huntington Ingalls Industries partnership were really foresighted, they'd have all long been busy deflecting narratives like this one articulated by Congressman Joe Courtney (D-Electric Boat) in November 2013:
EB previously delivered the USS Mississippi to the Navy in 62 months. Its shipbuilding teammate, Newport News Shipbuilding in Virginia, built the USS Minnesota in 63 months.

U.S. Rep. Joe Courtney, D-2nd District, said EB's performance is the most powerful argument for Congress' continued support of the program.

"It just eclipses all of the potential obstacles to getting funding for two submarines a year, because it's a program where its performance, not its hype, is demonstrating that it's a really solid investment for the American taxpayer," he said.

Hesch said EB must continue to improve on its past performance, especially now that the Defense Department budget is shrinking.
But, with all the competition between the two sub-building frenemies, I can't help but wonder if there may be fear that if one company admits stress, the other will take full advantage of the situation.
We need to be mature, and drive awareness that, at some point, you can't get more efficient without cutting corners. And in subs, that is almost always fatal.
When Did The Problems Start?


People had to know there were problems with the PCU North Dakota. You don't have a trials-delaying issue without a good number of folks knowing many, many months ahead of time that something was wrong.
So why didn't this all come out? Why wasn't it fixed? Well, I expect that, in 2013, a lot of people ran out the clock, keeping production and design problems under wraps or "in house". For better or worse, it is standard practice for troubled Programs to employ a bit of legerdemain to keep everything negative about a Program hidden away until the budget is protected and anything related (i.e., the SSBN(X)) is safe.
Now, I speculate, but there may have been signs that something wasn't going quite right at Electric Boat back in September 2013. That is when a solid Jeff Geiger–a former surface-ship builder who, against long odds, filled the GD Bath Ironworks yard–was, after a September announcement from General Dynamics, shifted to lead Electric Boat, replacing 40-yr veteran Kevin Poitras in November (all while GD turned to another 40-yr veteran, shipbuilding king Fred Harris, to run the rest of the business).
Things were obviously slipping. General Dynamics and the Navy were, back in November, publicly planning to deliver the North Dakota in January, or, at the latest, February. From Stars and Stripes:
If the tests at sea can be done before Christmas and there are no major issues, EB will deliver the North Dakota to the Navy in January after 59 months of construction, which would be the shortest construction period yet for a Virginia-class submarine.

A February delivery also would accomplish the goal for which EB has been striving, to cut the construction time for each submarine to 60 months. EB was not expected to reach that milestone until it built the 15th member of the class, the Colorado.

"The work of the more than a thousand shipyard craftsmen and engineers who built this boat has helped make the fleet stronger and our nation safer," Secretary of the Navy Ray Mabus said in a statement. "Their dedication and expertise has the world's most advanced submarine on track to deliver in early 2014, giving the North Dakota the shortest construction span of any Virginia-class submarine to date."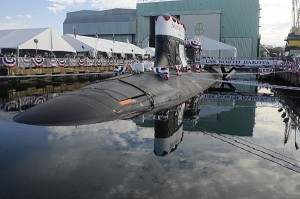 Not good. For Ray Mabus to say that back in November…it suggests either the problems were either not known, not revealed to the Navy customer, or that the scope of the problems were not fully fed up the Navy's command chain. None of those options mean anything good.
By January, the delivery date had quietly, and with little fanfare, slipped to April or May of 2014, making a May Commissioning even more unlikely.
But the Navy just kept plowing along, as if nothing was amiss. In January, a May 2014 Commissioning date was announced, and in March, the Navy dispatched Rear Admiral Richard Breckenridge to North Dakota to drum up enthusiasm for the May commissioning.
So why the dust-up now?  Obviously, trials dates had been quietly pushed back for months, with little or no public impact. Maybe pushing the boat right up to the brink of a builders trial was the only way to really identify quality and design issues. I dunno. It never should have gotten to this point.
Admiral Rickover's Ghost must be livid.
UPDATE–ASN(RDA) Sean Stackley must be a tad irked, too.  Here's his April 10 Testimony to the Senate Armed Services Committee: "The next ship, North Dakota (SSN 784), fully encompasses the Design for Affordability efforts begun in 2005, which include a completely redesigned bow section, and is expected to have the shortest construction span for a VIRGINIA Class submarine." For those of you keeping count, 62 months is the current record (USS Mississippi), and the North Dakota hit that in April.  It boggles my mind that Stackley would go on record suggesting that a sub would go through Builders Trials and Acceptance trials, AND be delivered in less than twenty days?  That's….madness.
A Few Final Questions: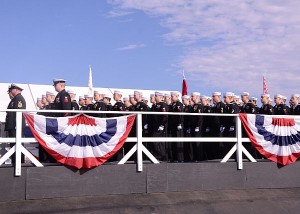 As I said before, it has been great to see Virginia Class sub builders race each other to drive down cost and schedule. But when these competitive pressures start to impact crew safety, we all need to step back, take a few deep breaths, and re-evaluate.
The Navy needs good subs, quickly. But a major accident would derail everything–and put at risk everything the Submarine community has done to become such an important–and well-funded–facet of the modern Navy.
If competitive pressure and a constant drive for efficiencies is endangering sailors or degrading the safeguards put in place to prevent another Thresher-like incident, then we have gone too far, and we must start exploring other approaches to reducing cost than those currently used by, say, Walmart.
I urge the Navy to study the design and construction of the PCU North Dakota, convening experts from outside the Virginia Program Office to help determine if, in this case, the race to become more efficient and protect the Program aversely impacted PCU North Dakota crew safety and sub quality.
If a quest for efficiency is threatening to undermine the submarine community's longstanding focus on safety, then it is time to do some hard thinking about the way ahead.