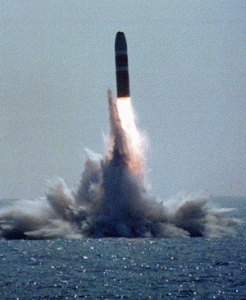 U.S. ballistic missile submarines (SSBNs) have done a great job maintaining America's second-strike nuclear capability–lurking at sea, undetected, every day. But their era of invulnerability is coming to a close; once SSBNs lose their ability to hide in the oceans, these single-purpose arsenal ships are finished.
The sea is already a crowded place, and hiding is becoming far harder. By 2030, when the first new SSBN(X) enters service, hiding will be near impossible.
Some, of course, disagree. Budget-cutters at the CATO Institute, in a recently released call to shrink the nation's nuclear triad down to a sub-led monad, write in their recently-released paper "The End of Overkill: Reassessing U.S. Nuclear Weapons Policy":
 "Given present Russian and Chinese ASW capabilities and their limited efforts to improve them, threats to the survivability of the U.S. SSBNs at sea remain a distant prospect."
Well….A lot can happen in 15-20 years. But for any undersea boat that depends on stealth–and operates outside the cozy confines of the Washington DC–I am certain survival will be far more difficult than most purveyors of conventional beltway wisdom expect. But don't take my word for it. Here's CNO Greenert in DefenseOne, talking about how the undersea world is changing:
"Military and commercial activity under the ocean is rapidly increasing, which could detect or conflict with our forces' operations or create new threats to our interests. Other nations are fielding increasingly capable and longer-range submarines while companies and scientists are sending unmanned vehicles and sensors throughout the ocean to find everything from fish stocks to oil deposits."
U.S. SSBNs have gone unchallenged-and largely undetected-for generations, so it is easy for the Navy and others to blithely assume that America's ownership of the subsurface domain will continue. By the time America and the UK starts deploying the new SSBNS in the mid 2030s, it will be hard for anything–ANYTHING–to move undersea without notice.
The undersea world 0f 2030 will be complex, with multiple submarines, sensors and aircraft from a number of non-aligned countries operating in close proximity, groping about near traditional SSBN stomping grounds. And I strongly suspect unmanned underwater vehicles will be out there fighting each other as well, making the undersea domain a complex, confusing kind of gladiator academy.
The confusion and conflict in the seas of 2030 will make us long for the perilous days when it was either the Russians or a few known NATO friendlies operating out there in the deep.
So I must ask my readers: Is this an appropriate environment for America's second-strike capability (or as CATO would suggest, ALL the U.S. nuclear deterrence forces)?  Given my bleak assessment of the undersea domain, missiles planted in the plains of Montana, Wyoming and North Dakota, under the watch of a few EM Rail Guns and other missile defenses, seems a far more secure strategic option.
I think, by 2030, the single-purpose, "undetectable" SSBN will be an anachronism, better suited to serve as a big modular "Unmanned Underwater Vehicle" mother ship than a dedicated ICBM carrier/second strike platform.
A more interesting strategic option would be a commitment to distribute undersea nuclear weapons between a larger number of platforms–by endowing the Virginia Class SSNs with a full suite of modular capabilities, including the employment of ballistic missiles.
We are headed in that direction.
Look. If we take CNO Greenert at his word–I do–that modularity is the future, then why are we even bothering with the single-purpose SSBN?  Let's go back to CNO Greenert's initial call for modularity, "Payloads Over Platforms: Charting a New Course."  In that, he wrote:
In Sailing Directions and Navigation Plan for 2013 , I highlighted my intent to "expand the reach and effectiveness of ships and aircraft through new payloads of weapons, unmanned systems and sensors." The use of modular payloads that can be changed out over a platform's life offers an effective and affordable way to maintain our adaptability and warfighting advantage against evolving threats.
And he continued the discussion, saying we needed to change the way we look at platforms:
Taking advantage of that learning curve while ensuring each hull or airframe has relevant capability for its time requires that we look at platforms more as trucks. The truck will load and plug in successive generations of modular payloads as it goes through decades of serial production. To support that approach, we would increasingly employ standardized interfaces to plug in new sensors, weapons, and unmanned systems; and standardized links to communicate with them if they leave the truck. The design of future platforms also must take into account up front the volume, electrical power, cooling, speed, and survivability needed to effectively incorporate new payloads throughout their service lives.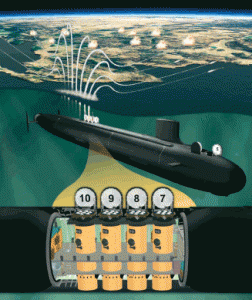 As far as I am concerned, that leaves one option for the sub fleet–endowing the Virginia Payload Module (VPM) with the capability to accept a ballistic missile.
I'd like to think CNO Greenert hints at this in his DefenseOne article:
We will expand the capacity of our next block of Virginia submarines to deploy unmanned vehicles with the Virginia Payload Module, which adds a section of hull with four large (7-ft diameter) payload tubes to the current submarine design. These large payload tubes will also carry missiles and will replace the current missile capacity that will be lost when our current guided missile submarines retire in the next decade. (Emphasis my own)
Notice how he doesn't expressly limit the VPM to just the Tomahawk? In my jaundiced eye–and knowing that the first SSBN will retire in 2027 (more than a decade from now), the CNO is doing his best to avoid an unwanted strategic debate.  A cursory look at VPM dimensions suggests it could accept a ballistic missile somewhere along the lines of an old 73 inch diameter Trident I (C4).  Or a reduced-length 83 inch diameter Trident II (D5). (Full disclosure: I have discussed this option before, here and here.)
Now, I know, plenty of number-crunchers have already been deployed to tell me I am wrong, that the VPM can't take a ballistic missile, and that the most "cost-effective" route is to build a new sub around the legacy Trident missile rather than see another missile get designed and built and approved for service. Got it. Still, I can't see Lockheed Martin needing 10 years to roll out a smaller Trident variant.  Sure, a new, smaller missile might loose payload/range but….If these missiles are distributed on a number of SSNs, then do we really need much range beyond 4000 miles? And won't range extend as modern technology shrinks motors, warheads (now this here is your cost-driver, yes?), countermeasures, etc.? (Frankly, with the Air Force thinking about replacing their legacy missiles at about the 2030 timeframe, maybe it is time somebody put their foot down and forced the Air Force and Navy to go joint and share the development cost for a new rocket.)
Anyway.  If we are really wedded to the idea of maintaining a second strike capability undersea, then the best way to do it is to provide platform redundancy (beyond the two missile-packed SSBN(X) expected to be on constant patrol)  and do our best to complicate the targeting process. If we start building Block V Virginia Class SSNs with the new payload module now, by 2030, a whole lot more of those potentially "missile-ready" platforms will be at sea. To me, dealing with 20-30 Submarine Launched Ballistic Missile (SLBM)-ready subs is far harder than finding and fixing one or two.
Decoupling sub-launched ICBMs from their exclusive launch platform offers greater security for our sea-borne nuclear deterrence and offers greater strategic flexibility.  It also gives America the opportunity to reduce the number of nuclear weapons fielded and distribute those missiles across a far wider number of platforms–allowing us to easily scale our deployed SLBMs according to need.  Might it raise tension?  Possibly.  I'm certain the strategic arms limitations people won't like the prospect of having a wider array of SLBM-ready platforms, but, well, tough.  The world of 2030 is going to be far different from the Cold War world today's moldy cadre of deterrence wonks grew up in.
An SSBN, as we conceive of it today, is locked into the SSBN mission, and yet, a single-purpose arsenal ship is probably not something we really want to have sailing in the fractious seas of 2030 (Now, if the actual intent is to have a handful of big undersea UUV "mother ships" deployed in the 2030s, then, Navy, by all means, make the case!).  But, if the Navy is simply looking to preserve a second-strike option, endowing the SSN fleet with SLBM capability increases the fleet's overall capability, adds strategic options and allows far more dramatic cuts in the nuclear arsenal. Giving the Virginia Class boats SLBM capability makes sense.
Modularity is where the U.S. Navy is going.  Might as well bite the bullet and get to it.