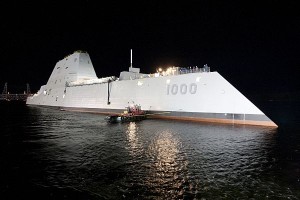 The LCS and DDG-1000 are both very different, and yet, they are also very similar–each sports controversial non-traditional hull-forms, minimal crews, no bridge wings, non-traditional hull materials, as-yet undeveloped hi-tech weapons and cost-growth. And while the LCS gets kicked around for these qualities/faults/weaknesses, the DDG-1000 always gets a pass. Every time.
It's amazing. Even with something as mundane as a shift in the usual Christening ceremony, the LCS was beat up while the DDG-1000 sailed along, unperturbed.
Don't believe me? Let's take a closer look. The USS Independence (LCS-2), like the DDG-1000, is based on an innovative hullform–and neither are "slipped down the ways" like the ships of old–you either Christen on land or you Christen pier-side.
Both LCS-2 and the DDG-1000 were Christened in the water.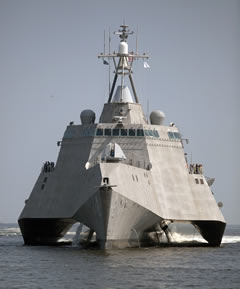 LCS-2 is a trimaran. Now, take a moment to think about the challenges of Christening a trimaran. It's pretty hard to pull off if the ship is afloat. Not only is the tip of the central hull narrow and hard to reach, but, thanks to the trimaran shape, that bow stands well away from the pier.
And as somebody who has done it, let me tell ya, it's a minor engineering feat to get an entire Christening party out there. And kind of pricey, too.
So, in the interest of saving the taxpayer a few bucks, LCS-2 defied tradition, and the bottle was smacked on the deck, by the main gun (see the photo below).
And it became a scandal.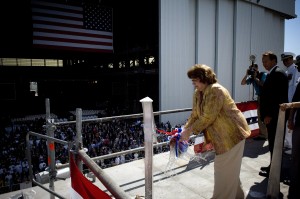 Navy Times' Phil Ewing (who now works for Politico) gleefully treated the LCS-2 Christening to a full-on hit piece, with a story "LCS-2: Unusual Ship, Unusual Christening".  The snark was wonderful…Here's a snippet:
"This particular ceremony would be the equivalent of the minister or priest dunking the baby's tummy in the christening font, or sprinkling the water there instead of on its head," said naval expert A.D. Baker III, a former analyst in the Office of Naval Intelligence and editor of "Combat Fleets of the World."

Baker, who helped oversee ship christenings when he worked for Navy Secretary John Lehman, said he never saw a champagne bottle broken on a ship in a position comparable to the one on Independence.
Amazing, no? After that…there was much NAVSEA clucking and hand-wringing–and, by all reports, outright fury in the higher ranks–and since then, by God, all subsequent Independence Class Christenings have been on the bow, taxpayers be damned.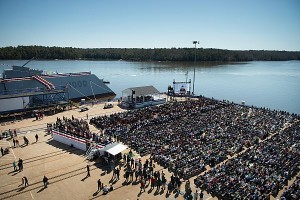 Now, let's turn to the DDG-1000, the mighty Zumwalt, which was Christened this weekend. Due to the innovative tumblehome hull-form, Bath Ironworks followed the LCS-2 example….the bottle was broken well aft, just in front of the big, boxy main gun (Look closely and you'll notice the little "Z" in front of the gun).
But, like any good, well-behaved guests, nobody commented on the breach of naval tradition. Navy Times merely noted the bottle was smashed "near" the bow, and moved on, using the occasion to shill for the vessel, writing a glowing story that included these little bon mots:
Among the 15,000-ton warship's cutting-edge features are a composite deckhouse with hidden radar and sensors and an angular shape that officials say will allow it to be confused for a small fishing boat on radars. It also sports wave-piercing hull designed to reduce the ship's wake. It's the first U.S. ship to use electric propulsion and produces enough power to one day support the futuristic electromagnetic rail gun, which will be tested at sea in 2016.

Inside, sailors will have more space to work and live because the Zumwalt will only require about half the crew of the current generation of destroyers. Meanwhile, fewer sailors will need to stand watch because of cameras and video monitors that show what's going on outside.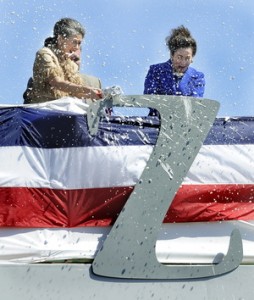 So…aside from the gentle passover of the christening location, notice how up has become down? The very qualities that are, right now, sinking the LCS are spun as DDG-1000 positives.
Let's dig a little deeper:
Manning: DDG-1000 Sailors get more space because a crew that is, oh, barely twice the size of the LCS crew are being asked to operate a ship with a 5-times larger displacement?  And a far more complex battle-management task?
How is that going to work, exactly? When, pray tell, will they sleep?
Bridge Wings/Visibility: Notice, in the piece above, how naturally the author accepts the ship must rely on cameras to sail, since it–in part–doesn't have bridge wings (To the DDG-1000's credit, I really like the bridge layout and how the camera feeds will be integrated into it). To compare, sailors were so upset over LCS not having bridge wings (one LCS sailor told me, "I trust a Mark 1 eyeball over a !@$%ing camera"), they've back-fitted bridge wings on LCS-2–big Gucci ones too, with Big Eyes, an ashtray and more (see the photo below).
Radar signature be dammed, small-ship sailors have gotta have their bridge wings so they can survive, what? Mooring? And, yes, the lack of bridge wings got the LCS-disparaging Navy Times Treatment, too, in 2010:
Engineers and designers may like the sleek profile and low radar signature of a superstructure without bridge wings, but the design drives surface warfare-types crazy, said a retired cruiser commander who asked not to be identified because of an ongoing relationship with the Navy.

On paper, cameras and sensors seem like they'll give the same information as human eyes and ears, but in practice, that seldom proves true especially when sensors replace a human.

"If someone falls over the side, how are you going to see them?" the former cruiser skipper asked, worrying that a sailor could be lost at sea if he went overboard in a blind spot between topside cameras.

And if mooring Independence is tricky with no bridge wings and only roll-down windows, mooring a Zumwalt-class destroyer could be even harder: All of its bridge windows are designed to stay sealed, to maintain the positive pressure inside the ship, the cruiser skipper said.

But that won't last long, he said, because captains won't stand for it.

`They're going to say, `You mean, every time I come into port I've got to just sit there and be pushed onto the dock by tugs, and I've got no say in that? No way I'm going to disable the positive pressure and open the windows so I can see out.'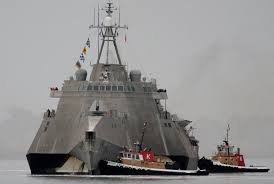 Survivability and Hull Material: Oh, and then there's the DDG-1000's exquisitely expensive composite, balsa-wood core deckhouse. How durable and survivable will that actually be?  I mean, for all the yelling about aluminum in fires and LCS survivability (I won't link, just do a search), I simply can't wait to see how composite holds up to a good rocket-fuel fire. I hear the fumes are a killer. And balsa?  In seawater?  Yikes. (If interested, here's a discussion on how hard it was to fight the composite-fueled B-2 fire–note the amount of water they needed to put it out–but it is also worth noting that the aircraft–in an epic engineering feat–has been totally repaired and is back in service)
But survivability aside, let's put it this way–imagine if the LCS had a deckhouse that, for some reason, was found to be unsuitable, and was replaced with a steel model–which, in turn, required the shutdown of an entire yard…It happened with DDG-1003. If that happened to LCS, why, there'd be a huge amount of screaming and no more LCS. Clear and simple. The program would be done.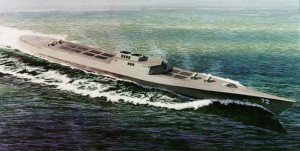 Price: Senator John McCain, in his regular "get off my lawn" treatment of the LCS, is quick to remind everyone that the first, off-the-cuff estimate of the LCS cost was $250 Million. Who recalls that the original estimate of the arsenal ship was $450 million as a fixed, sailaway cost? But that's been lost as the program re-jiggered and re-baselined itself into a $3-billion dollar colossus. By the time DDG-1002 is Christened, Bath will be crowing to Congress about how successful it has been in (cough) controlling cost.
To conclude, the DDG-1000 program is getting pass after pass after pass. I don't know why–perhaps this is the consequence of having a program big enough to keep everybody happy–mixing old tech and new, spreading the wealth between several different big contractors. And, also, let's not discount that the DDG-1000 has had an epic birthing process that spans from, oh, the Cold War-era, battleship-replacement arsenal ship of old.
To the DDG-1000's credit, the program has gone through the PR grist-mill. I mean, as a program, it was canceled so many times, the basic concept became something of an infamous joke, one of those zombie ideas that just wouldn't die. If the Marines weren't screaming for a Zumwalt-esque ship as a fire-support platform, the missile defense folks were yelling for it. It became the ship of dreams, with a little bit for everybody, transformers and old-school alike (while the LCS–like any small warship–became an exercise in compromise).
The sense of relief that this program is underway is both generational and palpable.
But many of the problems we have already identified with the LCS will also impact the DDG-1000. And it is high time we started thinking about them. We better, because, if I know the new General Dynamics chief shipbuilding honcho, we'll be building a heck of a lot more of 'em (oh, and you think we're only building three? Riiiight). But at $3 Billion a pop, the Navy and our sailors might benefit if the press gave DDG-1000 a little more than "shock, awe and fawning" media scrutiny.