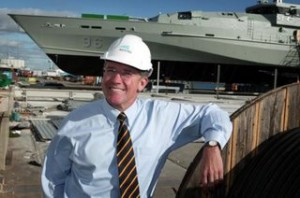 So Austal CEO, Bob Browning, is leaving Austal. As of November 15. What does it mean? As somebody who has written about Bob Browning before–here and here–I can't resist the opportunity to speculate as to what Bob is up to. In press, the only real hint comes from al.com, that says:
Browning, who lives in Fairhope, said he was pursuing an "interesting" new opportunity in the Mobile area. He said that he couldn't discuss details, but would probably start in the new role about 30 days after leaving Austal.
Well, what might that be? With Bob enjoying his new reputation as one of the only American executives who has, in the past 50 years, successfully developed a brand-new military shipyard in the U.S., I think he'll stay in shipbuilding.
Frankly, a Northrop Grumman spinoff has a real allure…That sort of big, "high-growth potential" splash fits Bob Browning's personality a bit better than Austal's current incremental approach to growth. Bob Browning is really one of the few U.S. executives available (and crazy enough) to take the lead at whatever shipbuilding entity Northrop Grumman decides to spin off. But Northrop Grumman's shipyards ain't exactly nearby Mobile.
But BAE has a shipyard. In Mobile. Might they be interested in setting up a functional large-scale shipyard (gasp) in the Gulf (shocking!). Why not? Austal did it. And Northrop Grumman had to have noticed too, announcing their departure from the shipbuilding business almost the very second BAE announced it was taking over the Atlantic Marine shipyards and heading into the Southeast, as BAE Systems Southeast Shipyards.
With Browning's departure coming just as the Navy announces a speedup of the T-AO(X) program, I wonder if BAE might be interested in using the tanker program to get a foothold in the navy shipbuilding business. I mean, imagine the interesting synergies if a major-combatant shipbuilder was right next-door to the LCS manufacturer… And given that, at least according to shipbuilding maven Tim Colton, a ham sandwich armed with a welder's torch could out-compete Northrop Grumman's existing Gulf yards, what does BAE have to loose, angling for some tanker business, some amphib work and so forth? Heck, America could use a big yard that is oriented towards marketing products throughout the globe.
Pretty grand stuff, eh? This should not come as a big surprise. Remember, when Browning took the top job at Austal, there was all kinds of muttering about how Austal was positioning itself to make a bid for the Australia Submarine Corporation (ASC). Didn't happen. Instead, rather than expanding by making big-growth plays, Austal has had to re-devote itself to the brick-and-mortar work of 1) making functional products and 2) finding customers.
That low-profile brick-and-mortar work does not seem to be Browning's specialty. There's an unsold trimaran sitting in Australia. There's been no effort to push the Navy to consider combining the JHSV and LCS hullforms (i.e. using Austal's civilian-spec trimaran as a JHSV–see here and here). Why isn't Austal getting a greater benefit from the burgeoning "Great Asian Naval Arms Race"? Why aren't the Saudis already sailing around in a modestly-militarized LCS-2 hullform? And what's happened with Austal's commercial and lux-ship order book while Browning was in charge?
We shall see. Bob Browning did help get Austal established in the U.S.. It is a happy shipyard. It makes functional stuff. So Browning is demonstrably smart. But if he makes BAE even a modest contender for shipbuilding projects, then he's a genius. If he can mold Northrop Grumman's shipyards into a functional company–and not into a frothy, high-finance confection of little substance (i.e. the Alinta II, which, after Bob Browning's departure, is still struggling to survive…)–then he is a staggeringly audacious supra-genius.
It is a high-stakes gamble that everybody should watch.
There's another story here, too…Did Austal founder John Rothwell actually step aside or not? As I have said before, I think the only way John Rothwell will truly leave Austal is, um, on a gurney. To a guy like Bob Browning, I could see the continued presence of an active founder becoming a real irritant. And vice-versa.
What does this all mean for the LCS? Not much. That race goes to the cheapest bidder. But, regardless of whether the LCS contract comes through, look to see Austal refocus on reinvigorating the withering Australian end of the business–maybe by using those Aussie yards to make Asian-based LCS/JHSV variants…