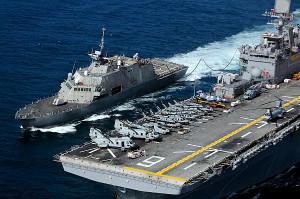 EN ROUTE–RIMPAC 2010
Sooo…who remembers, waaay back in February 2009, when a desperate NAVSEA was looking to get 3-5 tons off the LCS-1? Remember what they wanted to take out? I do. From Janes:
Naval Sea Systems Command (NAVSEA) told Jane's that officials are considering taking out components "that have become unused on the finished ship". The proposed list includes engine removal rails for the twin Rolls-Royce MT-30 gas turbines.
It seems the ghost of contingencies past paid LCS-1 a little visit earlier this month. According to some breaking news out of Navy Times, MT-30 turbines, ah, break a bit faster than originally expected (wonder how thorough the regular maintenance has
been, eh? Maybe a manning issue coming home to roost?).
I guess it is time to ask if those fancy LCS-1 bustles obviated the removal of the engine removal rails or not…because it certainly sounds like the turbine replacement hasn't been done yet and that, two weeks after the turbine died, LCS-1 is still sidelined.
I do hope the bright person at NAVSEA who proposed landing the removal rails has been thoroughly and vigorously mocked. And then re-assigned to Greenland or something.