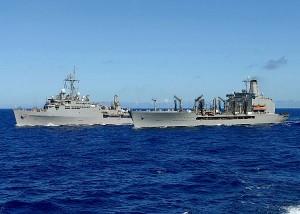 I am not funded by any shipyard, but, for the past several months–on my own swiftly depleting savings, so to speak–I have been pressing for the next-generation, double-hulled T-AO(X) program.
Tomorrow, if the early reports are valid, the SECNAV will formally announce the acceleration of the T-AO(X) program–starting procurement of the first hull in 2014 versus 2017–a step I have been calling for since, well, since WEST 2009. (Undersecretary Robert Work, if ya'll remember, called for the T-AO(X) program to get started as early as 2011)
This is a good thing. Now, I do not believe this will be an enormous help for Louisiana–the idea of Avondale beating NASSCO in a bidding war over a T-AKE or State-class hull isn't realistic.
But one can dream, I guess. The Louisiana Congressional Delegation sure is:
Mabus informed Landrieu and other members of the Louisiana delegation of his plans in calls Thursday.

"This is very good news," said Landrieu, who has been pressing for the acceleration of the Navy's long-term plan to replace its outdated fleet of oil tankers as a potential salvation for Avondale, which employs about 5,000 people.

"It basically positions Avondale to be able to capture this work," said Landrieu, D-La., who sent a letter to Mabus in July asking the Navy to begin construction of the military's double-hulled tankers before 2017.
In a few weeks I will have more to say (about what I have been doing and who I have been talking to), but I'll say this–Lumping in the T-AO(X) acceleration with an effort to keep Avondale on life support is a nice way for the Navy to get what they want via the expenditure of minimum political capital (and with the LPD-17s confirmed lemons anyway, who cares where they get built–at this point, shipping hulls up the coast to Bath wouldn't help 'em). By getting this program underway, the T-AO(X) gets out from under the funding shadow of the SSBN(X) and, well, the looming decade we'll call the "terrible twenties."
But there is no way in hell Avondale is going to make the T-AO(X)….unless we intend to make more
than 15 new tankers. Frankly, a 25-hull purchase would, quite literally, bury NASSCO's wee little San Diego shipyard. (It would be a great problem for NASSCO to have to deal with, but, hey, let's be realistic.)
Even if a bigger T-AO(X) buy meant that Avondale–a canker sore of a shipyard–was to stay in business, I'd still support growing the T-AO(X)–because, first, auxiliary ships are efficient, darned useful to have, and, well, we already don't have enough. Look, the oiler fleet we have today is a peacetime-sized resource that is, in a time of maritime peace, maxed out. In the event of tension, or an uptick in operational tempo, there would be no way to keep up. (And who knows what might happen with Northrop Grumman gone. Maybe it could work…better…under new managers.)
But that is enough for now. We'll talk tankers in two weeks.
And hell, who knows. Maybe this mysterious news conference tomorrow is part of a broader Gulf Stimulus program–one that spans from Mobile to the shipyards of Louisiana…ahh, if only it reached to Northern California, too!