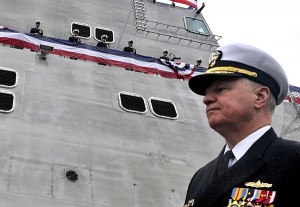 If you want to see the latest odd twist on the Littoral Combat Ship contest, go read this piece over at DOD Buzz. It is a beautiful example of Lockheed-generated spin–spin so desperate and contrived I wonder if something happened recently to make the wheels come off the LCS-1 bid.
DOD Buzz reports, all in heavy breathy tones, that:
Lockheed Martin, with just a five-week head start, has completed 60 percent of LCS 3, compared to Austal, whose LCS 4 is only 26 percent complete.

We hear Lockheed recently attached the bow to the rest of the ship. Given how close the competition is between Lockheed and the Amero-Australian shipbuilder, the bigger company's ability to produce ships with greater speed and fewer delays might raises questions in the minds of U.S. Navy officials about Austal's ability to regularly deliver ships.
Ok. Sounds dire, right? Not really. DOD Buzz is going off of the contract award date (March 23, 2009 for LCS 3 vs. May 1, 2009 for LCS 4)–which, among other things, stipulates that the ships be fabricated some 40-some odd months after the contract award. That's cool. But it pays to recall a few things.
First, let's remember that the Pentagon, waaaaay back in the heady days of 2007, issued a stop-work order on the construction of LCS-3. Remember that 22 long-lead items were, shall we say, stuck someplace in a warehouse, making it easier for Lockheed to pick back up again once the order was renewed.
[UPDATE: NOT SO FAST, says an observant Lockheed hand–Austal ordered and kept long-lead items after their first LCS-4 contract expired. Not only that–Austal had even ordered more for LCS-4 than Lockheed had for LCS-3. Argh! I guess I'd better write ten posts in favor of the F-35 in penance, then..]
Second, let's recall that LCS-1 was commissioned in November 2008. So by March 23 2009–when the LCS-3 contract was awarded–the prototype had gotten enough time at sea to know how the LCS-3 design was going to be "tweaked" before assembly–you know, accounting for those fun little "Water Wings", that pesky reserve buoyancy problem, and, oh, the deletion of rails to allow for the quick replacement of the turbine, etc….In contrast, the Austal/General Dynamics LCS-4 was contracted and the under construction BEFORE their prototype LCS-2 was commissioned in January 2010. Austal/General Dynamics had to start building LCS-4 pretty much blind.
Third, let's look at the dates the keels were laid down. LCS 3 "started" (or, well, restarted) fabrication on July 11, 2009. LCS 4 "started" on December 17, 2009. On the basis of percent completion from keel-laying date, Austal ain't doing half bad.
Fourth, Austal is a new shipyard. It only opened it's modular fabrication building in November 2009, and then went right to work on LCS-2 in December–and then JHSV-1 six months later. That's a pretty good pace, frankly.
So, if anything, Lockheed is reaping the advantage in 1) having some long-lead parts already in stock due to earlier TERMINATED construction of LCS-3, and 2) having the benefit of months of real-life operational feedback to inform LCS-3 design. They should be ahead of schedule. Austal, on the other hand, has had to race through the hoops–getting a modular shipyard on-line and the prototype LCS-2 delivered and commissioned, while, at the same time, getting the negotiations done for their follow-on contract.
So, frankly, given the timeline, Austal/General Dynamics is doing pretty well with the deck stacked against it. Lockheed, by the sound of the spin, seems a little desperate they've not managed to push those scrappy Aussies back into the Pacific.
And finally, shame on DOD Buzz for not doing more "due diligence" on their reporting. At this stage of the game, it's OK to trust your source, but…make damned sure you verify it. Or at least provide some context–because spin is going to be flying all over the place. Do more than just regurgitate what you get served.
I mean, how are we, as well-meaning defense observers, going to "raise the game" in defense contracting if we simply traffic in the "latest and greatest" press release? Ain't we supposed to do some value-added analysis for our readers? And kind of force the contractors do a better job of serving the nation?
That's why I do this. Shesh, it's not like I get a paycheck from blogging, either. If anything, making a good effort–on occasion–to distinguish spin from truth only makes me less employable.
Sigh. At least the weather is fine in San Francisco!