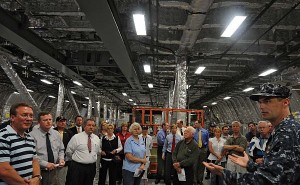 Yes, the decks are stacked against my guess, but…I'm gonna put my chips on the table here. I think the LCS-2 will win the LCS sweepstakes this fall. By the end of September, even!
First, all that internal volume in LCS-2 has a quality all it's own. If we plan to use the LCS as a mini-gator-type vessel, the LCS-2 makes a far superior platform.
Second, if the Navy faces budget cuts, the JHSV and LCS platforms can, I feel, merge into a single hull form–probably the trimaran, not the JHSV's catamaran hull form–and leverage savings from that. As missions changed, you'd be able to change crews from one hull to another pretty easily, moving from civilian to Navy and back according to the mission and threat level. Then there's the logistical savings–once the JHSV and LCS neck down into a single hull (watch, with a couple of more rough budgets, we'll be a Navy of, what, five to six common hulls…) which, again, leads to savings.
Then there's the whole Gulf Recovery thing. And the fact that Austal has built, from scratch, one of the first new functional shipyards in the nation–in years. And that Austal is a company of the Pacific Basin, right in the middle of the next big naval arms race. The potential for this to become a widely-distributed, widely-used platform is undeniable–which would, in turn, generate demand for support infrastructure that is in short-supply today (i.e. aluminum welders and such…).
But then again, LCS-1 is probably cheaper to make in the short term. And we all know what the contract terms favor.
But, hell, then again, I'm an optimist. So I'm placing my bet: LCS-2 wins, and the announcement comes on September 23-24. Place yer bets on the winner an announcement date below!