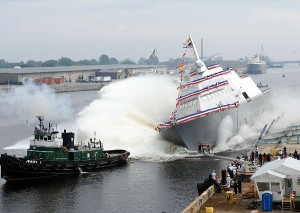 Bloomberg's Tony Capaccio discovered something that is not supposed to happen to a new ship–particularly a new ship that has buoyancy issues:
During a heavy-weather ocean trial on the USS Freedom in mid-February, he said, sailors discovered a six-inch horizontal hull crack below the waterline that leaked five gallons an hour. Inside the hull the crack measured three inches. It originated in a weld seam between two steel plates.

The ship returned to its home port in viagra canada San Diego, avoiding rough seas, after the commanding officer judged the leak rate "manageable," Johnson said.

Smaller cracks that indicated welding "defects" showed up in the welds of the vessel's aluminum structure during sea trials last year, Johnson said in his e-mail.

Initial analysis of the second Lockheed-built vessel, the USS Independence, showed improved welding, he said.
A reminder to Bloomberg–the Independence is NOT built by Lockheed.  I'm surprised that I still need to point this out, but far too many people out there are
failing to distinguish between the LCS-1 and LCS-2 classes.
But this, the latest recent failure aboard LCS-1…shouldn't have happened. What also shouldn't have happened is the release of this news the day after a contract gets awarded.