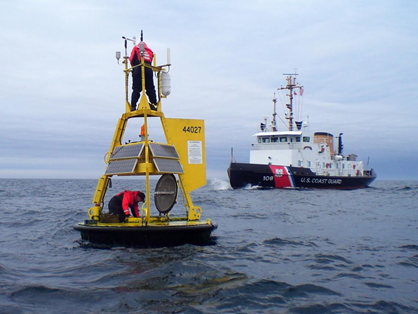 I have a small piece in Forbes discussing what buoys–the original maritime autonomous systems–can offer our hype-driven race for autonomous maritime systems. The answer is, basically, ground truth. Buoys are so mundane, and have so much sea-time, that nobody bothers to shape their performance rates. And, after more than a couple centuries of design refinement, even our simple-but-robust weather buoys still see about a 10% loss rate and about a 25% partial mission capability rate. That's testament to the wear and tear the sea will present to unmanned/un-crewed systems.
As military systems get more complex and work in more contested scenarios, that "base" loss rate is only going to increase. The Pentagon had better start orienting the procurement systems to account for this–and the Navy–as a service, should account for loss in designing these things. As a rule, we are probably going to need to buy more platforms than we might expect.
They also suggest that getting autonomous platforms real, at-sea experience–quickly–should be an overarching priority. The temptation to focus on capability enhancement–and requirements creep–is always there, but fancy capabilities mean nothing if the platform is unworkable at sea. Again, the Pentagon is gong to struggle with fast, iterative improvements. The traditional "blocks" and "flights" procurement models may be efficient for mature systems, but the systems need to be moved out to sea quickly, working, building CONOPS, breaking, showing their flaws and successes.
Buoys also suggest that autonomy evangelicals are dismissing real logistical support concerns. The Coast Guard devotes an enormous promotion of their fleet to buoy tending. Buoy failures are usually far more complex than we anticipate, and autonomous vehicles will likely need help in far more remote–and far more contested–waters.
What's really concerning is that too many at the Pentagon and elsewhere seem to be approaching these things as fully-functional assets. They're not. Not yet. We need to do a better job of truthfully emphasizing the long road ahead. We desperately need realism. The buoy fleet offers that. But we also need to force contractors towards the truth as well–and consider making veracity a procurement KPI. Contractors that don't live up to their marketing hype (maybe focusing on reliability and long-term performance) need to be sanctioned (and not just rebaselined into compliance) and those that do need to be rewarded. Some of the Coast Guard's UAV contract models–where the contractor operates the vehicle and is paid according to some pretty tough performance goals–is the most pure form of this, but it won't work for most autonomy-based military platforms.
Anyway, go check it out, here.