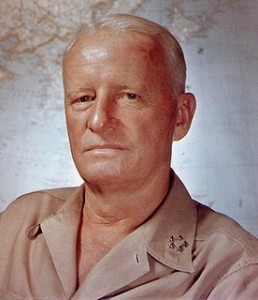 Admiral Nimitz may have loved his raunchy jokes, cussed a blue streak and been all manner of weird in his private life. I don't care. Why? Because Nimitz, when dealing with the public and his subordinates, understood his rank and role in the Navy demanded professional comportment.
Even as a low-ranking commander of the ROTC unit at UC Berkeley, Nimitz realized the importance of proper demeanor. Rather than indulge in bringing the fraternity aboard ship, Nimitz brought Navy to the fraternity–and became legend.
It takes a village to make a Navy. Brutal, insensitive, ill-mannered officers will never disappear from the service. Some may be our best fighters. But–even back in 2006-7–being flip, lashing out, or, well, being a simple boor is not something any officer should be doing in any media. Period. Perhaps I am old-fashioned, but, even in the face of provocation (or a long deployment, an old, tough-to-command antique ship or, oh, an online scolding), an officer should always be the gentleman (or woman) and project themselves in a professional manner.
It's what the Navy demands.
Officers manifesting as (literal) jerkoffs don't give me (and shouldn't give anybody else) confidence that they can succeed in the delicate business of representing the United States–In the Atlantic Basin, Africa, Indian Ocean or elsewhere. Professional comportment is pretty important these days, and if an officer can't muster the brainpower to understand that, then, well, that's a matter for his or her promotion board.
We already know that maintaining high standards of public comportment is important. The command climate–their behavior of those at the highest ranks–guides the behavior of subordinates. And that's why, in any investigation into Captain Honors comportment, there should be some scrutiny of the Enterprises' behavior as a crew. Have somebody in some school someplace do a forensic analysis to determine if command climate might have influenced crew behavior. Were there behavioral anomalies aboard the Enterprise in 2006-7? An uptick in sexual assaults? Higher incidence of unplanned pregnancies? Is there anything that stands out that might inform future leaders–and help the Navy understand the professional cost (or perhaps, benefits) of command behavior informed by, oh, Beavis and Butthead? Or one that, oh, claims these videos had an educational purpose when they, uh, didn't (see the CNN interview of the Virginian Pilot editor here).
There is a larger strategic issue at stake. We already know that ill-mannered behavior on a Port Call can have serious–even catastrophic–strategic consequences. A Jane's reporter (look at my exchange on twitter last night) has already noted the Enterprise had an ugly port call at Kuala Lumpur when Captain Honors was the XO. There are indications that leadership was not engaged in getting the crew to behave professionally while there.
That cannot stand. With a shrinking Navy and several other emergent navies out there making port calls, a blow-out "all-hands-rig-for-Animal-House" call ashore is an indulgence of the past. America
simply cannot afford to fix the damage done by an unprofessional crew overseas. And whether we like it or not, port calls are professional. They are part of the Carrier Strike Group mission portfolio, and, in some particularly sensitive cases, demand as much command accountability as putting bombs on target.
(And, as an aside, Captain Owen Honors should have been well acquainted with the perils of video in a youtube age. In 2007, the present commander of the Enterprise Strike Group, RADM Terry Kraft, was almost cashiered from his job as CO of the USS Ronald Reagan over this little video. Remember this tempest? And…in the interests of fairness, it might be advisable to find out if the lower-ranking people who planned, performed and participated in that happy, funny bit of pro-Navy fun had their Navy careers somewhat attenuated.)
So rather than follow the herd in claiming that this tempest is just about style over substance, I urge the Navy to deliberate. In full. It is high time for the Navy to realize that professional comportment is, today, a strategic asset.