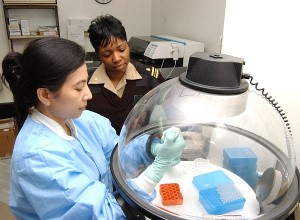 As Egypt implodes, the incredible diplomatic resiliency of the Cairo-based U.S. Navy Medical Research Unit Number 3 (NAMRU-3), deserves another look. With the U.S. government scrambling to control the diplomatic damage in Egypt–and as the U.S. Embassy's traditional friends in the cozy upper-echelon of Egyptian society pack up and leave–this Navy facility will still be working, its social network almost entirely intact.
Properly done, NAMRUs become respected national institutions in their host country–an important nexus of training and opportunity for the local medical community.
Established in 1946, NAMRU 3 has operated continuously–through revolutions, wars, and social disturbances.  Even back in 1967, during the Egyptian-Israeli Conflict, the NAMRU was still up and running.  It was remarkable, because, at that time, all the Americans had been evacuated via ship, diplomatic relations had been severed, and yet, the Egyptian government allowed the NAMRU to keep functioning.
In the midst of this frosty diplomatic interlude, the newly-appointed NAMRU-3 leader, CAPT Donald Kent, picked up and went to his post–from a May-June 2008 Issue of Navy Medicine (no link):
"We arrived in Cairo late afternoon and remained in the waiting area since we had no entry visas. We were able

to get word to Abdel Azis Saleh, the Egyptian administrative assistant to the commanding officer, that we were at the airport. Through his connections with the Egyptian Foreign Office he was able to get us one-time entry visas. And so we were back in Cairo."
Where he found:
"The Egyptian staff had taken wonderful care of our Navy property, which included substantial and expensive research equipment. Even more gratifying was the wonderful news that our Egyptian research staff had carried on with a number of ongoing projects. Mountains of data, reference materials, and a research library were completely intact. Manuscripts were continuing to be prepared."
We forget–in the era of email and overnight delivery–how difficult a research laboratory was to operate. What the Egyptians did–it wasn't just work. It was devotion.
Does any other naval facility boast such a history? NAMRUs are, when well run, a constant presence, offering the Navy an entree into their host medical communities–professionals who are, largely, granted an enormous amount of respect by the communities they serve. Naval personnel could do a lot worse than being seen, day-in and day-out, working alongside such people.
It's easy to forget–and subsequently defund–these low-profile facilities. But NAMRUs are one of the few remaining places where official U.S. government personnel can make direct connections at an intimate community level–connections that are invaluable during disasters, disturbances or other upheaval.
So as Egypt crumbles–and NAMRU-3 keeps operating–Washington should take a moment to consider building and staffing far more of these valuable–albeit wildly underfunded–facilities.
(Modified from original July 2008 post, here.)