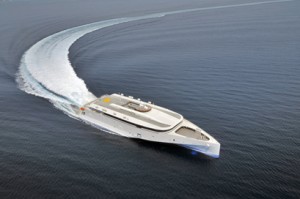 It is no secret the Australian Navy is super-sizing their amphibious force. But…is that force going to be too big and unwieldy to do a good job of projecting security throughout the South Pacific?
The first step towards a super-sized amphibious force is interesting. Last month, after I urged the Australian Navy to retire their three old, creaky amphibs and experiment, the Australian Navy announced that they were thinking of retiring at least one of their old LSTs to, in turn, take on a soon-to-be-redundant landing ship from the UK. The vessel, the Largs Bay, is the lead ship of the UK's 16,000-ton Bay Class Landing Ship Dock (Auxiliary), an evolution of a proven Dutch/Spanish LSD collaboration.
This seems a strong, safe choice–particularly if the ship can be purchased for nothing–However, my first pass at old articles suggests that the initial contract for Largs Bay clocked in at around $160 million pounds, so buying it now for $300 million Australian seems to be a bit high (if my numbers are off, do let me know). But the ship, commissioned in 2006, is relatively new and ready to operate with Australia's brace of heavy-lift Chinooks (giving the platform the flexibility to accept the U.S. Marine Corps' MV-22 as well). As a candidate for a hot transfer, the Largs Bay is positioned to fit seamlessly into the Australian Navy.
In terms of "load" on the Australian Navy, Australia's three legacy amphibs require a crew of about 625. The two big Canberra Class mini-carriers that are set to come on line over the next few years will have a primary crew of about 560, so a Bay Class platform, with a base crew of about sixty, makes, again, a simple fit.
The Largs Bay makes a safe, stout, conventional choice.
But the Largs Bay is not perfect. To be blunt about it, the Largs Bay is being pitched as a support vessel for the big Canberra Class mini-carriers. That's all–and, well, that means the operational basis for selecting the Bay Class is wrong-headed. Don't take my word for it–Here's the Aussie 2009 Defence White Paper (.pdf):
The Government has decided to enhance this amphibious capability by acquiring a large strategic sealift ship to move stores, equipment and personnel. Based on a proven design, the new ship will have a displacement of 10,000 – 15,000 tonnes, with landing spots for a number of helicopters and an ability to land vehicles and other cargo without requiring port infrastructure. The new ship will provide ongoing sustainment support for deployed forces, allowing the LHD ships to remain in areas of operations in direct support of the land force ashore.
Small-to-mid-sized amphibs are meant to be used for lesser contingencies–not seconded to the two flatdecks.
Second, Australia is underestimating future demand for smaller amphibious platforms. One is not enough. Over the coming years–after the two Canberras enter service by around 2015–there will be, quite simply, too few "mid-sized" amphibious platforms readily available in Australia to fully address the ever-expanding (and ever-more complex) array of complex South Sea security threats.
Sending a Canberra platform to help squelch every outbreak of political upheaval is far too costly for such missions. Not only is the Canberra Class an over-match for most peace-keeping missions in the South Seas, no Canberra Class vessel will travel anywhere alone, ever.
Ginning up a task force for a dash deployment
costs an enormous amount of money. And it can't be done quickly, either.
What Australia really needs is some sort of fast-moving, small-force insertion "utility" trucks–ships that can get from one place to another rather quickly. Platforms that can be used to deploy police forces or other support personnel in low-threat environments–civil disruptions, disasters and the like. Keep the Canberra Class vessels for the big "out of area" stuff.
That's why I keep hitting at the available Austal trimaran–not only is it available, but the platform, after some modest modifications, may prove to be a perfect low-risk platform for the civil-support activities Australia often undertakes in the South Pacific. But Australia must take the chance it has now, today, to test things.
What we do know is that mobilizing a Canberra task group will take time. We also know a penny-ante ex-ferry can be dispatched immediately, move into the area quickly, and hold/stabilize the place while the Canberras are still dickering with port agents over the manifest.
What Australia needs is, in a way, already spelled out in the 2009 Defence White Paper, rooted in the description of their now-canceled landing craft project. Again, the White Paper:
The Government will also introduce six new heavy landing craft with improved ocean-going capabilities, able to transport armoured vehicles, trucks, stores and people in intra-theatre lift tasks to augment the larger amphibious vessels.
Australia still needs intra-theatre lift. The country will face a critical shortfall once the final two old legacy amphibs are retired. So, now is the time to experiment!
With no immediate threats on the horizon, Australia should follow the strong path–obtain the Largs Bay while simultaneously recruiting some innovative "alternative" platforms that can take up the job of theatre lift in the South Pacific. The simple thing to do there would be to retire the other two old amphibs early, obtain the Austal trimaran, minimally modify it, and then see if it might be right for the uncertain seas to come.