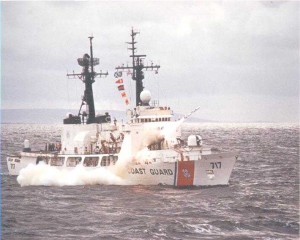 With the impending release of a Hamilton-class high-endurance cutter to the Philippines, the U.S. is doing what it can to help provide the Philippines something–anything–that it can use to show the flag in the increasingly tough waters of the South China Sea.
But does the gifting of the Hamilton Class mean that the U.S. is burdening the Philippines with a balky relic? Will this gift do more harm than good?
Not necessarily.
The Philippines have done an amazing job keeping their Cannon-class Frigate operational–who would have imagined that the World War II veteran (with a U-boat kill to her credit, no less) would still be up and operational for the Balikatan 2010 exercises? That is an amazing feat, and if there is a Navy out there that can keep an older combatant going, it's the Philippines' Navy.
With the Hamilton Class set for a block retirement, it may be very wise for the Philippines to step up and become the "recipient" of interest. With the once-extensive U.S. larder of FFG-7s dwindling, becoming a high-demand asset–and a platform coveted by other countries–the Hamiltons seem to be the only class immediately available. essay service So, at a minimum, they're a gap-filler–if they can only be kept operational, these ships will provide good service as training platforms for a Navy that will need to grow fast.
Aside from training, what can the Hamilton Class offer the Philippines? Well, not much, now. In their current guise, the Hamilton Class ships are little more than big, shiny "Flag-Wavers." But the Hamilton Class could, with a bit of modernization, become a fine second-string sub-hunter/anti-surface asset.
Remember, the Hamilton Class once bristled with Harpoon missiles, ASW weapons and sensors, so there is some space and extra margins available for new warfare-oriented gadgetry.
Remember, these ships will not need to be long-haul carrier escorts, but short-hop, shoulder-ready sailors.
But some simple, new ships should also get thrown into the mix. First, there is a morale issue–look at the Australian Navy. After fighting to sustain a motley set of over-aged capital ships, morale is rock-bottom. New ships can change that.
Now, this is a bit of a stretch, but injecting new ships into the mix alongside heavy-maintenance platforms might be a good thing. If the importance of regular maintenance can be emphasized–when ship maintainers and operators are forced to grapple with maintenance issues every day–the new ships might (might) reap some extra attention from an establishment eager to avoid the problems they see on the older craft.
Newer craft (a LSV or a brace of combat-ready JHSV) might offer the Philippines a way to better integrate with U.S. and other Asian allies. In particular, a new platform would be a neat way for the Navy to indulge in some cheap risk-reduction as the U.S. Navy mulls employing the JHSV for missions beyond the simple theater transport role. What's the harm in letting the Philippines Navy experiment with, oh, a hangar-equipped JHSV? Or an amphibious-ready modification? Or an ASW test/training platform?
A new ship helps the U.S. as well. Aside from the raw economic benefit of fabricating an extra JHSV or two, accelerating the adoption of the LCS/JHSV program worldwide holds other benefits. I mean, look. If America is going to project power on the basis of "mission modules", then it behooves us to get platforms that are ready to accept mission modules out into the world rather, um, quickly. So, with that in mind, a cheap, stripped-down "mission-module" ready JHSV seaframe might be a neat "sweetener" as the Philippines start renting our, well, wrecks.
That, or else the Chinese are going to sweep in, offering Manila a brace of shiny new (albeit less capable) platforms. One only needs to look how Pakistan is promoting their new Chinese frigates over the recent delivery of their new/old FFG-7. So, you policy-people out there….the lesson is this: Don't underestimate the allure of new stuff.
It's OK to rent wrecks to needy partners. But let's make sure these transfers have a little more strategic thought behind them than just, well, a hasty bureaucratic (or budget-driven) effort to clean out old inventory. It makes strategic (and fiscal) sense to do a better job of integrating potential future partners into our evolving national security strategy.
And if that means subsidizing a few extra low-end experiments–cheap utility platforms that will do darn good work even without a fancy "mission module,"–then I say, well, do it. We don't need to limit ourselves to renting wrecks to all our friends.