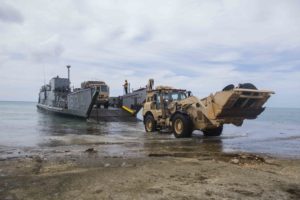 To me, the picture accompanying this post speaks volumes about the "Pacific Pivot". The photo shows LCU 1634 helping the Commonwealth of Northern Mariana Islands (CNMI) recover after being leveled by Super Typhoon Yutu.
Looks great, right?
Well, it looks great until the observer realizes that LCU 1634 is ancient. That venerable LCU in the picture just celebrated it's 50th year of service on September 6th. Now, don't get me wrong…that hunk of rust has strong support. LCU 1634 is attached to a great U.S. Amphibious Warfare asset, the USS Ashland (LSD 48). The whole enterprise is being run by some fabulous folks; Rear Admiral Cooper has done a great job of positioning his assets to provide the most aid they can and Col. Robert Brodie is doing great work.
But….those pricy amphibious platforms and strong leaders are limited to doing what they can with the tools they have. And some green eyeshade accountant, backed by a disinterested Navy, an unengaged Congress and a uninformed public decided a fifty-year old landing craft was OK.
It's not.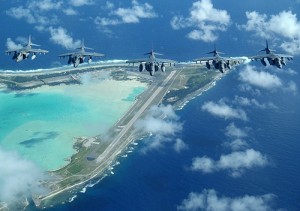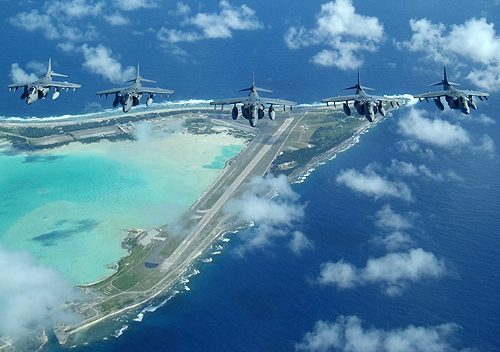 For the want of a nail:
A landing craft is a critical functional requirement for any amphibious vessel. If the landing craft is down, the amphibious vessel is largely useless.  But America didn't want to bother investing in a simple replacement (yes, yes, replacements are on the way, but a 50+ year recapitalization cycle is far too long) because landing craft aren't, oh, sufficiently lethal or something. So if the Marines actually needed to employ the USS Ashland in a military contingency, they'd be relying on a 50 year-old piece of landing tech that is, essentially, held together by welded-on patches of steel and duct tape.
And then there is the state of CNMI itself. CNMI is a strategically vital set of islands, and anybody with a passing knowledge of "Pacific Strategy" (such as it is) has known these islands have been under-resourced for years. I won't bore you with the litany of unfunded resiliency measures America has, in recent years, decided NOT to fund, but…there's a whole lot of stuff that could have been put into place that would have made CNMI a far tougher nut for a cyclone–even a super cyclone–to crack.
One particular piece that hasn't been funded is inter-island transport; CNMI should have had their own dedicated logistical support fleet by now. I am shocked America still lacks rapid inter-island mobility options out there to move military folks about the islands yet. Wasn't CNMI once in line to receive a Expeditionary Fast Transport….by 2018?
If so, where is it?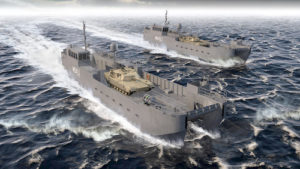 The horse was lost:
With no island-group/in-CNMI mobility, America has no other option but to raid some poor Pacific Expeditionary Strike Group for a much-needed ship. Today, that is the apparent "Pacific Theatre cyclone-recovery specialist vessel," the USS Ashland.
Frankly, USS Ashland–with her complement of about 400 sailors and more than 400 embarked Marines shouldn't be at CNMI at all. But, due to a lack of assets and an quintessential American failure to invest in the critical CNMI region, the Ashland has been forced to spend months off CNMI to support hurricane recovery this year.
But USS Ashland is needed right now to support a busy 7th Fleet.
So what does that mean? Well, for Cyclone Yutu, it means America diverted a front-line asset–again, about 400 sailors and more than 400 Marines–so, as of November 13, her two LCUs from Navy Beach Unit 7 could deliver about, oh, 100 vehicles to the islands? And then serve as a floating FARP for intra-island helicopter traffic? I'm not impressed; an EPF could have done all this far faster with about fifty folks.
But America has yet to make the modest up-front investment needed to keep its pricey front-line assets forward and "Ready to Fight Tonight!"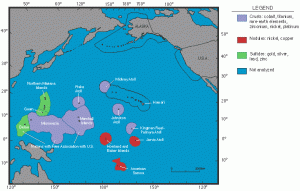 It's how you lose a war:
This all feeds into a bigger story. In the Pacific, America has a distressing habit of dismissing strategic territorial holdings. Few are out there in DC or anywhere else making the Pacific a "real" thing for the "average" American.
CNMI , for example, is a vital American outpost in the Pacific, but the United States doesn't seem to want to do much with the islands beyond depositing some folks at some nice bases and…that's it. Rather than get in there and draw islanders close, we have left the islanders largely on their own, and allowed a corrosive brew of ethnic nationalism to evolve, ready to help tug the islands away from a U.S. orbit.
I'd have thought we would have learned the lessons from Vieques, but…nope.
We need to do something.  When the stodgy old Atlantic Magazine is writing stuff like, oh, "people in CNMI are predominantly Chamorro, Filipino, Chinese, Korean, Carolinian, Bangladeshi, and members of other ethnic groups that are often marginalized in the U.S.", it shouldn't take a genius to guess the levers our rivals will, in a few years, employ to pry CNMI from the American orbit.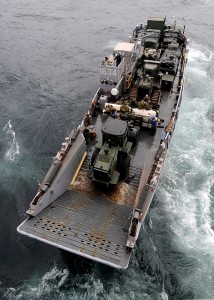 Conclusion:
In short, the Pacific Pivot is putting some great people and platforms forward without sufficient regard for aged, feeble or fragile back-end that supports 'em.
Put simply, basic pedestrian resources go a long way in facilitating wider strategic goals. So, if the Pacific Pivot is a reality, let's get about the business of investing in stuff like some simple, old-fashioned organic logistical support at critical places like CNMI. Lethality is great, but we need to make those modest and, yes, boring foundation-level investments. It's the only way to free up front-line assets to the point where they can focus on their warfighting "job". Get the new LCUs into production and grow the program of record. Order more EPFs, charter laid-up oilfield support vessels and get about funding the bewildering array of odd-lot basic support craft needed to prosecute a long maritime standoff.
And, above all else, let's stop treating American territories like they are expendable, unwanted bits of populated coral. They are not. We need our island outposts. There's not a lot of land in the Deep Pacific, and we should make an effort to get along and get 'em into the 21st Century….these little isolated islands pay enormous dividends in enabling America's small set of pricy and somewhat overtasked "lethality" focused assets.
If the Pacific is to become a front line in a modern Cold War-style competition, America will need to make those investments anyway. Why not make 'em now?
Before we really need them.