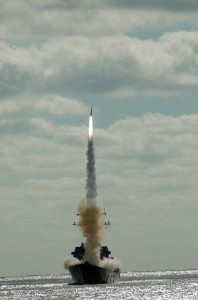 Chief of Naval Operations (CNO) Admiral Greenert's call to put "Warfighting First" has focused attention on the Navy's overall lack of offensive firepower. The Surface Navy, in particular, is wringing their hands over their community's now ingrained (and almost congenital) Praetorian Guard "protect-the-carrier-or-big-deck-amphib" defensiveness, and there's now an effort afoot to remedy things.
That's good.
There's a new and growing appreciation for surface warfare, and a widening call to reinvigorate anti-ship/anti-sub strike capability. The LCS is–supposedly–getting up-gunned or replaced entirely. New anti-ship missiles are coming. New energy-centric weapons, too. There's more desire to operate independently, or–at a minimum–a wish to be on the ragged and dangerous edge of the larger battle network.
There's even a sneaking concern within the Surface Navy that the commitment to maintain 11 CVN battle groups is shaky and will not be able to shield the surface combatant fleet from cuts. Aegis Ashore even reduces the need for high-profile anti-ballistic missile sea patrols. So the surface community–under attack by a cost-conscious Congress and and targeted by new air and subsurface threats–is casting about for relevance on this new maritime battlefield.
But relevance has limits. The average Surface Warfare-qualified line officer doesn't want to be a relatively passive player, doing presence/shaping work and, if the ballon goes up, seeding the battlespace with sensors or ISR assets. They want to fight. And they want to fight like the romanticized commanders of old, lining their 80-gun frigates against a growing global fleet of other, quite capable 80-gun…er, frigates.
Exasperated sigh.
Okay.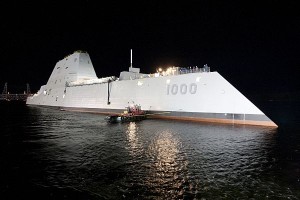 So there's an effort afoot to change things. Fine. But…the Surface Navy seems to be subordinating a worthy effort to be more "offensive" under a catch-all rubric of "survivability". That's OK, but I do worry that "survivability" is becoming just another code word used by contractors to tug at the Navy's heartstrings–a long over-indulged community-wide emphasis upon defense and tactical risk mitigation.
Take the DDG-1000. One of the oft-touted innovations is this:
"The ship is also built with a new kind of vertical launch tubes that are engineered into the hull near the perimeter of the ship. Called the Peripheral Vertical Launch System, the tubes are integrated with the hull around the ship's periphery in order to ensure that weapons can keep firing should the ship be damaged. Instead of having all of the launch tubes in succession or near one another, the DDG 1000 has spread them out in order to mitigate risk in the event of attack.."
And that takes 80 MK 57 VLS cells (fewer than on a DDG-51) and:
"…divides the weapons up so if you take a hit, you don't lose all your weapons. This is a survivability enhancement…"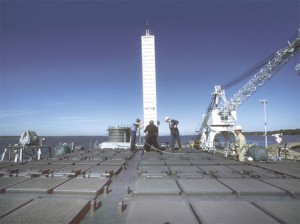 Good, eh?  But what this fancy peripheral system does not appear to do is allow for any means of forward, austere-locale/seabase-y facilitated type of resupply.
(And, to be honest, I think survivability enhancements–to enable a ship to "fight-while-hurt" on the modern battlefield is just a nice-sounding yet un-tested and unverified recipe for contractors to inflate shipbuilding costs. Look. The moment any one of our surface combatants get hit, it won't be an effective combat asset and it'll need to leave (or be recovered from) the battlefield–which is, in itself, a woefully under-examined, resource-sucking exercise in fleet gymnastics. I mean, getting the ostensively "still-able-t0-fight" USS Princeton off the Gulf's gameboard during Desert Shield/Storm took a lot of work–and that's where we had absolutely overwhelming air, surface and sub-surface superiority. Those days are over.)
So it's a tad ironic to see this DDG-1000 "survivability" enhancement being sold as a warfighting supplement. As some might recall, one of the reasons VLS cells were originally clustered together in the first place (at least before we far-too-quickly dismissed the idea of forward VLS replenishment–I've written about this before here) was to FIGHT and then to KEEP FIGHTING.
Perhaps it would be wise to compare the old VLS scheme with the new one while focusing on the CNO's Tenets: "Warfighting First", "Operate Forward," and "Be Ready".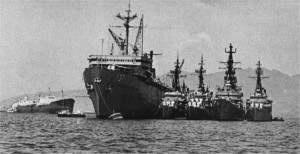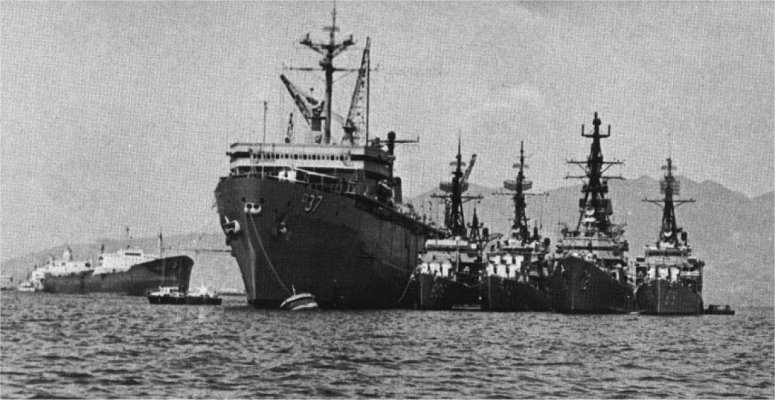 The old idea was that if a surface combatant fired off their VLS magazine, they could go and get more missiles from a forward-deployed source (maybe at some ignored atoll, fjord or protected lee someplace), rearm and keep fighting–and that's what I think the CNO means when he urges "Warfighting First" and "Operate Forward".
Instead, our hot, new DDG-1000 surface combatant will, after expending a modest VLS magazine, will need to hustle out of the danger zone to an improved foreign port (!) and rearm (!!) after all the new weapons go through the host's customs services (!!!!) and America's ossified-to-the-point-of-impotence defense materials transferral system (AAAGH!). "Be Ready" my fanny. (And, then, you know, of course there are no opportunities for interdiction off, say, Singapore…)
It's kinda sad to think that maintaining forward warfighting capability now depends more upon successfully navigating customs and red tape than, say, learning to steam alongside a representative of our ever-shrinking Combat Logistics Force.
Now, I'm sure this has all been fought out and war-gamed to death by the Operations guys, and that debate is raging in wardrooms throughout the Fleet  And I don't want to unfairly  discount efforts to shift the advantage away from those who worship at the Sun Tzu-esque altar of "Attack First!" I just sense the Navy is putting too much importance upon poorly-validated "survivability" models during tactical engagements. And that's OK–keeping the crew safe is of paramount importance–But survivability is a lot more complex, and it extends beyond the immediate engagement. How far out are we looking? Or are we filing logistics in a "too hard to model" category and ignoring it?
I dunno.
But, finally, at the end of the day, over-emphasizing survivability is–in my opinion–something of a poor fit with the CNO's imperative of "Warfighting First". It doesn't really work.
I mean, we forget that much of the Navy we are sailing today is a product of John Lehman. And nobody–NOBODY–ever accused Mr. Lehman of favoring defense when a good offensive option was available. So, with that, I encourage the Surface Navy to work on differentiating between offensive capability and survivability, and to keep focusing on the CNO's Tenets and Sailing Directions.