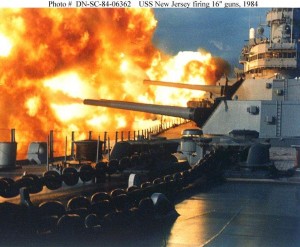 In America's arcane and endless doctrinal debates over amphibious warfare (examples here and here), one constant shines above all–the incessant Marine Corps call for large-caliber fire support from the sea.
To "big gun" fire support advocates, the little "popguns" on America's Littoral Combat Ships, Frigates, Destroyers and Cruisers don't seem to matter at all in shore bombardment and are uniformly dismissed as ineffective.
That's just wrongheaded propaganda.
Guns of any caliber are valuable. Now, everybody appreciates the utility of having a massively destructive gun "on call", but, in North Korea, Vietnam–confrontations where America really demanded fire support–gun platforms came in all flavors–from the Iowa Class Battleships down to tiny destroyers and even smaller craft.
My underlying hypothesis is that, in those conflicts, the Marines and soldiers appreciated having whatever fire support the Navy could muster, regardless of caliber.
Large caliber guns do have a certain dramatic–and functional–appeal–what Marine wouldn't want devastating 24/7 fire-for-effect support from a majestic grey-hulled battlewagon? (And, for that matter, what naval officer wouldn't want a chance to command that majestic grey-hulled battlewagon?)
To that end–and after years and years of pestering–the United States is addressing Marine Corps concerns with three massive "littoral" DDG-1000s, which, despite the craft's stated fire support mission, is going to be kept as far away from the littorals as is humanly possible–but, hey, what's a few tens of billions of dollars (and a waaay too small a magazine) to shush up the Marine Corps, right? Right?
So…now that America has procured some "good and proper" larger-caliber fire support platforms, I suppose it might be a good time to ask if there are scenarios where large caliber fire support might be less-than-useful?
Are there coastal environments where fire support from smaller vessels is more appropriate and more effective? Urban environments? Places where collateral damage is a concern? Where World War II-era bombardments just don't work?
Yes.
I'll point to Gaza, where, again, just like in 2009, Israel is finding her tiny arsenal of all-weather naval guns (and missiles) militarily useful (well-publicized and tragic exceptions aside, of course). But it is my sense the doctrinarians of the High Church of Big-Caliber Naval Fire Support are–again–going to ignore some interesting lessons that Israel has learned in the waters off Gaza and Lebanon.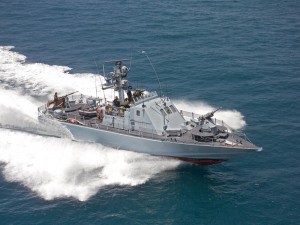 The first lesson–something that we learned from PT Boats and promptly forgot–is that a well-armed small craft, supported by good sensors and ISR–can be quite useful. Try reading this 2009 account, from a reporter aboard a Shaldag–a tiny, 15-man aluminum speedboat.
"It's the 13th night of Operation Cast Lead and we're sailing on Yoni's ship some 2.5 kilometers off the Gaza coast. It is the first time a reporter has joined naval forces since the start of the operation. From the ship, capable of up to 45 kilometers an hour, we see a Tarshish naval vessel, Sa'ar 4.5, which is also part of operations against Hamas.

Since the start of the military campaign, the bulk of the credit for hitting Hamas infrastructure has gone to the air force, which has conducted hundreds of sorties over Gaza. However, the navy has also been operating since the first day of the operation, and has hit some 200 Gaza targets with its various weapons."
The second lesson is that, properly operated by an alert, ready crew, ships are still hard to hit:
The officer said that there had been attempts to fire at Israeli naval ships, mostly with light arms and anti-tank missiles…

…There have also been attempts by Palestinian boats to approach Israeli naval vessels, and the IDF suspects that they are trying to perpetrate a terror attack similar to that carried out on the USS Cole in Yemen in October 2000, when a small boat rammed into the vessel, blowing it up. There have also been attempts to smuggle arms via the sea into the Strip.

"All the time, there are attempts to approach us…they are dying to hurt us," said the officer. "There is now a naval blockade so anyone who is in the sea is considered suspicious."
A Shaldag carries little more than a 25mm Bushmaster cannon, and yet, there it is, 2.5 km from the coast, supporting ground operations, along with the rest of Israel's innovative small boat fleet. And for those who scoff at the 25mm gun, i should remind you that smaller–quite, quite smaller–surface fires have been, ah, rather useful.
These little ships don't just do shore bombardment either–they're supporting a very active catalogue of amphibious operations. The Israeli Navy has pushed ahead with amphibious assault, buying LCTs (which I've written about before and, I might add, we hear precious little about) conducting landings on the Lebanon coast during both invasions, raids off Gaza for both invasions (naval commandos led the way this time), and commando work further afield.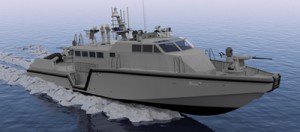 I am sure the IDF would relish a larger-caliber naval gun platform, but I would be willing to bet that the big gun's utility would be somewhat limited in comparison to the smaller guns aboard Israel's smaller platforms.
Modern naval warfare–in this era of tight budgets–is about having the right tools in the right place at the right time. Sometimes–and I think more times than the maritime taste-makers want to accept–a tiny scalpel, wielded by a well-trained, gutsy crew, is much more useful than just another grand-scale, "fire-for-effect" hammer.
That said, does the U.S. Navy have the apatite for this niche mission?  Will the Navy support the provision of "low-end" fire support or will this be dismissed by a stressed Navy as an irrelevant luxury?