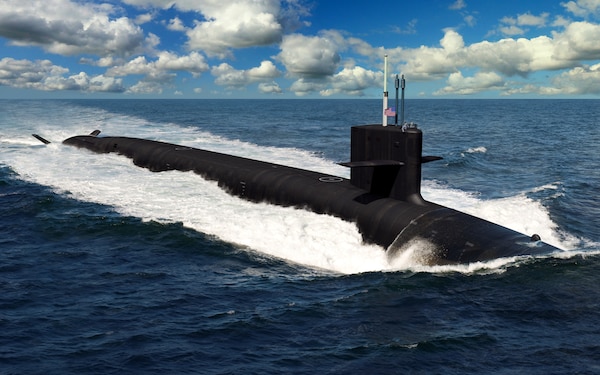 After three generations of converting surplus/obsolete SSBN hull forms to commando carriers, it's time to start planning for a Columbia Class commando-carrying variant. Despite a lot of classification, open records suggest undersea commando carriers have accumulated a record of success that stretches back to World War II. And with the Marine Corps already organizing their basic amphibious warfare elements to fit into the operational parameters of SSBN-sized commando-carrying sub, it is probably something the Navy should start openly discussing with Congress and the Industrial Base.
I can hear the "tut-tutting" now. Too expensive, you say? Well, if we start looking at different fleet mixes (something that we're not doing a great job of), where the amphibious-oriented surface fleet becomes a mix of low-cost LAWs and ESBs and some other things, a brace of modified troop-carrying Columbia class subs doesn't look like that much of a stretch. Look, I love amphibious vessels, but a 2-billion dollar a hull LPD/LSD is…a lot. And popping in a few extra Columbia class variants on the latter part of the production run for the Columbia class' existing 12 hull SSBN program of record might do good service right now in driving down the per-hull cost of the big sub.
Ahh, but the critics will then say that legacy amphibious vessels are too useful. Sure! They are useful–heck, they're so valuable we're simply lighting them on fire and burning them to the waterline while pierside, yes! But, all quips aside, are we using them as effectively as we can be? Are they a good ROI? The amphibious fleet has not been out there making headlines lately, and, for that matter, for the vast majority of amphibious lift missions, we don't need a 2 billion-dollar LPD or a 3-6 billion dollar LHA/LHD to carry them out. An ESB ain't necessarily the totally right answer either, but, hell, it's a start.
This is going to cause a lot of heartache, but General Berger is right. The era of fielding amphibious fleet of only expensive glass-cannon amphibious vessels is coming to a close–it's time to accept that lower-cost ships can do amphibious lift just fine, and recognize that some sort of undersea approach may well be the future of amphibious assault in contested areas. It might well be time to "get real" about reorienting the existing amphibious fleet industrial base towards small sea-control aircraft carriers, ramp down the rate of LPD/LSD production, and then get about fielding a bunch of low-cost amphibious vessels.
Anyway, I digress. I think a Columbia Class troop-carrying sub variant is idea worth mulling, and I've written up a more involved piece over at Forbes.com (here) detailing the proposal. Enjoy!