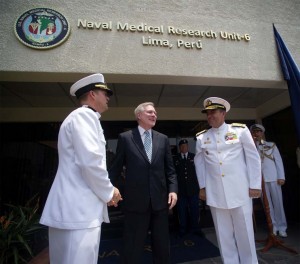 In a quiet, little-reported move, Navy Times tells us that NAMRU-6 is now a full-fledged command:
A small medical research department the Navy established in Peru three decades ago to study tropical and infectious diseases such as malaria became a full-fledged command Feb. 10.


Naval Medical Research Department – Lima got a new name – Navy Medical Research Unit 6 – during a ceremony in Lima attended by Rear Adm. Eleanor Valentin, who commands U.S. Navy Support Command, and Peruvian navy officials, Navy medicine officials announced.

The move puts the new unit – which as 11 officers, two sailors, three civilians and 305 Peruvian civilian workers – on par with Navy medicine's two other overseas research units: NAMRU 3 in Cairo, Egypt, and NAMRU 2 in Hawaii.
Navy Times kind of forgot that somebody important had stopped by earlier:
While in Lima, Mabus also officiated at a christening ceremony for the Naval Medical Research Center Unit (NMRU) 6 building, where he made brief remarks and unveiled a plaque commemorating the unit's establishment. NMRU 6 partners with the Peruvian Army and Navy to conduct research on a wide range of infectious diseases that threaten the population in the region.
This is great news! Congrats to NAMRU-6! Here's a little more from the Naval Medical and Research Development Command newsletter (PDF).
If the SECNAV's active interest isn't enough of a signal, the U.S. needs more of these interesting and useful facilities. There is no contesting that the Navy's role in researching infectious diseases and bolstering public health systems is longstanding. The work serves a strategic purpose and directly supports the warfighter. We will need to do more of this in the future.
What I would be very interested in seeing is a floating public health laboratory–perhaps in a future Pacific Partnership or Global Fleet Station craft. It'd be great to have trained folk available to meet and work with local public health people in the littorals (and perhaps crop disease prevention workers and vets as well). As far as health goes, this is one particular place where the NAMRUs can be really useful in guiding longer-term U.S. Navy coordination with the locals–versus the usual grab-bag of "get 'em in, get 'em out" community medical triage exercises.
Look. Plenty of emergent epidemics are detected when a local, working on nothing more than a shoestring and a hunch, calls a pal in the West. So…giving, say, a resident
agriculture worker a means to recognize, oh, Wheat Rust or teaching local docs to screen for multiple drug-resistant TB is a big deal. Just having a friend outside a host country's normal, sclerotic (or nonfunctional) public health/ag health bureaucracy to call and help confirm observations is a big bonus for everybody–the Navy, the U.S., the host country and the region. So, with that in mind, I'm thrilled to see NAMRUs getting some attention.
(I'm still upset that nobody in the U.S. covered the effort to boot NAMRU-2 from Indonesia. Mph.)
Anyway, with NAMRU-6's promotion, I hope more of these useful and cost-effective NAMRU command/host nation collaborations are set up over the next few years. I also hope that we see some NAMRU-oriented activities incorporated in the Partnership cruises or Global Fleet Station visits.
It would be particularly awesome to see the establishment of an "afloat" NAMRU–imagine the formation of a semi-mobile group of 10-12 researchers able to deploy aboard, say, a JHSV. That'd be really neat addition to any future Global Fleet Station. And you'd make Chris Albon's day, too.