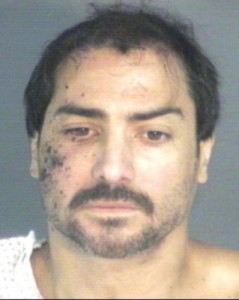 winking-at-anti-government-violence" rhetoric that is, for some milkook blogs, their stock-and-trade.
Why do I scorn milblog armchair revolutionaries? Because I think the "community" they foster encourages their desperate and dumb members to turn to violence.
Milblogs should worry. Sometimes the perpetrator is a veteran. But, almost every time, the victims are law enforcement officers–a community where veterans are highly represented. Let's think about them, and tone down the anti-government, pro-violence rhetoric.
For me, the impact of anti-government rhetoric hit home a few days ago. Over the weekend, another anti-government extremist–a two-strike felon named Byron Williams–put on his body armor, stole his mom's guns (She was stockpiling them guns because "eventually, I think we're going to be caught up in a revolution."), and headed to the Bay Area to go find ACLU people and kill 'em. But he didn't make it to his target. He got pulled over by the California Highway Patrol a few hundred yards from where I, until recently, used to live.
He pulled a gun, and had a 12 minute firefight with the Police. He lived through it. You can see it here, and here. He lived (his mugshot is above), and the FBI is now vigorously involved. Two CHP Patrolmen were slightly injured.
According to a neighbor, the suspect was a racist, who, after the 2008 election:
"…was (angry) about the new president," Funk said. "He said the world's going to hell in a handbag because we have a black president and he didn't think black people deserve to be president. He was just bitter."

Williams screamed in anger so loudly, using curse words and racial epithets, that Funk's wife had to close the door to keep her son from hearing, Funk said.
Kinda puts Andrew Breitbart's (the guy who is tried to get Wired.com's highly regarded defenseblogger Spencer Ackerman fired yesterday) highly-edited video-assault on the ACLU–a thinly-veiled effort to gin up racial fears in…perspective.
Because this made-up Breitbart ACLU scandal sure is kicking any mention of a REAL racist, cop-attacking, rhetoric-addled right-wing freak off the front page. I mean, imagine that…a guy off to start a revolution by killing members of the ACLU…well, gosh, he's old news now…
Hell, I couldn't have planned it better.
Political difference is fine. But stoking anti-government violence via "wink-wink" and "nudge-nudge" rhetoric….let's tone it down.