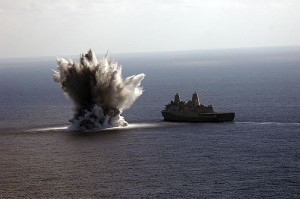 Notice how stories detailing the LPD-17 powerplant "crisis" focus on LPD-17, 18 and 21?  
Notice how the reporting, in passing, note that LPD-19 and 20 encountered similar engine problems, but, after maintenance, both seem to have dodged a bullet? 
Well, not so fast…it looks like the USS MESA VERDE (LPD-19) had substantive powerplant issues before her shock trials (back in August-September 2008)–USS MESA VERDE suffered a "catastrophic" mishap even before LPD-17 failed in the Gulf.
Read the Defense Department's December 2009 Operational Test and Evaluation Report closely:
Catastrophic casualties recorded prior to the Full Ship Shock Trial in LPD-19 and during LPD-17's deployment revealed serious fabrication and production deficiencies in the main lube oil service system."
What happened there?  IF the LPD-19 event was, in any way, comparable with the November 2008 LPD-17 failure (where the ship was sidelined for weeks), then why wasn't the LPD-19 failure widely broadcast?   
The LPD-19 incident predates the LPD-17 incident.  Why, then, in the light of such a catastrophic failure, was the LPD-17 sent out on deployment with no fixes in sight?  Were the LPD-19 problems kept quiet…or, to be cynical for a moment…Did the LPD-19 failure occur in close proximity to the Navy's announcement that the LPD-17 reached IOC in May 2008? 
Unless the Operational Test and Evaluation Report is detailing a completely different failure, the Report contradicts Jay Stefany, the Navy's LPD-17 program manager.  Navy Times' Chris Cavas recently re
ported:
"Stefany said the problems were a recurrence of similar issues discovered about a year ago on the Mesa Verde (LPD 19) and Green Bay (LPD 20).  "The ships were down for a number of months," he said, and stainless steel shavings were discovered in the lube oil."
Seems like LPD-19–at a minimum–failed about a year an a half ago… 
Along with that interesting note, the Operational Test and Evaluation Report emphasizes the entire Class is experiencing a range of other failures/problems–problems that go far beyond welding or engine plant design.  The platform is, at best, infirm.
First–and unsurprisingly–the engineering is problematic:
"Reliability problems associated with the Engineering Control System (ECS), including frequent failures and high false alarm rates, and the electrical distribution system, including unexplained loss of service generators and the uncommanded opening of breakers, revealed shortfalls in manning and training to support sustained manual operation of the plant."
Communications are wobbly:
"…reliability problems with the SWAN and the Interior Voice Communications System degrade command and control and are single points of failure during operations."
And, of course, the amphibious basics ain't good, either:
'Reliability problems related to well deck ramps, ventilation, bridge crane, and Cargo Ammunition Magazine (CAM) elevators detracts from mission accomplishment and reduces amphibious warfare suitability."
Add in issues with the LPD-17's  ability to produce chilled water, there's also a long laundry list of problems with the LPD-17 Class SSDS, the RAM system, radars and gun interface.  Combined, those failures limit the LPD-17 Class, opening these ships to attack. 
But those problems were covered last year, over here.
The continued vigorous defense of these platforms by Marines and other LPD-17 boosters simply stuns me.  Why are we building LPD-17s if the ships are not functional?  Perhaps it is time to stop work on these things.