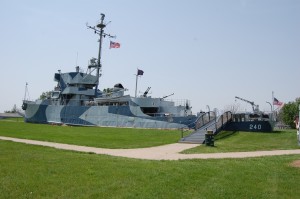 Let's take a moment to pity Omaha's poor Freedom Memorial Park–the final resting place of the World War II-era Admirable Class minesweeper USS Hazard (AM-240).  When I visited the Navy memorial a few times in the 2008-10 timeframe it was a delightful little hideaway–a lovingly preserved ship in an idyllic little "all-hands-on-all-the-exhibits" waterfront military park (The ship was turned over complete–with all her spares and everything. I mean, they still had ship's stationary and china). The park also has a mini mine-warfare/training sub on display–the USS Marlin (SST-2) as well (which, I must confess, was my primary cause to first visit).
I was struck by how those staunch Midwestern stewards had done everything right–grounding the ships, preserving the vessels, and keeping everything accessible.  They were slowly building up a collection and infrastructure–even a funky little waterfront restaurant/bar. It was on the verge of becoming a neat corner of the world where once and future minemen could think about gathering to celebrate their peculiar craft.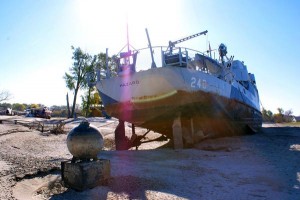 Far from the sea, it was also a unique and touching means to introduce Midwestern sailors to  the Navy and to the strange and distant Oceans our Navy patrols.  It was a perfect place to spark a youngster's imagination about his or her future.
Each time I left thinking future of the little park was secure.
And then the 2011 floods happened.
Today, Freedom Park is a disaster.  Apparently Omaha has pretty much abandoned the memorial, and, this month, the local news reported metal-recycling fiends have found the vessel.  Unless somebody moves quickly, there won't be much left worth saving.
There is an opportunity to point this situation out to local civic leaders and urge them to do some good.  SECDEF Chuck Hagel hails from Nebraska, so the locals are likely more attuned to defense matters than most.  The city is also interested in it's naval history–the old ex-USS Omaha (SSN 692) is getting a million-dollar memorial (fundraising started with a 250K grant from the City, no less).  The Navy will commission a new city namesake vessel as well, so various high-level naval folk will be shuttling in and out over the coming months.  And while those dignitaries rightly celebrate Omaha's new ventures, I hope their speechwriters take a moment from the festivities to urge the Nebraskan city leaders get this old piece of Mine Warfare History put right.  It would be a real shame to loose such a unique time-capsule to neglect.