I've got an interview in the January 6 print edition of the Virginian Pilot (Here's the Jan 5 online teaser):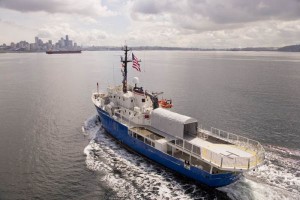 The Blackwater ship was an ineffective weapon against such attacks, according to Craig Hooper, a San Francisco-based national security strategist.

"The McArthur was no pirate-fighter," Hooper said in an e-mail . "Like any private mega-yacht, the McArthur was more a promotional vehicle than a sound business concern.

"Once the vessel started drawing scandalous headlines, it was unloaded."

In legal complaints last year, three McArthur crewmen alleged verbal and physical abuse, racial harassment, and retaliation by superior officers while the ship was in port in Aqaba, Jordan.

The company said several employees were fired as a result of the racial-harassment allegations.

There might have been a market for the ship as a training platform or as a harbor patrol vessel, protecting stationary facilities such as offshore oil rigs, Hooper said, but "as far as piracy was concerned, the McArthur was just too slow to serve as a ship escort."
As Russian billionaire Roman Abramovich  knows rather well, private yachts are great promotional vehicles–they build reputation, offer a fun (yet intimidating) place to do business, and generally raise your profile.  Mega-yachts draw an enormous amount of rep-enhancing press, too.  Even staid media outlets like the Wall Street Journal devote an enormous amount of space to the exclusive race for the biggest yacht.
Milbloggers, evidently, are just as susceptible to the yacht craze.  They eagerly devoted themselves to heaping adulation upon the McArthur–forgoing the usual scathing performance analysis that is a matter of routine for un-trendy platforms like the much-abused Littoral Combat Ship.   Nobody asked just how a 13-knot boat might actually get about doing the business of ship escorting.
So the McArthur was a savvy promotional masterpiece.  In 2007, Blackwater (now Xe) was facing some tough headlines.  And the McArthur served as a bright spot in what was a rather grim PR constellation.  Look at the timing.  The ship was first unveiled in early October 2007, just as Erik Prince was facing a tough Congressional hearing.
As a floating billboard, the McArthur did great work–disrupting at least one negative news cycle, building grassroots buzz, and serving as a means to woo journalists.  For what it was, the McArthur was a stroke of genius.  Credible, unquestioning coverage from the grassroots only played into Blackwater's mystique.  And if you had the right political credentials and were really, really good, you'd get flown down to the Blackwater Ranch and maybe even choppered out for a promotional stint aboard the pirate-fighter.  Sadly, no visitors wondered why the McArthur was fighting pirates off Hampton Roads, but..bloggers don't ask too many critical questions during a junket.  (Or when they're getting promotional materiel emailed 'em from corporate sources.)
The McArthur certainly offered an opportunity for Blackwater/Xe to obtain some idea of what the maritime security market may be able to bear.  As far as Somalia goes, private sector companies will have a tough time operating their own escort vessels in a region where local navies see anti-pirate escorting as THEIR revenue source.  But as far as other locales, and in training, fixed-site security, capacity-building or crew stiffening, we'll have to see just what emerges as a far lower-profile Xe gets out there.
For that matter, Xe may already have a little navy of it's own out there.  But with the new managment pushing Xe in a refreshingly lower-profile direction, maritime commentators will have a far harder time discovering much about Xe's maritime status in the blogs or mainstream media.
And that, right now, is a savvy business move.