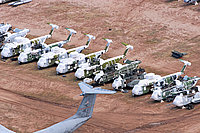 America's 40-year old CH-53Ds still do good work–a set of 4 CH-53Ds just returned from a 6 month deployment in Africa. Israel's CH-53D variants self-deployed from Israel to Romania to, oh, prep for an audacious bit of raiding many thousands of miles from home. So they're still operationally relevant.
But it was a sad to hear, in a little-noticed interview, the deputy commandant for Marine Corps Aviation, Lt General Trautman tell Inside the Navy that the old CH-53D helos were going to get the axe before their planned sundown dates of FY 18 and FY 19. Trautman, in a discussion with Inside The Navy scribes on July 28 2010 (sorry no link), threw a lot of rocks to justify the early retirement of the CH-53D:
"They're [the CH-53Ds] aging out there, they're not modern anymore, their payload is suffering, et cetera," he said. "The second is this unknown-unknown environment when you get [past the aircraft's projected service life]. But the third is there are incredible savings in not having to manage type-model-series. Think about it — ground support equipment, peculiar support equipment, supply backups, training, publications, maintenance, schools, all of those things can stop being done and you can put those resources toward something else."
Well, they may not be the technological "bees knees", but, right now, America's CH-53D fleet is chugging along. The fleet is reportedly just on the verge of receiving some significant performance enhancements, even. On Sept 25 2009, Aerospace Daily and Defense Report (similar link here) noted that new CH-53D rotor blades were being installed during the third quarter of FY 2010 and that the CH-53D fleet was being qualified to use the E's -416 engine. And:
"By the end of the summer 2010, Muldoon said he expects to have 10 aircraft equipped with the new engines. This provides us well in excess of 5,000 pounds of lift capacity, Muldoon said, noting the CH-53Ds are averaging an extra 2,000 pounds of lift while the CH-53Es are seeing up to 7,000 extra pounds with the new engines, depending on the environmental conditions."
Concern over the age of the CH-53D airframe is valid–if the CH-53D is getting run into the ground today, who knows how the aircraft will function in five years. But Israel is demonstrating that a hard-used, 40-year old aircraft can, if SLEPed, keep going. At any rate, Israel is planning to keep their CH-53D variants flying until 2025–and the IAF certainly can't be accused of "babying" their heavy-lifters (then again, if Israel somehow looses a bunch of CH-53s between now and 2015, maybe they might be eager to purchase our discarded CH-53Ds until something else–i.e. the CH-53K–becomes available).
But Trautman's claim the retirement would lead to "incredible" cost savings seems mighty optimistic. Claiming the sundowning of the CH-53D can save a lot of money would make sense…if we were not already flying CH-53Es, where there is a rather significant infrastructure overlap. Let's put it this way–he's not, oh, retiring the last steam-powered ships from service or something. Retiring a variant of an already in-service model? There's savings to be had, sure, but…not "incredible" savings.
The early retirement of America's shrinking fleet of 30 CH-53Ds is an economic choice. And, in isolation, it makes sense. But we need to make sure that the efforts to trim the Pentagon budget reflect wise forward-thinking strategy and, in the end, aren't just penny-wise/pound-foolish maneuvers dressed up as a significant sacrifice. The trick will be sifting real cuts from the PR hype.
But, in the end, the early cut of the dowdy old CH-53D isn't news. The real news rests in finding out just what is going to replace the CH-53Ds. If anything. That'll give us an idea of where the post-Afghanistan Marine Corps might be headed–and if the elimination of the CH-53D will, in the long run, actually save money–or if it is just setting the stage for a pricey shift in Marine Corps force-structure. More on that later in the week, at defensetech.org.