I spent much of yesterday aboard Russia's "Carrier Killer", the Pacific Fleet's Flagship RFS Varyag (011).  The Varyag's captain, Captain Eduard V. Moskalenko, was kind enough to give a few of us a personal tour of the vessel.  It was great.
We'll talk more about this unprecedented Port Call later (the first Russian warship to call here since World War II and the first Russian surface warship to visit since…gosh…1863), but for now, please allow me to express my gratitude to Rear Admiral Vladimir Kasatonov and Captain Moskalenko (he's pictured below–along with somebody you know in the background).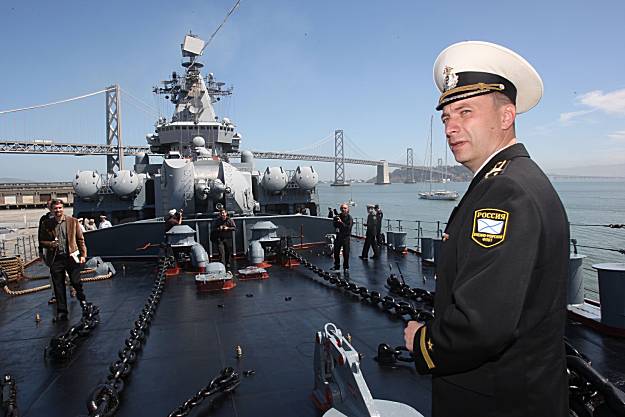 The Russian officers were refreshingly frank and we look forward to welcoming them back. Perhaps for Fleet Week!  Or at the helm of a brand-new Mistral Class flat-deck.  In the meantime, read about the visit (Ironically enough, their pier is home to "Red's Java House")  here and here and here.  It'll be open to the public on Thursday–go if you can–it's well worth the time.