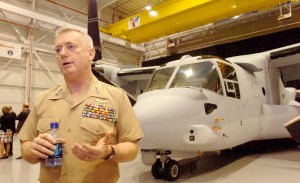 According to this DOD Buzz article, Lt. General George J. Trautman III voiced his frustration that MV-22 Osprey readiness rates in Afghanistan had topped out at "roughly 70 percent." Glad to see Trautman get frustrated. As a taxpayer, I am too. I expect better performance from brand-new aircraft.
According to the DOD Buzz piece, Trautman blamed the low readiness rates on, "incredibly fine dust and the fact that parts for the Ospreys must make incredibly long and expensive trips to get to
the front."
Well, aside from the fact that 5th Bombay Native Infantry Lt. Henry Pottinger documented Afghan sand issues as early as 1810 and the MV-22 program had years to prepare for the Afghan logistics challenge, deployed MV-22 readiness rates (using data Trautman offered Congress earlier this year) have gone unchanged–regardless of whether the MV-22s were in Iraq or at sea–a watery locale where there is, presumably, a little less dust than in Afghanistan. Sand and supply ain't the problem.
Read Trautman's March 2010 testimony before the House Armed Services subcommittee on Seapower and Expeditionary Forces. He said:
"Fleet wide, our Block B combat deployable aircraft averaged approximately 60 percent mission capable (MC) in Continental United States (CONUS) for 2009. With focused logistical support provided to our deployed aircraft, however, we average nearly seven of ten aircraft available on a daily basis in Afghanistan. This compares favorably with the 71.6 percent availability over 18 months of operations in Iraq, and 71.0 percent availability for aircraft in the 22nd MEU."
Deployment availability has, for years, been stuck in the 70% range–and, due to "aggressive sparing" the readiness rates for the CONUS MV-22 fleets can't break 60%? (I mean, "approximately 60 percent"? For the Block B's only? The old training birds must be doing horribly…)
Look. Trautman has complained about the impact of long logistics chains and harsh operating environments since the Osprey was first deployed in 2007. The fact that the MV-22 readiness rates have not changed suggest Trautman is, in regards to the MV-22 program, completely ineffective.
America is at war. It is high time for the Marine Corps to shut up and deal with these unacceptable MV-22 readiness rates–whether it is the sand, the logistical chain or the MV-22 platform itself. We've not seen a substantive readiness improvement in years (And…while we're at it…Does the MV-22 still cost more than $11,000 dollars per flying hour to operate?).
But the buck has gotta stop someplace.
General Trautman needs to fix the MV-22 program fundamentals.
Or we taxpayers suggest SECDEF Gates fire Lt. General Trautman and find somebody who can.