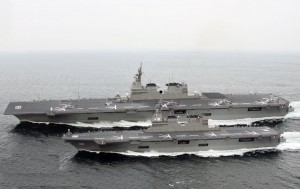 I am fascinated by our Capital's crop of public national security prognosticators.  As these good folks race to produce more "guidance" on how American security should evolve, too few of us take the time to review and evaluate their prior work.
That must change.
So….Given the rapidly-changing nature of the Pacific, I thought it might be neat to revisit Brooking's military analyst Michael O'Hanlon's vision of the Japanese military from his 2003 booklet "Expanding Global Military Capacity for Humanitarian Intervention." Here's his description of Japan's long-term national security future:
More than half a century after World War II and more than a decade after the fall of the Berlin Wall, Japan can and should do more in the international security sphere. It need not and should not mimic the United States, or even Great Britain. Unilateral power projection capabilities would unsettle some neighbors and displease many Japanese themselves. Nor need it even increase defense spending very much. Nevertheless, Japan should reexamine the basic way in which it structures and equips its military, a view which Japan's leader, Prime minister Junichiro Koizumi, has agreed.  It should also regain the momentum it began to establish in the 1990s–when it sent about seven hundred personnel to Cambodia in 1992-1993 for peacekeeping and then four hundred to Zaire in 1994 for humanitarian relief after the Rwanda genocide–but has since largely lost, despite its deployment of support vessels and aircraft to the Indian Ocean to support the U.S. war in Afghanistan.

In other Asian countries,  many would oppose such a Japanese security policy out of fear of latent Japanese militarism.  Within Japan, that worry exists too. But the alternative force structure outlined below would involve too few troops to threaten countries such as China, Korea, the Philippines or Vietnam.  Yet the new capabilities would be quite substantial when measured against the demands of global humanitarian, peacekeeping and peace enforcement operations.

Japan has many options besides becoming a "normal" power or remaining a civilian, largely pacifist power.  A number of Japanese politicians, notably Ichiro Ozawa, have suggested what might happen.  The basic idea would be to expand the country's physical capabilities for operations abroad, but keep legal, diplomatic and military checks on those new capabilities so as to reassure Japan's neighbors and the Japanese people about the nature of the effort. The goal would be to expressly not be for Japan to become an independent, global military power.  Under such a framework, Japan would consider projecting power only within the context of multilateral security missions, preferably, if not exclusively, those approved by the UN Security Council. It would not develop the physical capability to do more than that…
Amazing.  Not to single Michael O'Hanlon out, but virtually all of Washington's navel gazers got this totally wrong. Today, Asia is far more concerned about the resurgence of Chinese militarism. And a lot of people in the region are cheering as Japan hurdles down the path towards becoming a "normal" power–an independent and global one, no less.
And I think that, by the early 2003's it was pretty clear that Japan was headed in the direction of becoming a regional counterweight (if a relatively constrained one) to the Chinese.
But here's my question.  Did anybody get it right?