The 5 December encounter between the USS Cowpens (CG-63) and an unidentified Chinese amphibious vessel means that it might be time to revisit some old policy/training questions stemming from a 2005 collision.  The collision involved the Arleigh Burke Class destroyers USS Mcfaul (DDG-74) and the USS Winston S. Churchill (DDG-81):
The collision occurred while the ships were preparing for deployment and conducting a training event that required aggressive ship-handling and high speed, close quarters tactical maneuvering.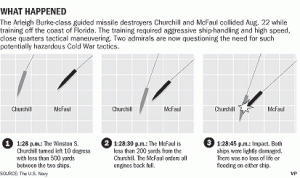 They were practicing a tactic called "Shouldering".  Shouldering is decidedly "old school" and something that–in our era of distressed operational budgets and limited repair funds–commanders may be loathe to order up.  But I have long suggested that the USN get re-acquainted with this sort of maneuver, because China had repeatedly demonstrated that it isn't afraid to dedicate some front line assets for the occasional "bumping and grinding" mission.
Some USN vets looked at this proposal with distaste. Rear Adm. Raymond A. Spicer (now of Boeing) suggested the tactic was outdated in an old 2005 Virginian-Pilot article, saying:
"Shouldering is a relic of the Cold War era," Spicer said in his own endorsement of the investigation's findings and recommendations. "In the new millennium, we do not want to shoulder a boat that could be manned with suicide bombers and loaded with high explosives."
Sadly, our tactical training taste-makers were likely trapped by their background and faith in Western norms, and, as such, failed to consider that fender-bending ship-to-ship interactions may well be relatively common in the fractious waters of the Western Pacific.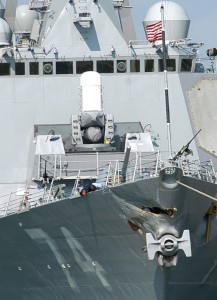 Aggressive maneuvers may well be the norm–the standard behavior–in the Western Pacific.  I hope our folks out there realized that shouldering is still in some naval toolkits, and that Pacific-based units quietly carried on with shouldering training.
But…nobody out there is talking openly about shouldering training anymore. So I can only assume the US Navy is not "shoulder-ready" and that we are only now really grappling with the challenge of inducing behavioral change in the PLA(N).
So here's my question for my Navy policy folks:
As we go forward with managing the rise of a modern Chinese Navy, what's better way to encourage a behavioral change?
Do we give way and then scream and holler about "rules of the road" as the Chinese inexorably follow their standard pattern of aggressive behavior, or do we conform with accepted, more-aggressive Chinese norms and then–after a few years of having front-line ships bruised and battered–we all sit down and come to an agreement? (A pattern that was–if I recall correctly–exactly what we did with the Russians…)
Or do we try something else and deploy ships that are sufficiently agile enough to render most "basic" shouldering attempts impotent?
What's the path forward?
If the choice is to conform with accepted Chinese practices, then what low-priority, expendable ships do we have available that can, you know, shoulder without fear of catastrophic damage? And then where would the ships engaged in kinetic freedom of the seas exercises get repaired? Do we know?  Are we ready?
Given that the Navy has been–at least until recently–falling all over itself to shed the Cowpens, I wonder if somebody responsible decided that it might be wise to keep a few ratty Ticos on the rolls just to navigate this sort of occasional "bump-and-grind" forward engagement.
And…if we are going to resign ourselves to re-learning a dowdy old Cold War tactic, it might also be good to start, in an open forum, discussing the training the USN (and their allies) are doing to prepare skippers to manage foolish and bumptious attempts to change the rational, wise and time-tested Rules of the Nautical Road…