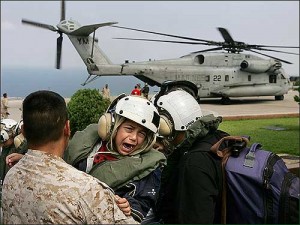 The Pentagon's wise (yet unpopular) policy of sending troops to Korea alone, without their families, was a direct casualty of the Iraq and Afghanistan war.  And now, as tension ramps up at the DMZ, the wisdom of that old-school wartime thinking is becoming apparent to everybody–even to the Pentagon's cadre of warrior-accountants.
The policy made things easier for an over-extended DoD.  In 2008, Eighth Army relented on the old policy, saying that:
"given the Army's high operating tempo, the current short-tour policy places an unacceptable burden on the service's assignment system.

Three-year accompanied tours would allow the Army "to consider selected levels of worldwide deployment of our Korean-based force, not unlike the way our forces deploy from and return to their bases in Europe and Japan,"…

…A change in tour policy is made possible by an ongoing transformation to the command that will see USFK elements at Yongsan Garrison in Seoul, and the 2nd Infantry Division north of Seoul, move to Camp Humphreys, about 40 miles southwest of the capital city."
For those DoD leaders steeped in the European way of things, this was a long-overdue step.  But the European analogy used to ground the move was, in my mind, pretty strained–if war erupted in Europe, that conflict would pretty likely be an opening salvo to a global thermonuclear war–so with the family equally at risk in either Europe or CONUS, accompanied deployments made sense.  (And, heck, it's Europe! We can do Paris while on leave!)
From my end, the risk posed to accompanied tours in Korea is far higher.  First, we do not have as clear intelligence on Korean intentions as we did in Europe; North Korea is–as recent events demonstrated–a volatile regime, capable of anything.  Second, a fight on the Peninsula is containable,  far less likely to evolve into global thermonuclear war.  Keeping the family in CONUS is, therefore, safer.
We can argue that dependent-placement further south alleviates the immediate problem.  I dispute that.  Korea, if it goes up, will be a real asymmetric fight–chemical, biological, radiological….you name it.  Getting the dependents out is going to be a hard, resource-draining distraction.
But accompanied tours make great sense for those desperate to find bodies for Afghanistan.  It makes things easier on the Pentagon's checkbook.  It is good the Pentagon's desk-bound warrior-accountants.
But it is strategically stupid.  What will it do to our fighting force?
Despite protestations to the contrary, I sincerely doubt that there is a professional warrior around who, if their family is under threat, won't be just a little bit distracted from the work at hand.  The job will get done, but nobody in their right mind is SO professional they can entirely pack away their fears and feelings for their family's welfare.  And, well, loosing that little tiny bit of brainpower…can have fatal consequences.
At the San Francisco Fleet Week this year, I got to talk to several Navy people who were based here for the Loma Prieta earthquake.  One of the first things they said was that were worried about their families–and the second thing they said was how grateful they were for whomever bent regulations to spread word on the status of their families. In Korea, that's not gonna happen.  Any dependent evacuation will be an enormous, horrible and (thanks, again, to the Afghan and Iraq wars) an under-resourced mess.
But who knows?  Maybe having endangered dependents in the mix will be a motivator; soldiers may fight harder if their dependents are threatened.  But we don't know that.
It is an area worth further study.
But, given the circumstances, accompanied Korean tours need to end now.  Get the dependents out, and get 'em out today.  In Korea, full-bore modern conflict is always just a few artillery shots away.  Just ask USMC General Cartwright, who said this today:
"What we worry about obviously is … if North Korea were to react to that in a negative way and fire back at those firing positions on the islands, that would start potentially a chain reaction of firing and counter firing," General James Cartwright, vice chairman of the Joint Chiefs of Staff, told reporters.

"What you don't want to have happen out of that is for … us to lose control of the escalation. That's the concern," Cartwright said.
I suspect this guy got acquainted with the challenges of getting people out of that war zone…and that he doesn't like what he learned.